Since I was a kid, I have loved attending shows at Medieval Times. The lights, the music, the excitement, it is all so thrilling. Medieval Times, however, is so much more than a show, it is an EXPERIENCE!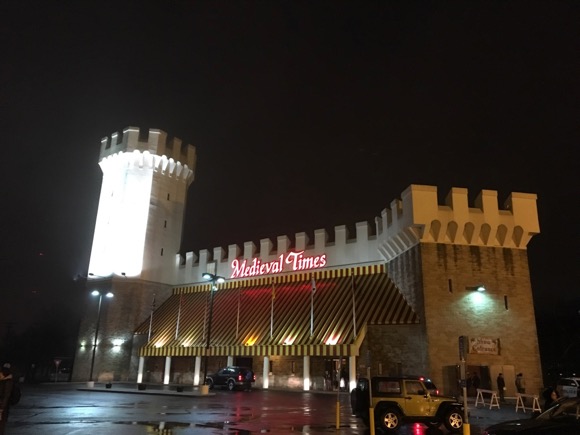 From the moment you arrive at the Castle, you are transported to another time. An era when Kings and Queens ruled the land and knights defended the throne. Before even entering the towering castle, guests are greeted by the Queen and other cast members outside. This builds the excitement and intrigue right away. Upon entering, my boys were instantly awestruck as the castle is adorned with flags, crests, mighty swords and more. Of course my kids went right to the swords!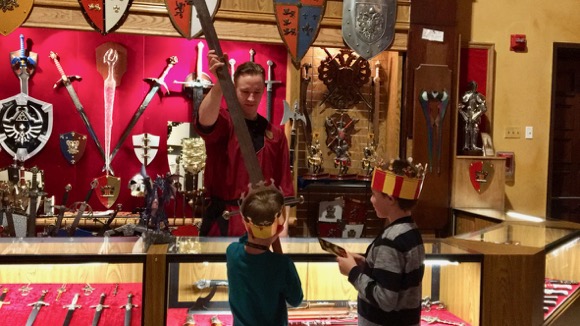 In addition to swords and other themed souvenirs, the main hall also houses a bar with drinks to suit all ages. While my kids enjoyed blue raspberry slushies, I enjoyed the First Knight (Strawberry and Pina Colada with Malibu Rum). Souvenir glasses and steins in all shapes and sizes are also available to purchase!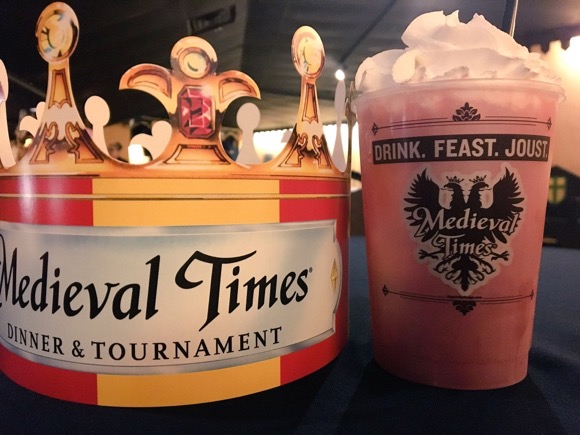 My family was treated to the Royalty package which meant we were provided early seating. We also had front row seats to all the action in the Yellow and Red knight's section. As we watched an action-packed and inspirational show, we enjoyed a 4 course feast fit for a Queen. The meal started with delicious tomato bisque soup and garlic bread followed by chicken, corn and baked potato. For dessert, we enjoyed delicious pound cake and coffee. What made the meal unique, however, was that there were no utensils. Guests must use their hands to eat!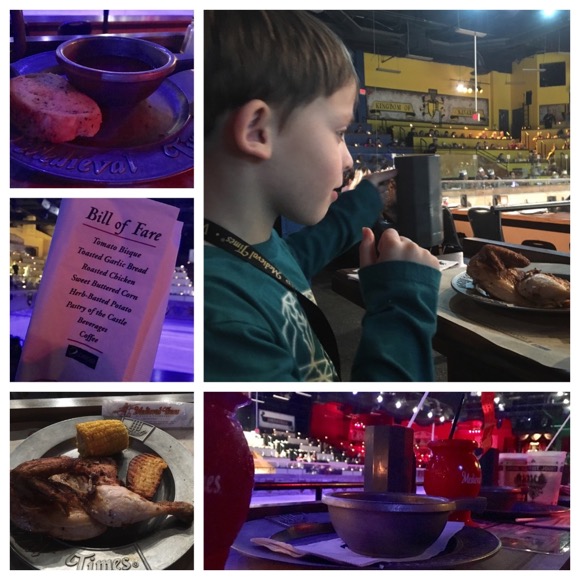 From start to finish, the show had us on the edge of our seats. From the introduction of the new Queen to the majestic horses to the medieval games, we were thoroughly entertained. Our favorite part, however, came at the end of the 2-hour performance. It was the epic battle sequence that was beautifully choreographed that had guests out of their seats yelling and cheering!
Whether you have been to Medieval Times before or this will be your first time, you will be thoroughly entertained with the brand new show. With new storylines and fight scenes that took 3 months of rehearsals to perfect, guests will be want to come again and again to relive all the excitement.
What's New at Medieval Times
Costumes
This spectacular new show comes with some additional glitz and glamor! The new costumes are stunning, and it is no surprise since they were custom-designed and hand-made at a costume shop near the Dallas Design District. Even the horses are adorned with new costumes along with the knights who proudly wear new suits of armor, shields and helmets which were also custom-designed and hand-made at a special armory in Florida.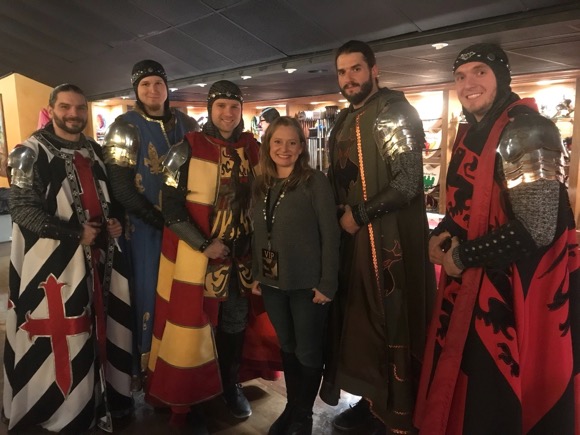 My favorite costume, however, was the Queen's. It was absolutely gorgeous as it flowed and sparkled with each move she made. It was truly made for royalty. Before each show guests have the opportunity to take a picture with the Queen so you can get a firsthand look at the exquisite detail and design.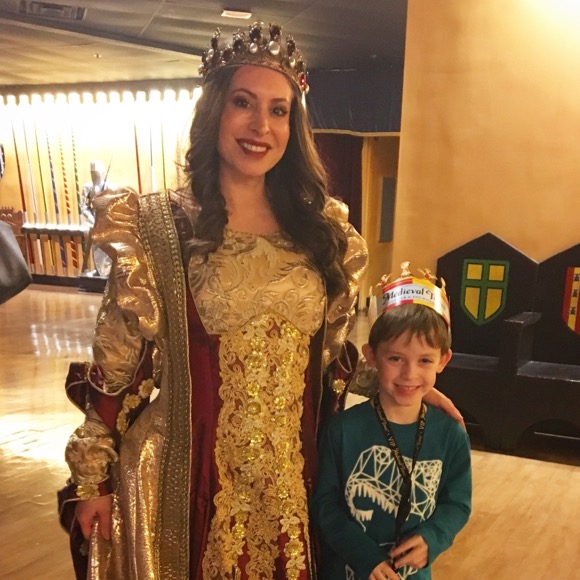 Music
Along with new costumes, the new show also entertains guests with new music! Composed by renowned composer and jazz pianist, Dr. Daniel May, the music comes alive like never before. Dr. May worked in Kiev with the National Symphony Orchestra of Ukraine to direct and record Medieval Times' new score. What's even more amazing is that each note is precisely synchronized with every aspect of the show. Over 120 hours were spent programming 300 new music cues and 500 new light cues.
Leader
After 34 years of the King ruling the land, Medieval Times has broken tradition and put a woman in charge, and it is about time! After all, we already know women rule the world! After the passing of her father, Queen Maria Isabella has inherited the throne and is the sole ruler of the kingdom. She rules the land with grace, strength and empathy. She respects her people as they respect her (well not everyone respects her, but I won't spoil the show for you). Queen Maria Isabella is a wonderful role model for young girls while also showing young boys that a woman in charge should be looked up to and respected.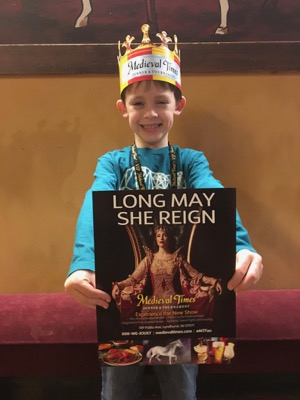 We absolutely LOVED the new show and cannot wait to come back! To learn more about the educational benefits of visiting Medieval Times, check out our last review post. The NJ Castle is located on Polito Avenue in Lyndhurst, NJ. There are also locations Florida, California, Illinois, Texas, Canada, South Carolina, Baltimore and Georgia. To learn more and to purchase tickets, visit the Medieval Times website.
Want to see more of the action? Check out our YouTube video:
So who wants to win 4 tickets to Medieval Times in NJ? We are so excited to partner with Medieval Times to give away 4 tickets to one lucky winner! 
Here are the rules and conditions for this amazing giveaway:
Participants MUST live in the United States.
The winner will be chosen by Rafflecopter.
The contest will run from January 17 through 12am on January 31.
The winner will be announced on January 31.
The winner will receive the 4 tickets directly from Medieval Times.
The winners must respond within 1 day or another winner will be chosen.
To enter, participants can earn entries by: visiting the Mommy University Facebook page (likes are appreciated but not required), following Mommy University on Twitter, sharing the contest with friends, providing an email address to be provided to Medieval Times to join their mailing list, sharing our Medieval Times review post, subscribing to our YouTube channel, sharing our Medieval Times YouTube video and commenting on this blog post by answering the required question.
No purchase is necessary to win.
Your chances of winning are dependent on the number of entries received.
Enter here: a Rafflecopter giveaway