Get Outdoors at Gumbo Limbo Nature Center!
While Florida is well-known for castles and transporting us to imaginary worlds of Harry Potter and princesses, it also possesses massive opportunities for engaging learning experiences about nature that are fun and low-cost. What I find to be the most surprising and enjoyable are visiting local nature centers which the area has quite a few. Each one has unique features including Gumbo Limbo which boasts of rehabilitation of sea turtles!
Since my parents have taken on the role of snow birds, we find ourselves visiting South Florida on a regular basis. While I try to pepper in the tourist experiences like going to the beach, there are a decent amount of activities that are easily overlooked. Located in Boca Raton, the Gumbo Limbo Nature Center offers the opportunity to get outdoors in a tranquil space as we learn about conservation and the efforts to save sea turtles. It is FREE to visit with free parking onsite, but they do survive and thrive on donations so think of making the suggested donation of $5. I enjoy this particular space since you can spend an hour or an afternoon at Gumbo Limbo.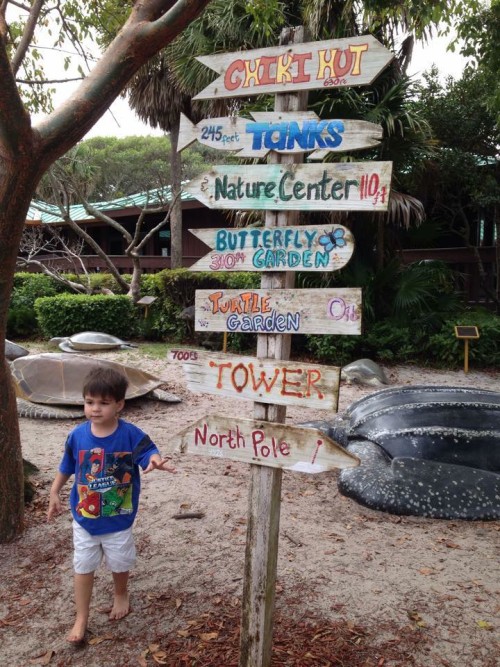 5 Spaces We Love at
Gumbo Limbo Nature Center
Outdoor Marine Aquariums
There are four outdoor aquariums that reflect distinctive South Florida saltwater habitats. You can visit Mortimer the six-foot Mooray Eel or check out the Sea Turtle who has a weight on his back to help him swim underwater. You can encourage your children to seek out the various fish and creatures in the water. Since there are volunteers to help navigate the habitats, don't feel lost if you don't know the names of the aquatic life.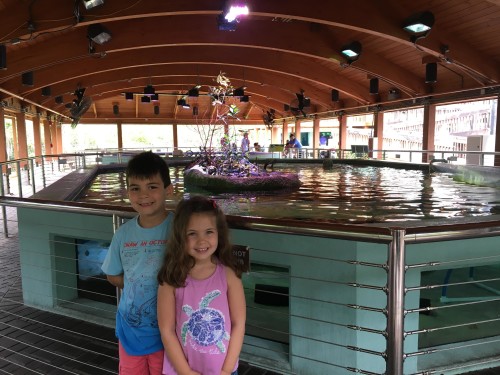 Sea Turtle Rehabilitation
Gumbo Limbo is well-known for its rehabilitation of sea turtles that become ill. It is one of the six locations in Florida that treats a specific condition called Fibropapillomatosis (FP). When visiting, you will not only meet some of the temporary residents who are receiving treatment but you can also observe medicines being administered. When we visited, we watched Lamb receiving his medication.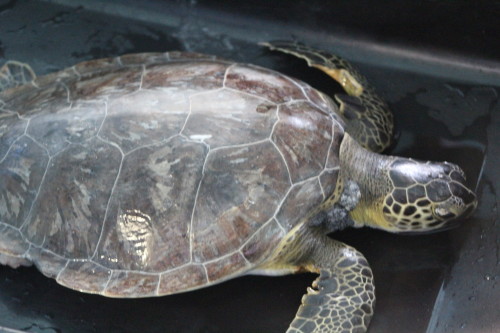 Florida Atlantic University (FAU) Research Gallery
The FAU Department of Biological Sciences has a research facility at Gumbo Limbo which has a public gallery for visitors to watch students working with sea turtles.
Boardwalk Trail
Enjoy a leisure stroll through the boardwalk which is ¼ mile through a preserved Hardwood Hammock. The Hardwood Hammock offers you a look at the ecosystem of Florida prior to industrial development. While you cannot enjoy a picnic at Gumbo Limbo, the boardwalk will take you to Red Reef West Park where your family can enjoy a picnic.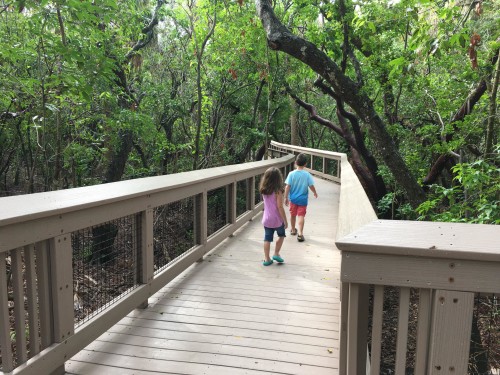 Butterfly Garden
If you are visiting in May and June, definitely stop by the Ashley Butterfly Garden which will be in full bloom. Although we visited in off months, a few butterflies stopped by. While we didn't walk the entire trail, it does have an amphitheatre and Seminole Chiki.
Named after the plant, Gumbo Limbo also has a visitor center that offers additional displays and information as well as a great gift shop so make sure to stop by! This stop can take anywhere from an hour to a half day depending on your child's interest.
Nature Center & Aquariums:
Monday – Saturday, 9 AM – 4 PM
Sunday, 12 PM – 4 PM
Suggested Donation $5
Gumbo Limbo Environmental Complex is located at 1801 N. Ocean Blvd., Boca Raton, FL 33432
If you like this post, you might like: