We all have lifted our eyes to the sky and pondered the stars that twinkle in the night. Whether it is a star, planet or the moon, we all share this curiosity about the universe and our place within the vast space. However, it is unlikely most of us will travel to another galaxy let alone our closest neighbor, the moon. Until now.
Liberty Science Center has long challenged and invited us to fall in love with science. From activities to exhibits, LSC promotes a better understanding and appreciation of Astronomy. In order to further enhance their educational and engaging experiences, they have opened the largest planetarium in the Western Hemisphere.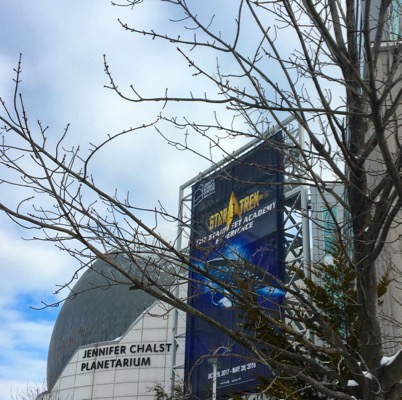 When it comes to planetariums, bigger is better. In fact, there are only three other planetariums that are larger which you can visit if you are traveling to Japan or China. The Jennifer Chalsty Planetarium is now the pride of New Jersey. The planetarium dome has a diameter of 89 feet! From top to bottom you could stack five giraffes. As we walked into the space to witness a show our eyes never stopped looking up!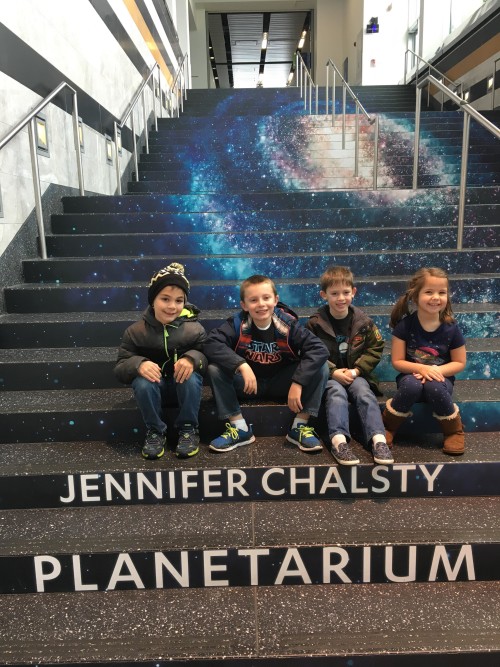 There are 588 perforated panels that are seamlessly joined together which means images pop on the screen. During our recent visit, we learned from Liberty Science Center how the Jennifer Chalsty Planetarium has 8K resolution (which is six times more crisp than what you see at the movie theatre) as well as over 88 million  pixels. Our behind-the-scenes show of their second weekend highlighted a speaker system that boasts 30,000 watts which will complement the music to their laser shows.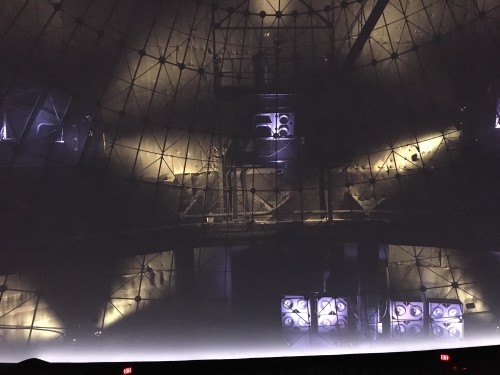 The Chalsty Planetarium is digital. In addition to all the details we provided, it also makes the perfect mechanism to display polar caps of Jupiter or the recent photos of Pluto and our favorite the Orion Nebula. While our eyes can only detect 10 million colors the Chalsty Planetarium has the power to produce over 281 individual trillion colors which enables us to understand outer space through stunning visual representation. The combination of the comfortable seats that lean back and the expansive screen immerses you into the galaxy.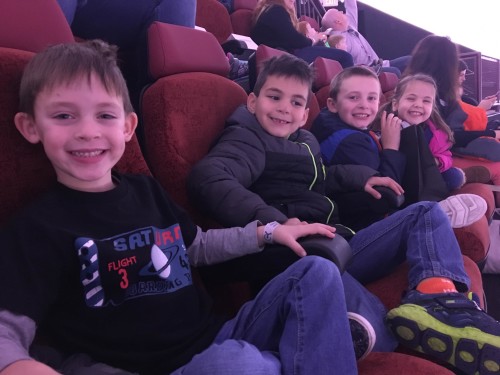 Our tour of the Jennifer Chalsty Planetarium highlighted the digital upgrades, and while all these numbers sound impressive, it cannot fully express how amazing watching the screen is! The Planetarium is able to play shows that transport you light years across our solar system. As well, it can host popular laser light shows which, in case you haven't seen, designs images to popular music. Lastly, it can still play documentary and educational movies.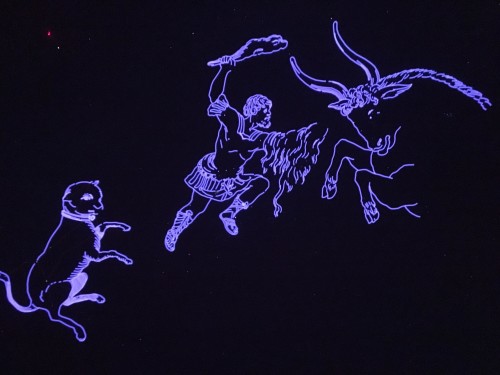 Throughout our tour, one of our group members was asking for Pluto and while none of us wanted to tell him that it has been downgraded to a dwarf planet, he was able to watch images of his favorite planet. My son has been fascinated with the largest planet Jupiter especially since it has had an ongoing storm for over 400 years.  Yet, when they featured the polar caps we were pleasantly surprised to see images that challenged our perception of this red-orange-beige planet. The benefits of the Jennifer Chalsty Planetarium reaffirm our knowledge of the planets with concrete visual imagery while simultaneously encouraging us to be open to the unknown.
As we watched the Orion Nebula projected across the Jennifer Chalsty Planetarium, it reminded us to keep looking up at the night sky. The images of the 3D model based on the Hubble Space Science Telescope findings inspire us to keep exploring, investigating and learning. Now, just a short trip to Jersey City empowers us to witness the splendors of outer space!
General admission tickets to LSC are $27.99 for adults, $26.99 for seniors 62+ and $22.99 for children ages 2-12. Museum members and children under age 2 are FREE. Admission to the planetarium is an additional $8/person.
If you like this post, you might like: