It is easy to accumulate packages to fill the space underneath the Christmas tree; however, some of these items have a short life span. Every parent quickly learns some toys will surpass the reviews on Amazon while other gifts will have 15 solid minutes of play then never be touched again. At Mommy University, we believe in investing in quality toys as well as encouraging family bonding.
Experiences can promote developmental benefits as well as creating family memories you can cherish as much as your children will. As we approached Christmas last year, I asked for family members to purchase memberships for experiences I know my family would enjoy. Each time we visited the location, I reminded my children who gifted them the moments they would be enjoying. There are so many wonderful opportunities in New Jersey including the only construction themed amusement park in the United States, Diggerland USA!

Reasons To Include
Diggerland USA to the Gift List
New Attractions Each Year!
After several years of visiting Diggerland, you should know they like to change things each year which is a good thing. In fact, it is a wonderful reflection of how they are looking to improve what they offer families. Each year, they add fun and exciting new attractions. In 2017, they added the Greased Beast which quickly became a favorite with my kids.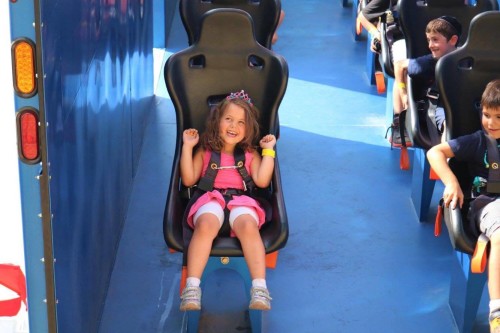 Sensory Experiences
While Diggerland doesn't have roller coasters, each of the attractions they offer will challenge you while having fun! Whether you are spinning into a tizzy with the Spin Dizzy or feeling suspended in the air with the Sky Shuttle, you will feel whole new experiences.
Feel a Sense of Accomplishment
When we first visited Diggerland, my daughter was unable to go on some of the rides, and while there was plenty for her to do such as the spacious playground in Kid Zone, she was thrilled this year to ride the Spin Dizzy. She rode it three times in a row much to her father's discomfort. This past year, we watched my son capture wood ducks using a hook attached to a digger. Each year, my children are enhancing their gross and fine motor skills which enables them to successfully tackle attractions at Diggerland. They feel challenged and a sense of accomplishment every time they visit.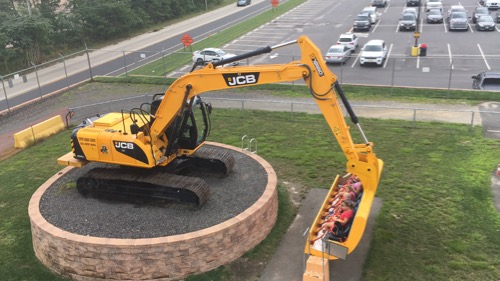 Create Family Memories
In order for us to visit, it is a two hour drive which my children have no concern when they know the destination. We high-five each other when my children drive a lap around on the Digger Derby or when they climb a foot higher on the Rock Wall. Visiting Diggerland is a day trip but one I cherish because when I see my children smiling and laughing, I know that these moments are becoming memories.
Located in West Berlin, Diggerland is next to Sahara Sam's Oasis and Waterpark and spans over 14 acres boasting of 23 attractions. Children under 36" are not charged an entrance fee; however, 36" is the minimum height to participate in Diggerland attractions. There are height requirements to ride alone, with an adult, maneuver the vehicles or go on the rides. We always recommend checking the website before you go to know which rides may require an adult present to assist.
The Diggerland 72-Hour Holiday Sale will be made available December 15, 2017 at 6:00am. These are online sale options only, while supplies last, and not available on location. This is a 72-hour offer and will expire December 18th at 5:59 AM. 
If you like this post, you might like this!