This was our 5th year kicking off our holidays in the sweetest place on Earth. Each December, we pack up the kids (and the elves) and head to Hershey, PA. Not only do we celebrate the holidays but we also celebrate my son's birthday. It is a weekend we look forward to each year. This year we wanted to try a new holiday experience so we were so excited to be offered reservations for Breakfast with Santa at Hersheypark Place.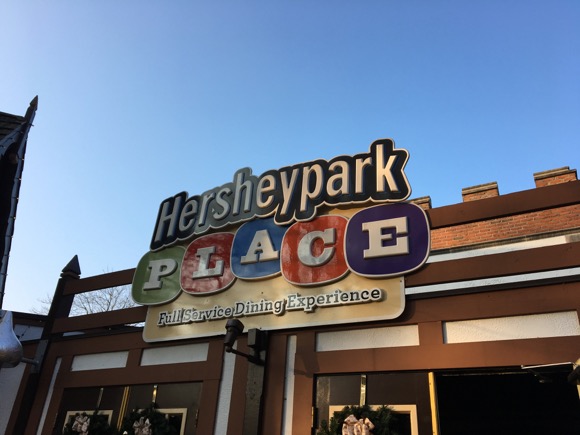 The fun starts even before you enter the restaurant as guests are greeted by some familiar faces. My boys and their friend were so excited to meet and take pictures with Hershey Bar, Reese and Rudolph. It was the perfect way to start the morning! Inside, Hersheypark Place offers an inviting environment full of holiday cheer. In addition to the already "sweet" decor, guests will love the holiday decorations and the kids will have fun looking for the elves hidden throughout the 3 dining rooms.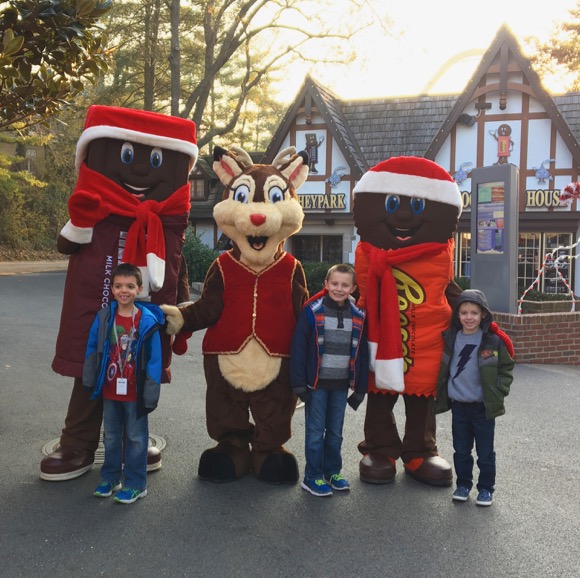 Upon being seated, we were provided fruit and delicious treats. The best part? They offered chocolate butter to put on the pound cake! Yes, it is as amazing as it sounds! Adults can choose from 2 breakfast options. I went with an assortment that included chocolate chip pancakes, scrambled eggs, bacon and breakfast potatoes. My kids enjoyed the same amazing dish which they happily devoured. Throughout the entire event, we enjoyed some wonderful entertainment and activities. This is what made this Breakfast with Santa experience so unique and an event you will want to do over and over again!
Sweet Experiences at Breakfast with Santa
Roaming Characters
From start to finish, guests have the opportunity to meet and take pictures with their favorite holiday and Hershey characters. Meeting Hershey Bar is a MUST when visiting Hersheypark, and kids (and kids at heart) get their chance during Breakfast with Santa. Guests also get to interact with Reese and Rudolph.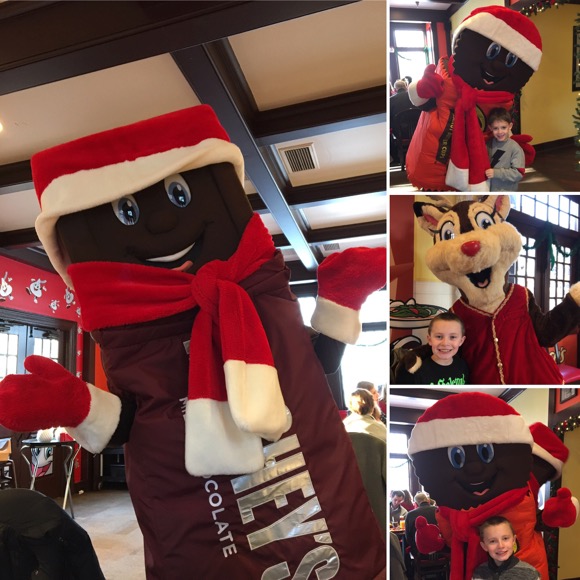 Opening Act
I knew Breakfast with Santa was going to offer entertainment but I had no idea it was going to feel like a full holiday show! To kick off the event, all the kids were invited to join the elves and Hershey characters in the main room where everyone enjoyed and sang along to live holiday music. The entertainers interacted with the kids throughout the performance making them feel like they were truly a part of the excitement.
Santa's Arrival
At Breakfast with Santa at Hersheypark Place, Santa doesn't just stroll around the restaurant or stay seated in one spot for pictures. He is a part of the show! His arrival is full of excitement and anticipation. Santa interacts with the crowd and offers a welcome speech that kicks off the party.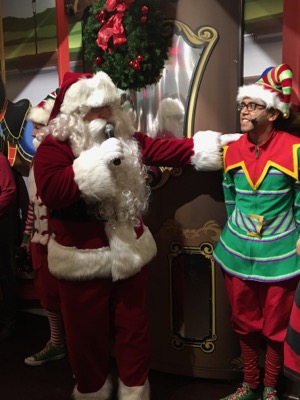 Stories, Games and Songs…Oh My
During breakfast, guests are treated to various forms of entertainment. From story time to a juggling act to a fun game of Santa Says, everyone will enjoy an unforgettable experience. My son will especially never forget becoming part of the show as he was chosen to help play the guitar during a rendition of Jolly Old St. Nicholas.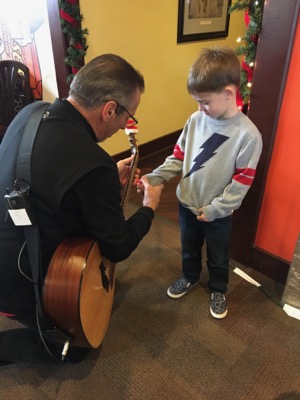 Meeting Mrs. Claus
Often times Breakfast with Santa only involves a meet and greet with the Jolly Old Elf himself but at Hersheypark Place, guests also get to say "Hello" to Mrs. Claus! I loved how she struck up conversations with kids which made each one feel special. She also posed for pictures which added to the holiday fun.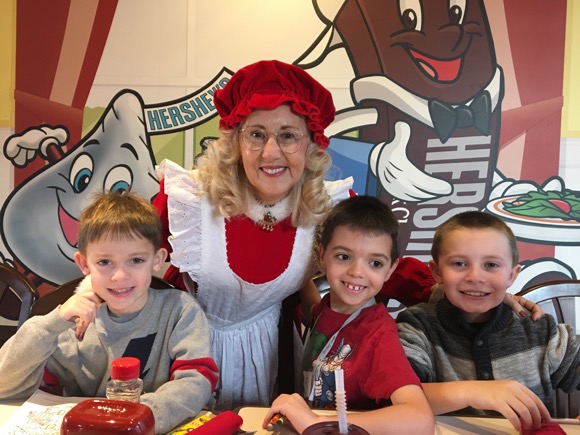 Pictures with Santa (of course!)
At Breakfast with Santa, families have 2 chances to take pictures with the man of the hour. St. Nick walked around each dining room to meet with each child and ask them what they wanted for Christmas. He happily posed for pictures (and I take A LOT of pictures) and created a comfortable and memorable experience for kids of all ages! At the end of the event, families also had the opportunity to take a picture with Santa on a couch in front of a festive backdrop. He then handed each child (under the age of 12) a candy cane filled with chocolate.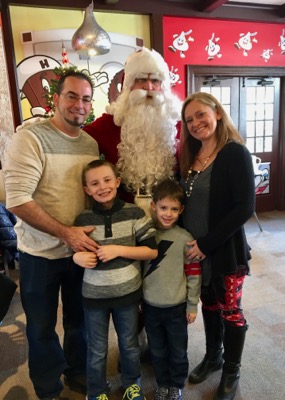 Hersheypark Place is located just outside the entrance to Hersheypark, and Breakfast with Santa takes place every Saturday and Sunday in December at 8:30am. Tickets are $25.95/adult (ages 10 and up) and $19.95/child (ages 4-9) and can be purchased on the Hersheypark website. It is a fun interactive event that truly embodies the spirit of the holidays. This will definitely be our new holiday tradition during our annual trip to celebrate Christmas in Hershey!
Take a look at our YouTube video for a closer look at all the holiday fun:
You may also enjoy: