We are so excited to bring you this year's Play and Learn Stocking Stuffer Guide. We are thrilled to partner with some amazing and award-winning companies who provided some of the brain boosting toys on this list so we can share them with you this holiday season.
Ever since I was a little girl, my favorite part of Christmas morning was digging through my stocking to see what treasures Santa had left me. Don't get me wrong, I loved opening the presents under the tree too, but there was just something exciting about looking through a stocking. In fact, I still look forward to looking in my stocking to see what my husband has left me.
This season, fill your kids stocking with toys that are not only fun but also educational. As I stated in our Play and Learn Holiday Gift Guide, toys should serve a purpose and encourage growth and development. What you put in your child's stocking should be no exception! Here are some suggestions for brain boosting stocking stuffers!
Play and Learn Stocking Stuffer Guide 2017
Spinners (ZURU)

Spinners are the latest craze! My kids and all their friends have them, and you can't walk past a playground or bus stop without seeing at least 5 kids spinning them on their fingers. Spinners are perfect for entertaining kids (and adults) as they offer hours of spinning, twirling and flipping fun. Spinners are also the perfect size for your child's stocking. What's even cooler is they now come in Marvel and DC Comics styles!
Toobs (Safari Ltd.)
Safari Ltd. Toobs are small figurines grouped together by themes such as Sharks, Marine Life, Insects and even inanimate objects such as Instruments or locations such as New York.  On the bottom of each hand painted figurine is printed the name of the object or creature.   They are perfect to include in sensory bins as they add texture and a pretend play aspect to sensory learning. They also help increase vocabulary and general knowledge.  New Toobs in 2017 include Zombies as well as Fairies! You can place the entire Toob or just the individual pieces in the stocking.
Fidget Cube (ZURU)

The Fidget Cube offers wonderful sensory and fine motor play at home and in school. With 6 sides offering multiple buttons, dials and switches, kids can keep themselves busy rolling, spinning, clicking and gliding their energy away. The Original Fidget Cube by Antsy Labs are a great way to keep kids' hands moving to decrease boredom and whole body fidgeting. I am so excited to because they are now available in Marvel and DC Comics designs! This sensory toy can be purchased on Amazon.
Tangle (ZURU)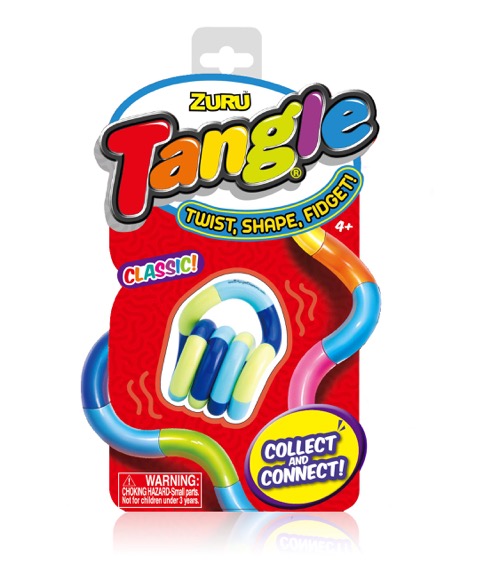 We love sensory toys and fidgets at Mommy University, and we especially love Tangle from ZURU. This fidget allows kids to move their fingers which, in turn, can increase their focus and attention. It can also be used to help calm a child (or adult) when upset or overwhelmed. Tangle comes in a wide variety of colors, patterns and designs making it appealing to all children. It is the perfect stocking stuffer for your sensory seeking or overly active child! You can find a variety of Tangle toys on Amazon.
Faber Castell 

With rich and vibrant colors, Faber Castell is a high quality addition to slip in your child's stocking. From Beeswax Crayons to Washable Jumbo Markers to Watercolors, these are the tools of budding artists to express themselves and find their voice. With Faber Castell, great art starts here! Prices vary on Amazon based on the product and don't forget the art sets for under the tree too!
Para'Kito

PARA'KITO are refillable bands and clips that use natural essential oils to keep mosquitoes from ruining a fun day or night outdoors. Just insert the pellet into the band or clip for 15 consecutive days of mosquito free adventure. The pellet releases a pleasant smell which helps mask human odors that normally attract mosquitoes. The DEET-free repellent works in all climate zones and is waterproof making it perfect to bring on tropical vacations. The band is also comfortable to wear and stays on well making it great for outdoor adventures like hiking, fishing and camping. PARA'KITO can be purchased on Amazon.
Star Wars Fijix Spinners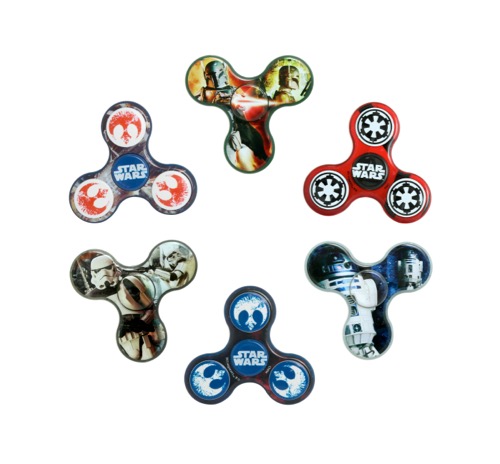 Star Wars fans everywhere will LOVE these new Fijix Spinners. Choose from your favorite Star Wars designs and enjoy hours of spinning fun. While playing, kids will enhance motor skills such as motor planning, balance, coordination and strength. Fijix Spinners also help enhance focus and attention for some sensory seeking children. Each side of the spinner has a different graphic adding to the fun. It is recommended for ages 8 and up and can be purchased on Amazon.
Mini Arcade Games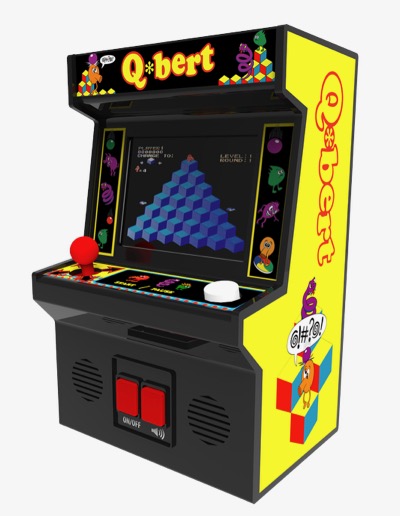 In the form of mini arcade games, the classics Q-Bert and Centipede are making a comeback thanks to The Bridge Direct! Joining their friends Pac-Man, Frogger and Space Invaders, these two iconic games will bring big fun in a small package. While playing, kids will enhance visual-motor, problem solving and spatial awareness skills. Some friendly competition is also encouraged as family and friends can see who can get the top score!
Mayka Toy Block Tape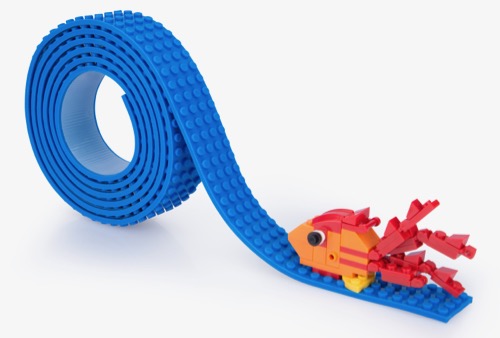 Build, create and play this holiday season with this innovative design. Mayka Toy Block Tape makes building possibilities endless as kids can adhere the tape to any surface for hours of imaginative play with their favorite building toys. The tape is compatible with LEGO and other construction bricks making it a versatile toy. You can cut the tape to meet your needs and the adhesive backing is reusable meaning it can be used in a variety of settings. Mayka Toy Block Tape comes in 3 sizes and 10 difference colors. You can buy them in packs on Amazon.
Grossery Gang (Moose Toys)
A must-have stocking stuffer in my house this year is Grossery Gang! They might be tiny but they pack a lot of fun into such a small package. Offered as blind bags, large packs, mega packs and playsets, these "putrid" little toys encourage hours of pretend play. Now you can even get Grossery Gang action figures. How fun is that? Your kids will have fun collecting all their favorite characters and sharing them with their family and friends! You can find Grossery Gang on Amazon.
Happy Places (Moose Toys)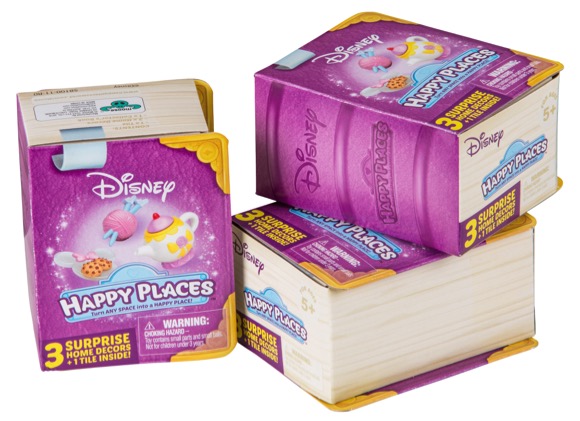 As a big Disney fan, I instantly fell in love with this new take on blind bags. My 5-year-old son also loves Happy Places as he can collect all different pieces that he can use for pretend play experiences. Each pack comes with 3 surprises based on various Disney characters or movies. It is the perfect stocking stuffer for your little princess (or prince)! Happy Places blind boxes and playsets can be found on Amazon.
Pikmi Pops (Moose Toys)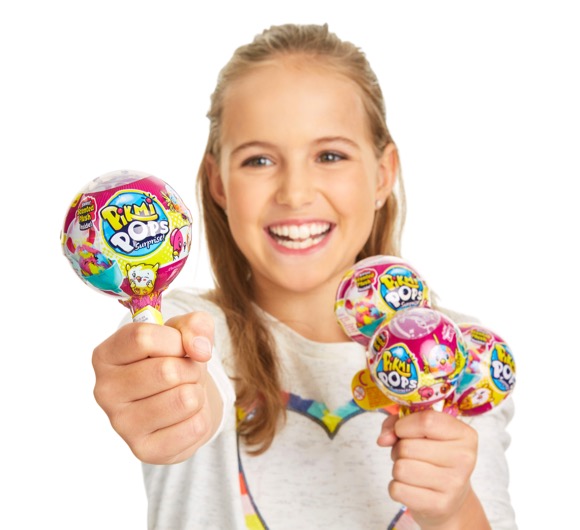 Pikmi Pops fit perfectly in a stocking and your child will be delighted when they unwrap their pop to reveal the pikmi inside! The Pikmi Pops vary in size but your child will always be surprised. Inside are scented characters with additional surprises which can vary from charms to stickers. With over 50 varieties of Pikmis, they will always be kept guessing as to what they will receive. Prices vary on Amazon based on size.
Wordspiel, Set Enterprises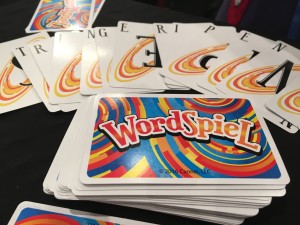 If you are looking for a fun game to help build a young child's vocabulary, then Wordspiel is the perfect game for you. Each player receives ten cards with a letter on each card. After the first player builds a word using their cards, the other players have to use to last letter as the first letter of their word. It will make you think of and learn new words as well as laugh! Sold on Amazon for less than $13, it is easy to take with you while traveling.
Blue Plate Scramble (Peaceable Kingdom)
At the Blue Plate Diner the plates served to customers contain some unusual food combinations. Players are invited to have 30 seconds to memorize the plates ordered then they flip the cards and have another thirty seconds to find the matching plates. The goal is to work together so that every customer is satisfied with their orders; however, if you reach five angry customers you have lost the game. It is great for language development as well as shared decision-making. Priced on Amazon for under $13, this memory game designed for ages 5 and older will bring family bonding and laughs to game night.
Qwirkle (Mindware)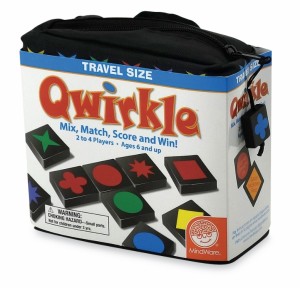 Qwirkle is a strategy game where everyone in the family can participate. Players match the 108 tiles by either color or shape earning points; however, creativity can garner higher points. The game allows for 2-4 players with the youngest recommended age being 6. The Travel Size Qwirkle not only fits in a Stocking but it is a convenient size for road trips. On the Mindware website you can purchase Qwirkle for less than $25 or the travel size for less than $15, it is a classic game that will keep everyone engaged.
If you like this post, you might like: