While my husband and I have traveled to different parts of the world during our childhood, our parents encouraged us to try new foods. The food that is local to South Carolina is distinctly different from what is available in New Jersey. Granted you can always grab a burger in both locations, but eating in Myrtle Beach is going to have some unique options that we cannot easily obtain in the Garden State.
During our trip to Myrtle Beach, we knew it was essential to eat seafood. For my husband and I this is not a burden. Any opportunity to eat shrimp or crab legs and I am content. However, as parents of two children that have opposing views on food, I knew a trip to enjoy what I consider a treat would be challenging. The friendly and knowledgeable staff at the Noizy Oyster Saltwater Cafe and Oyster Bar made this experience a wonderful family memory.
Located on the South Kings Highway, this cozy venue has outdoor seating but since we visited in November we opted for  warmth of the indoors. It is an open space filled with several booths and large scale windows on two of the walls. Dominating the back wall is a charcoal menu of specials ranging from food to drinks. Looking over the menu, we had to sample local cuisine as much as possible. Our appetizers (yes, we ordered two) consisted of Crab Dip that had chunks of crab covered in panko crumbs with choice of nachos or bread as well as Hush Puppies. I am obviously from the North because Hush Puppies are shoes that are worn but after the Noizy Oyster, they are bits of fried delight that you dip in honey butter. It is divine. At a reasonable $4, these are must-have on the menu.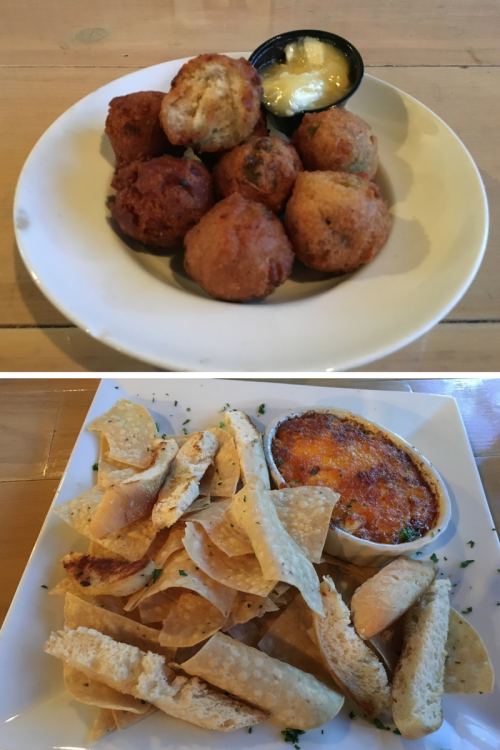 At first, my son was thrilled he could get Mac and Cheese or a Cheeseburger, but we were impressed that he ordered Fish Sticks instead. The options on the Kids Menu are $5 and adding a drink only costs $1. My daughter opted for Popcorn Shrimp. As she bit into her first Popcorn Shrimp, she squealed with joy as she exclaimed, "Look there is shrimp inside, it is so good!"
My husband and I typically will order one entrée each that we can share so that we get try different food. Another specialty of The Noizy Oyster is Steam Pots, so my husband tackled a plate of crab legs, shrimp, corn on the cob, crawfish and red potatoes all dripping in butter. This is the South so butter is a requisite. In the meantime, I ordered a Crab Cake Po'Boy which was absolutely delicious especially with a crisp Asian slaw underneath the cake. The crab cakes have lumps of crab meat which is delicious especially when you throw on the sauce.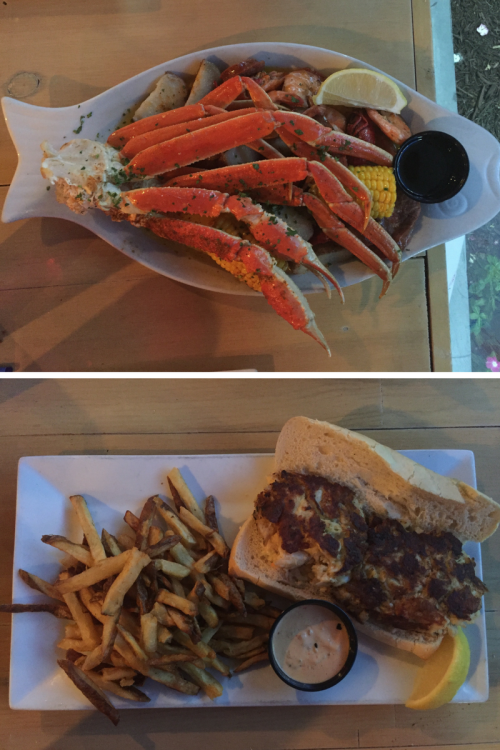 For dessert, pie reigned at this table. My husband enjoyed a Warm Apple Pie as I preferred the tart Key Lime Pie. My children didn't surprise us by asking for ice cream, but most importantly to us was that they tried new foods during this trip. They tried the appetizers and some bites from our meal in addition to their seafood entrees. It was nice to have an adult meal where they could experiment yet still be able to order food they enjoy.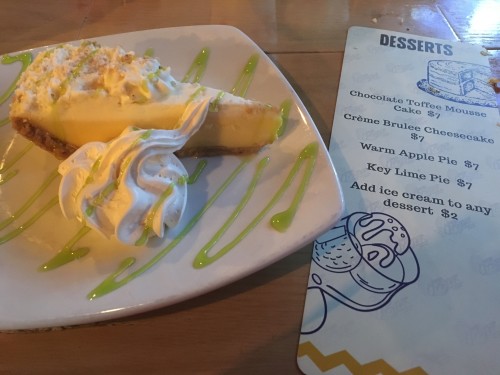 As we were preparing to leave, we had a nice talk about the different types of food at The Noizy Oyster with our host Eddie as he was cracking open different oysters. Most times food will garner the most attention from my son, but in this instance he was fascinated with a device to pop open the oysters. This nice conversation became an opportunity for my children to learn about oysters and seafood developing a whole new appreciation for seafood. They may even try oysters next time they have the opportunity.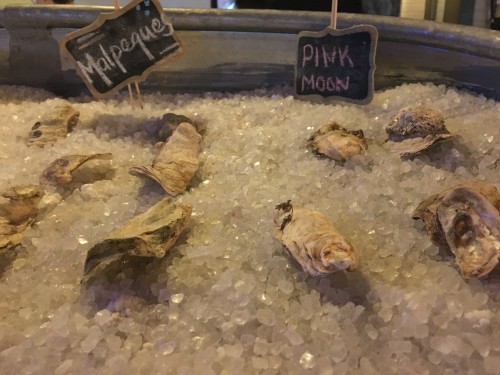 The Noizy Oyster is located at 101 South Kings Highway, Myrtle Beach, South Carolina 29577.
Check out other Myrtle Beach Adventures with Mommy University!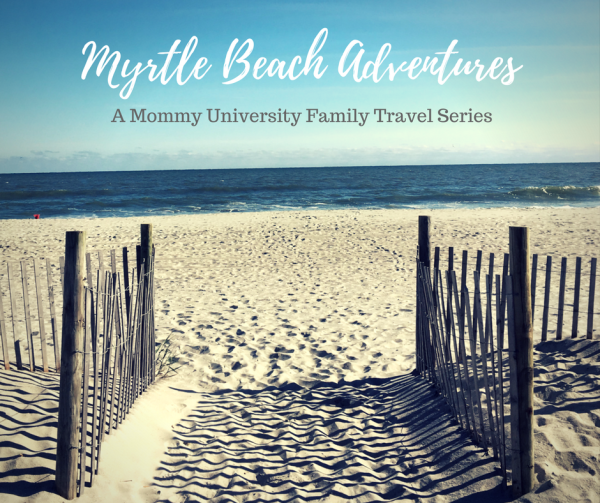 Planning a Myrtle Beach vacation? Check out VactionMyrtleBeach.com for all your vacation planning needs including places to stay, entertainment options and the best places to dine!
If you like this post, you might like: