If the shoe fits, wear it!
It is astonishing the numerous symbols and phrases derived from the fairy tale Cinderella. Whether we are discussing rags to riches, the carriage, fairy godmother or the clock striking midnight, the one icon that withstands the test of time is a glass slipper that can only fit Cinderella's foot. This story conveys several messages including that if the shoe fits, wear it.
In case you don't know the story of Cinderella, it involves a young woman who lost her mother and then later her father. She now lives with her stepmother and two awkward stepsisters who are horribly cruel and mean to her. Cinderella works tirelessly to take care of them and in return is treated poorly. When Prince Jason holds a Winter Ball, she believes she is unable to attend until the intervention of a Fairy Godmother transforms her appearance from the top of her head to feet adorned in glass slippers.
The trick in this story is that Cinderella must return home before the clock strikes midnight. As she and the prince discover that they are a wonderful match, her stepmother and stepsisters try to win the heart of the prince. When she leaves the ball, she loses one of her shoes which the Prince assigns his Valet, Wesley, to match to the woman of his dreams.
As the Growing Stage enters its 36th season with a theme focusing on Dare to Dream, they are taking us on a journey to France for an adaptation of this classic story. The Children's Theatre of New Jersey doesn't just present the standard story but rather re-imagines it with their own unique spin, and we love to watch it every time. With the Growing Stage, the story is filled with upbeat music and a heroine that knows herself as well as infused with a lighthearted humor that had my daughter laughing loudly. There are some plot twists that I can't reveal but will state that I truly enjoyed this interpretation of this classic story.
3 Stand Out Moments of Cinderella A Holiday Musical
at The Growing Stage
Interaction and Improv
After four years of attending performances at The Growing Stage, most have kept the audience as observers until now. Cinderella a Holiday Musical invites the audience to join in the play from the very beginning when Wesley, portrayed by Dennis Connors, reminds us of the theatre etiquette by directly addressing us.
The banter between this character and Prince Jason, performed by Brad Baron, was perfectly executed. The humor was quick and kept you engaged but overall flowed naturally. In one instance when Wesley seeks out the owner of the slipper, my friend's daughter was brought on stage! Prince Jason and Wesley had us laughing so hard we were on the verge of tears.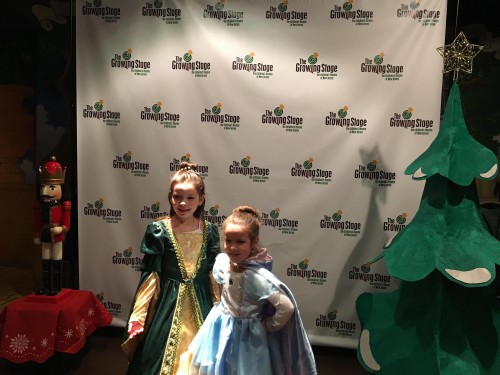 The standard comic relief of the stepmother and her step sisters is still present in this adaptation. Erin Franson, the Stepmother, has a dominating presence as the matriarch. Allie Ambriano and Nikole Riz playing Temperance and Grace are consistently fighting that you can't help but giggle over their sibling rivalry. Also included in the mix is Davis Cameron Lemley that plays Rat/Ratford who despite being focused on himself (and his love of cheese) had the audience amused. Due to the music, comedic parts and stellar acting, Cinderella moves at a quick pace that engages children.
Re-imagining a Dream
Old versions of Cinderella present a sweet and kind young woman but The Growing Stage has added a few more qualities to this description such as persistent and possessing a value of her own self-worth. Ally Borgstrom portrays what is my favorite version of Cinderella as she is strong yet still vulnerable, kind yet feisty and a woman willing to take risks.
Another twist is the interpretation of the Godmother, performed by Adrienne Reuss. In contrast to the self-serving Stepmother, the Godmother retains a positive presence. She is absolutely delightful and quirky. Throughout the entire play, she reminds us the importance of kindness.
Family Friendly
The title "Children's Theatre of NJ" exists for several reasons, however, as a return visitor let me share why The Growing Stage has encouraged a love of the performing arts with my family. Each child receives their own playbill which contains activities to promote an appreciation of the play they are going to watch. Since Cinderella is so prolific, they share information on how this fairy tale has appeared in other countries and recommended stories you can read to your children.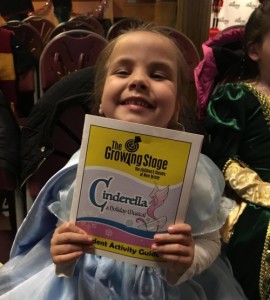 Following every performance, children can meet the cast! In fact, the last page of the Student Activity Guide contains an autograph page. My daughter loves to talk to the different characters. Whether they are discussing costumes, accessories, the plot or pretending they are still in the play, she has fun asking questions and taking photos with them.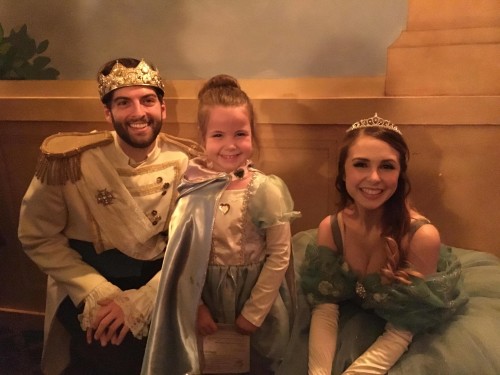 The Growing Stage has delivered another stunning show for families that promotes children to fall in love with theatre. As well, they are bringing to life a fairy tale with modern themes. As the mom of a daughter, I am thrilled to see her watching a heroine who retains positive qualities such as kindness while including themes of self-worth and strength. Cinderella A Holiday Musical runs November 24 through December 17 at The Growing Stage. To learn more and purchase tickets, please visit their website.
Check out the entire season here: