As soon as you walk into Universal you feel as if you have entered a movie set. From the giant Transformer to a replica of Skull Island to the iconic entrance to Jurassic Park, it is breathtaking! Entering The Wizarding World of Harry Potter, however, brings on a new feeling of awe and wonder. Even if you're not a Harry Potter fan or have never read the books, you will be amazed by this place. It is purely spectacular!
If you have not done so already, please read my Muggle's Guide for The Wizarding World of Harry Potter. It will break down each area so you can better plan your next Universal trip. In this post, I am going to highlight my family's favorite experiences within this magical world.
10 Must Do Experiences in The Wizarding World of Harry Potter
Take the Hogwarts Express in Both Directions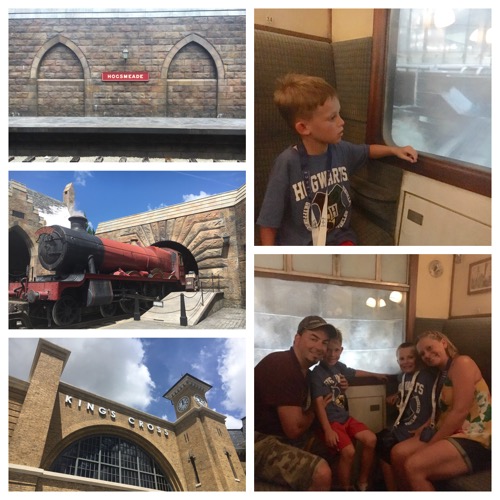 Be a part of the magic and board the iconic Hogwarts Express. The train can be taken from Hogsmeade to Kings Cross Station and vice versa. Each way offers a unique experience so I highly recommend riding it both ways. While aboard, guests can look out the window and watch as the landscape changes and beloved characters fly by. Enjoy the sounds of the passengers as they walk the halls and watch the magic along the way. It is important to note that tickets for both Islands of Adventure and Universal Studios are needed to ride the train!
Attend a Wand Choosing Ceremony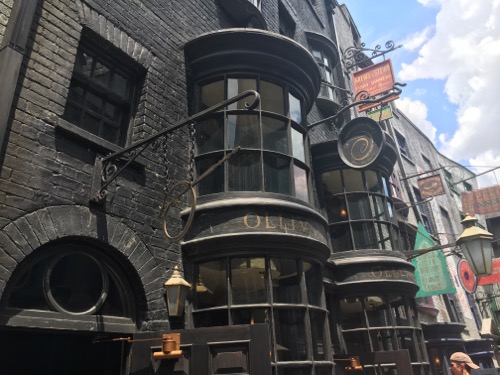 At both Hogsmeade and Diagon Alley, guests can attend a wand choosing ceremony at the famous Ollivanders. This is an interactive experience where one very lucky child is chosen to be a part of the show. Even if you are not chosen, it is still an unforgettable experience. Afterwards, take a stroll through the store and look at all the amazing wands.
Cast Spells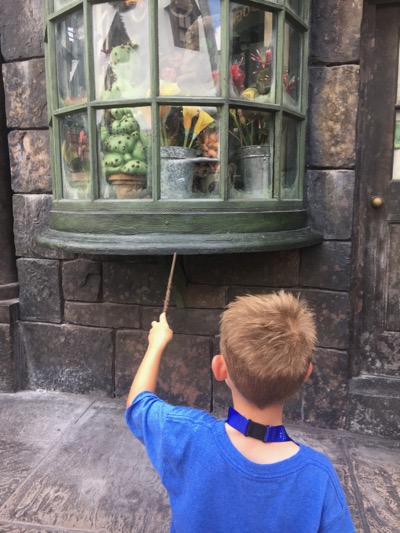 Throughout The Wizarding World of Harry Potter (as well as some gift shops at the hotels, parks and City Walk) guests can purchase their own magic wand. I recommend, however, picking up an interactive wand. It is pricier than the regular wands but definitely worth it. Each wand comes with a map of Diagon Alley and Hogsmeade showing where spells can be cast. Each station also has a plaque on the ground showing how to cast the spell. My boys absolutely loved this interactive experience. I loved it because it helped enhance their problem solving, visual-motor and language skills!
Drink a Butterbeer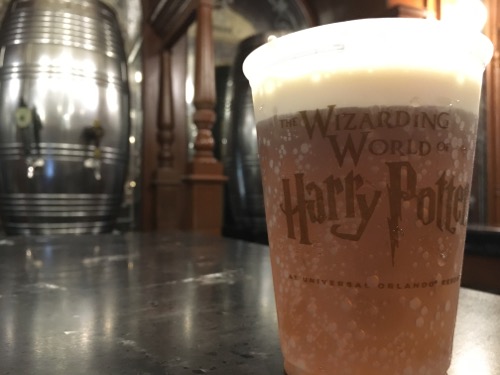 If you only try one thing at Universal Orlando Resorts, please let it be Butterbeer! Offered up cold, frozen or hot, this sweet treat is a MUST when you want to fully immerse yourself in the world of Harry Potter. I describe it as having a cream soda flavor with a thick butterscotch whip cream on top. You can also find Butterbeer ice cream and potted cream which are also delicious choices! (No, it does not contain any alcohol!)
Take a Walk Down Knockturn Alley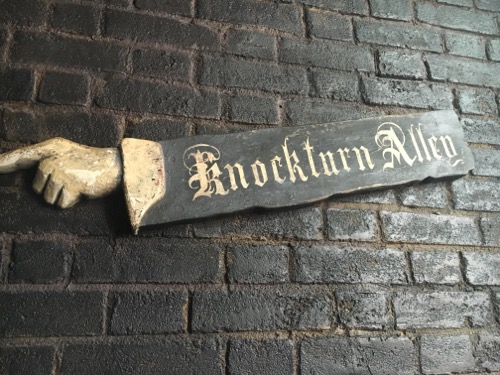 Take a walk on the darkside down Knockturn Alley. It is within Diagon Alley and can easily be overlooked. It is an eery space that offers spooky details and magic. There are spell casting areas and a gift shop. Plus, it's air conditioned!
Check out the Rides
The Wizarding World of Harry Potter has 3 rides between the 2 areas (not counting the train). My absolute favorite ride was Escape From Gringotts located in Diagon Alley so that is a MUST DO in my opinion. Another MUST DO ride is Flight of the Hippogriff. This is a fun coaster the entire family can enjoy. Harry Potter and the Forbidden Journey is another thrill ride located inside Hogwarts. (If you get motion sick, you may want to avoid this one though.)
Exchange Your Muggle Money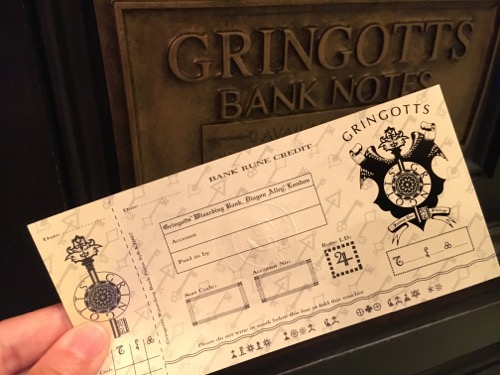 A unique experience in Diagon Alley is exchanging your Muggle money for wizard money. The smallest increment is $10 which is what we chose to do. You can then use your wizard money in select stores or save it as a souvenir!
Watch the Dragon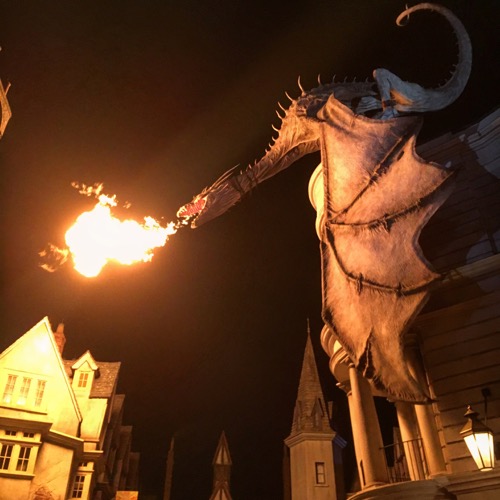 Watching over Gringott's Bank in Diagon Alley is a massive dragon. It is not only impressive in size but in design and detail as well. I found myself staring at it in awe and wonder. What's even more exciting is that it breathes fire! Every 10 minutes the dragon lets out a roar complete with fire. Day and night, this is a spectacular event!
Try a Sweet Treat
Besides butterbeer there are many sweet treats guests can enjoy at The Wizarding World of Harry Potter. You can pick up a Chocolate Frog and Every Flavor Beans at the candy store or delicious potted cream at the Leaky Cauldron. Like ice cream? Stop by Florean Fortescue's Ice Cream Parlor for a unique treat.
Notice the Details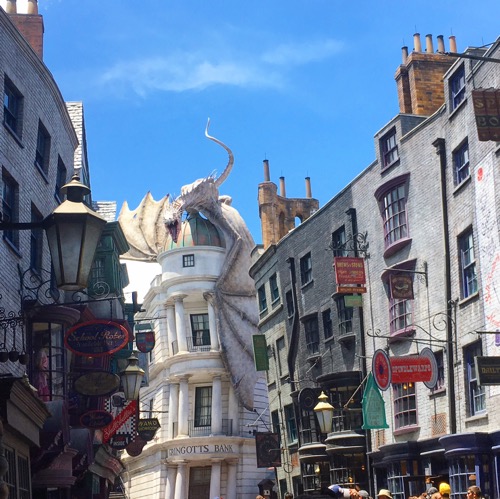 There is so much to explore and discover at The Wizarding World of Harry Potter that it can be overwhelming. I recommend taking advantage of the early admission if you stay at a Universal Resort. The crowds are smaller allowing you to take your time and admire the details. Look carefully at each storefront window as you never know what you might see or hear. Check out the signs that make you feel as if you walked right into the novel, and make sure to take lots of pictures to capture the magic forever!
We were so excited to be a part of the Family Forward adventure this year which worked closely with Universal Orlando Resort to bring us the best possible experience. All opinions expressed are my own.
You may also enjoy: