I recently kicked off my holiday season by attending my first Momtrends Holiday Soirée. I was excited to spend a couple of hours in NYC with some amazing fellow bloggers. As I walked into Spotlight Studios, I could instantly feel the holiday spirit. The room was full of happy moms talking, sharing stories and, of course, sipping on delicious glasses of Noble Vines wine. I knew I was in for a memorable evening.
Around the room were tables set up to display holiday gifts from amazing brands. Of course the night was not just about meeting new people and learning about new companies. It was about being engaged, enjoying new experiences and, most of all, having fun. Each brand offered a fun hands-on experience allowing us to become even more familiar with their products. We also walked away with some wonderful holiday goodies that would put a smile on any mom's face!
Riders by Lee
My first stop was at the Riders by Lee table. I was intrigued by their fun set up so I quickly struck up a conversation with the brand representatives. I was excited to learn that Riders by Lee offers affordable and comfortable clothes for moms that can fit any scenario. In fact, bloggers were asked to prove this very idea. Each attendee chose a scenario and had to dress a mannequin in their favorite outfit to fit that scenario. I picked a Cookie Exchange so I put together a comfortable yet stylish ensemble that I would LOVE to wear this holiday season. In fact, I would wear it ANYTIME!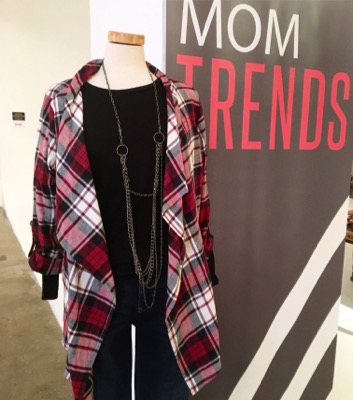 Pearhead
I absolutely LOVE sentimental gifts especially for the holidays. Pearhead offers the best gifts for moms especially new moms and grandparents. Their gifts help make memories last forever like their footprint canvas and handprint ornament. Their frames are perfect to add to any holiday decor or give as a gift as well. At the Holiday Soirée, I was able to pick one gift which was then wrapped for me to take home. I chose an adorable frame that I can't wait to fill with a family photo!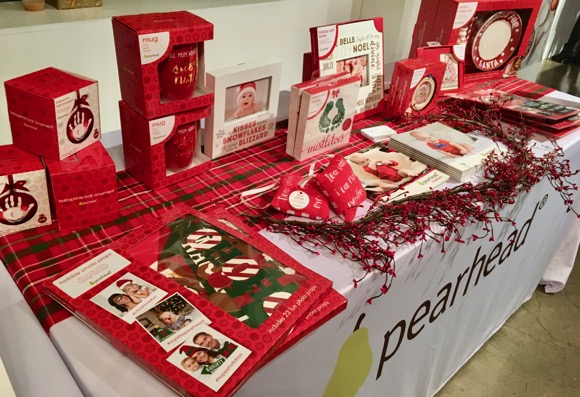 Red Velvet NYC
Red Velvet NYC had my attention from across the room when I spotted the chocolate truffles! As an admitted chocolate addict, I was so excited to learn about Red Velvet NYC. This unique company offers box sets of recipes so you can make gourmet treats right in your own kitchen. Each box includes everything you need to make a delicious sweets like red velvet cupcakes or gingerbread cookies. At the event, I was able to decorate my own red velvet cupcake to take home. It was absolutely delicious and I CANNOT wait to get this box so I can make my own. Since my son wants to be a chef, this is the perfect way to encourage his passion for cooking.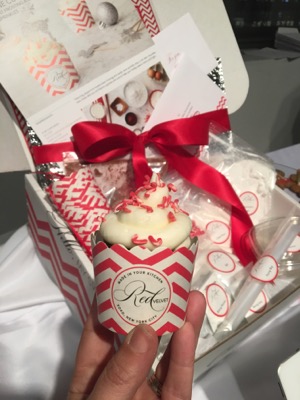 O-Venture
Never lose your keys again with the stylish and practical key ring from O-Venture. Available in 60 colors, this key ring is the perfect stocking stuffer for any mom on your shopping list. I was so excited to pick out my own O-Venture key ring off a holiday tree. Of course I picked blue! What I love the most is that O-Venture's mission is to "make women's lives easier one small detail at a time while putting a smile on their faces."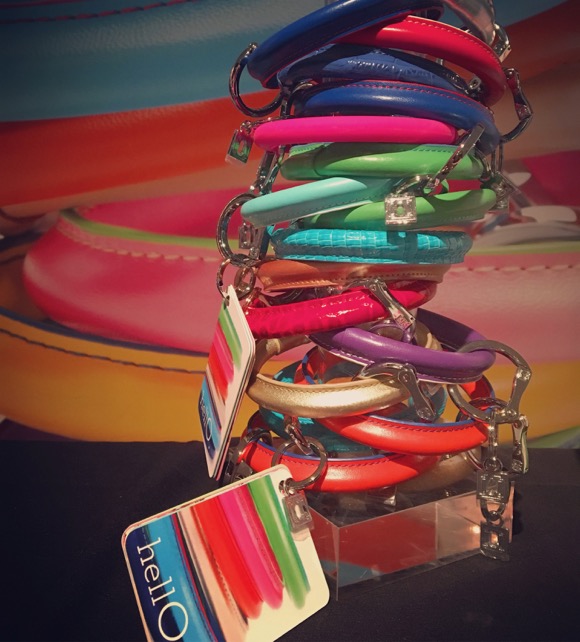 Cents of Style
I am always looking for affordable yet stylish new looks. As a mom, I also need comfort. Cents of Style offers everything I need along with things I never knew I wanted. I instantly fell in love with their cozy gloves and slippers, and I was so excited to go home with a new blanket scarf. I was even more excited when I won a pair of comfy slippers and an awesome bag to hold "a few of my favorite things."
Although I love their clothes and accessories, what I love most about Cents of Style is their mission to empower women. The team (consisting of mostly women) thrives on 6 values: Hustle, Clarity, Radiate, Own It, Tribe and Create. They believe "that when you look good, you feel good and then you can, in turn, pass the good to those around you." So go ahead, pass the good around!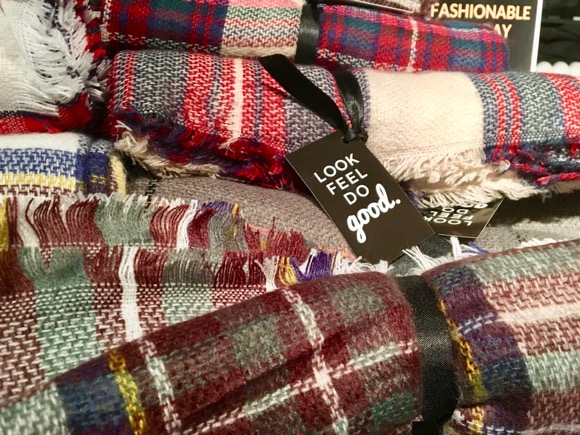 Name Bubbles
Get organized this holiday season with some help from Name Bubbles. These smudge proof labels are perfect for organizing your kitchen, ornaments or school supplies. They are also perfect for adorning holiday gifts! At the Holiday Soirée, I was able to make a label to place on a jar full of hot chocolate ingredients. What a fun and easy way to make holiday gift for friends, family and teachers!
Jarlsberg
This holiday season make sure to include Jarlsberg on your menu! From cheese to crackers, Jarlsberg has what you need to meet all your entertaining needs. Add some fruit, nuts, meat and olives to complete the perfect platter. In fact, bloggers at the Holiday Soirée had the chance to create their own cheese platter to practice their entertaining skills!
Noble Vines Wine
Nothing goes with cheese quite like wine, and we were lucky enough to be introduced to a delicious selection from Noble Vines. Whether you prefer white, red or rose, Noble Vines has what you need. At affordable prices, Noble Vines is perfect for holiday entertaining, a girl's night or just a relaxing night at home.
Maniorpedi New York's Mobile Nail Salon
My last stop at the party was at the Maniorpedi station where I enjoyed getting my nails polished. I have to admit, it was nice to sit and relax for a few minutes. While getting pampered, I learned that Maniorpedi will come to your house to perform manicures and pedicures. How cool is that? Now that is my idea of a girl's night!
The Momtrends Holiday Soirée was an amazing way to kick off my holiday season. I loved learning about new products, brands and services that will help create ease, comfort and style to a mother's busy life.  What do you want for the holidays?
In full disclosure, I was invited to this event as a member of the blogging community. An article was not required and all opinions are my own.
You may also enjoy: