When it comes to breakfast, my family is not always in agreement. While my children's eyes may be fixated on waffles or something sweet, my husband is focused on a savory meal. I am Switzerland in this debate as sometimes an omelette would be perfect until I want french toast.  Johnny D's Waffles and Bakery, in The Grand Strand section of Myrtle Beach, has food that will satisfy each family member's craving.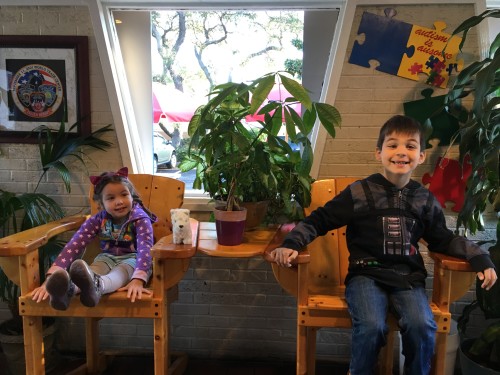 When we entered Johnny D's, we were greeted with smiling faces and oversized chairs that my kids quickly occupied. It has soft beach murals on the wall and is one open room. Arriving at 8am, there were a few tables filled yet a half hour later the space was packed. The soft murmurs of conversation filled the room but never overwhelmed our ears.
Leading Johnny D's is Chef Jamie Saunders who we had the pleasure of meeting. She designs these fascinating  creations that has earned the local buzz about having the best breakfast in town. While we have not personally eaten at every restaurant in Myrtle Beach, it has been one of our favorite breakfast meals in our travels.
The menu of Johnny D's reminds me of a book you take out from the library, it is massive! Not only filled with options for the early bird customers, breakfast and lunch, it also has an insert that provides information about Autism. It took us quite a while to decide which entrees to order, but we didn't waffle around! Children are naturally attracted to the chocolate chip waffles as well as the funfetti waffles that are filled with sprinkles and chocolate chips. The menu contains 10 different types of waffles ranging in price from $6-10. I chose the Red Velvet Waffles which were incredibly light and fluffy. Since my breakfast had an icing no additional syrup was needed and it was not too sweet.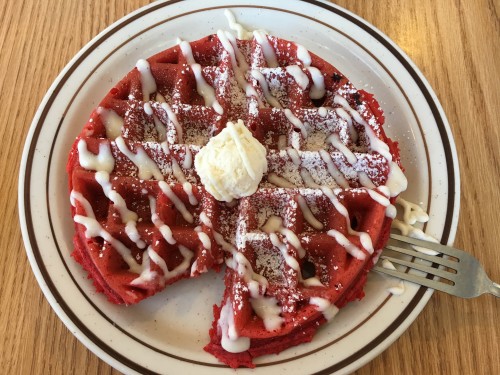 My husband was torn between a Spicy Avocado Omelette and Eggs Benedict but followed the suggestion of our waitress, Alex, which was to try the Salmon Eggs Benedict. He needed a suggestion after staring at 15 different options for omelettes and 9 for Egg Benedict. After eating heavy food the previous days, this was perfect. What impressed him was the pickled onions which is a Johnny D's specialty. He also loved the grits on the side.
There are so many options on this menu! You can add biscuits, pork belly or home fries, but I went with fruit which was delicious strawberries. When we return to Myrtle Beach, Johnny D's is on our list of places to return for the quality of food combined with sheer quantity of possibilities.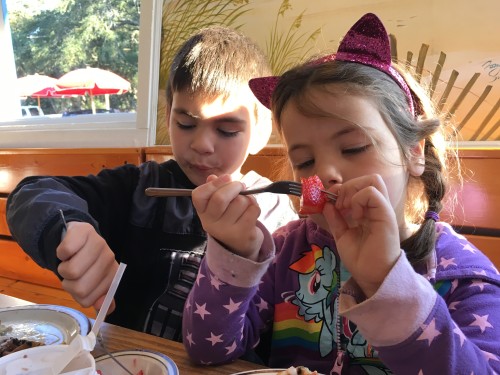 While we loved the food at Johnny D's, what impressed us as educators and parents is the work that Chef Jamie Saunders does for Autism Awareness. As a board member of Champion Autism Network, she is working towards making Myrtle Beach an Autism-friendly travel destination. When visiting Johnny D's you will notice an "Autism is Ausome" sign to the menu insert as well as other subtle clues to help raise awareness. The endeavors of Chef Jamie and Johnny D's CAN encourage businesses to become inclusive.
Johnny D's Waffles and Bakery is located at 3301 N Kings Hwy, Myrtle Beach, SC 29577.
Check out other Myrtle Beach Adventures with Mommy University!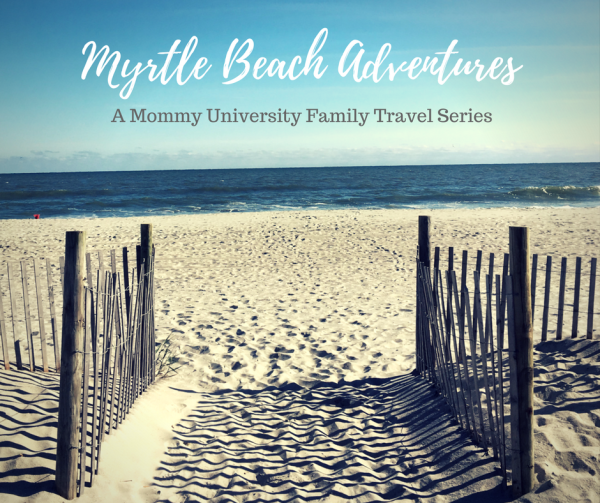 Planning a Myrtle Beach vacation? Check out VactionMyrtleBeach.com for all your vacation planning needs including places to stay, entertainment options and the best places to dine!
If you like this post, you might like: