There is a distinctive chill in the air when November approaches the Garden State yet Six Flags Great Adventure knows how to warm our spirits with Holiday in the Park. It is ingrained that when we think amusement parks we envision the warm months of summer, but Great Adventure has changed this thought process. Holiday in the Park transforms the park into a magical space consisting of 13 themed areas that inspire the imagination. You can stroll through Whimsical Wonderland or Holiday Memories, and when the sun goes down these imaginative spaces are easily seen by lights and decorations that reflect their unique personalities. For example, Polar Point is illuminated in a glacial blue while Poinsettia Park is backlit in red with a stunning tree of poinsettias.
Families have the opportunity to walk through a million lights that are stunning. As well, Great Adventure has designed photo spots that are perfect for selfies or family photos. It is truly an immersive experience that takes you away from the chaos and bustle of holiday shopping, plans and to do lists. In addition to enjoying signature rides, Great Adventure offers unique experiences and activities only available during Holiday in the Park. Here are a few of the activities we enjoyed at Great Adventure!
Mommy University Presents
A Magical Guide to Holiday in the Park at Six Flags Great Adventure
Visit Santa Claus
Santa maintains a residency in Six Flags Great Adventure where he meets those who want to share their holiday wish list. While the line can get long, there is a valid reason. Each family meets with Saint Nick in his den surrounded by his bookshelves and fireplace. Holding a private conference with him is perfect for little ones as well as those with sensory issues.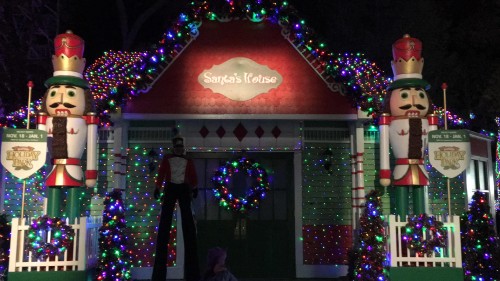 Stop by North Pole Village
Across from Santa's House, the North Pole Village offers children the opportunity to fill out cards to Santa and place in the mailbox. Children will be mesmerized by the talking reindeer, and they will want to play with the snowman they can dress up with magnetic pieces.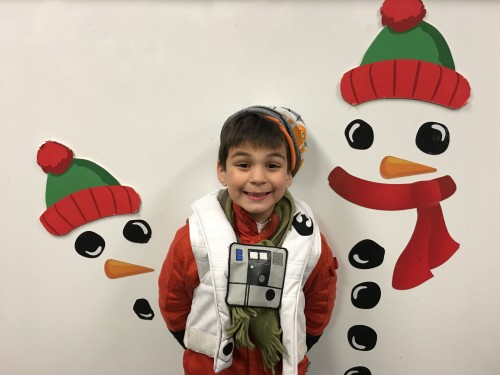 Get Your Passport Stamped
Children 12 and under can stop by several locations (North Pole Village, Sweet Treats, Merry Marketplace) to pick up a Holiday Passport. When they complete each task, they will receive a stamp and collect a prize at the North Pole Village.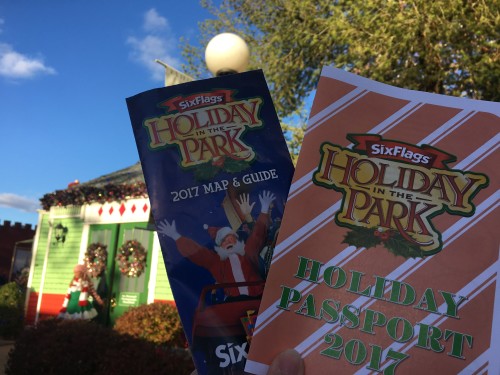 Check out the Main Street!
Entering Six Flags you typically would be facing the fountain; however, during Holiday in the Park a massive 52′ tree has now taken its place. At 5pm, the magic begins. The tree is lit up with changing lights coordinated to the music played overhead, but MY favorite part takes place every half hour when there is a six minute show. Don't be surprised if it starts snowing!
Stay Warm 
Since Holiday in the Park runs during the colder months in New Jersey, I recommend picking up the Holiday in the Park mug. We shared one mug among the whole family refilling hot chocolate several times in one day which more than paid for the mug. When we visited, it was cold which translated to visiting the fire pits in Merry Market Place several times while enjoying our hot cocoa. For adults, you can also stop by Yuletide Brew for hot chocolate with alcohol. There are other spots for fire pits and s'more kits can be purchased.

Meet Royalty
At Six Flags, there are several Meet and Greets throughout the day including several members of royalty: Poinsettia Princess, Snow Queen and Peppermint Princess. There is also Tweety Bird, Sylvester and Daffy Duck. These are fun spots for photos but they also create magical experiences and memories for kids!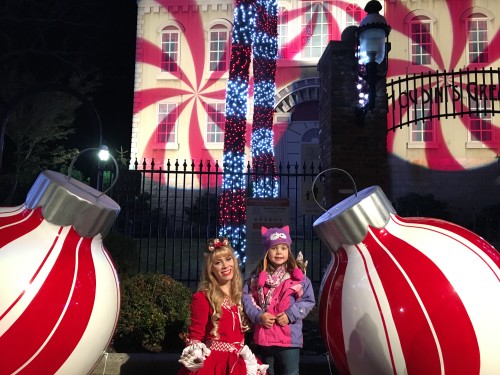 Admire the Festive Lights!
We loved exploring Holiday in the Park during the day but there is nothing like the moment you walk through at night when each section is clearly defined by the lights present.
We compiled a video of the highlights we experienced in 2017!

Holiday in the Park takes place on select dates November 18 – January 1 and features more than 13 shows and activities which will appeal to the young or older family members. This has quickly become one of my favorite holiday experiences because of the diversity of what is available as well as the ambiance that is created. Six Flags Great Adventure has compiled a multi sensory experience that will leave you amazed!
To learn more, please visit the Six Flags Great Adventure website!
If you like this post, you might like: