After the fast paced start of the school year slows down and fall begins to take hold with colder temperatures, we start to imagine where we can get away. With days off in November, we wanted to get out of the routine of our home state of New Jersey and have some fun all the while including learning opportunities at an affordable cost. That doesn't seem like an impossible checklist but it can be challenging. Myrtle Beach successfully allowed us to check off each of these items on our list with ease and phenomenal family memories to cherish.
Our trip to Myrtle Beach was during the Off-Season. While it is known as the summer destination to spend hours soaking up the sun at the beach, it has plenty of activities to keep families engaged and entertained when there is a crispness in the air. However, our water babies still want to go swimming when on vacation so it was critical to look at hotels that had indoor pools. The Crown Reef Resort not only has outdoor water attractions it also boasts an indoor water park so after each day's adventures, my children were able to leap into the water.
Crown Reef Resort is located in the southern part of Myrtle Beach consisting of three towers. The layout of the hotel rooms is designed so that every room has a view of the ocean. Coupled with affordable rates, this property of Vacation Myrtle Beach was the perfect choice for our family for several reasons.
 


Reasons Fall is an Amazing Time to Visit
Crown Reef Resorts in Myrtle Beach
Layout of the Rooms
We were staying in the second tower on the second floor, and as we entered the room, I was surprised by what is called a shotgun style accommodation. When we entered the first room, I was looking at the double beds, then the kitchen and bathroom, and the last room is a living room (with a pull down bed) that opens to the balcony. Admittedly, this surprised me as my vision of relaxation was waking to a view of the ocean but the next day when my son woke me up at 5:30am because he wanted to see the sunrise, he could do that without disturbing everyone else who wanted to sleep.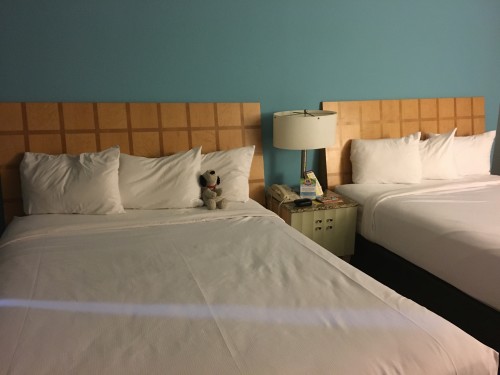 As a family that can only do budget friendly travel, I was impressed with the kitchen. Eating out can consume massive chunks of your budget; however, the full size fridge, stove and microwave enables families to cook some of the meals in the hotel room thus saving money for other items such as splurging on a quality meal. The kitchen of the hotel rooms have been recently renovated so they appear new and are immaculate.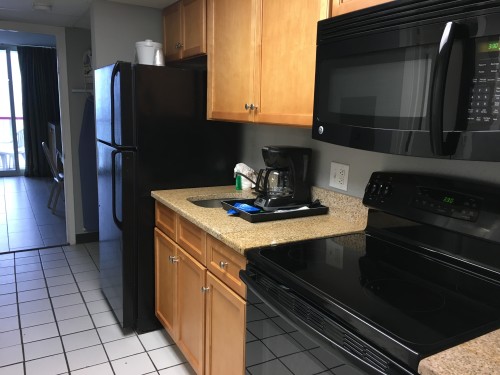 Water Attractions
Let's be honest, if you are traveling to the beach you want to go swimming! Traveling in November, we did not have "jump in the ocean and go swimming weather;" however the Crown Reef has a unique design to their water attractions that allow families to swim throughout the entire year. There are water features that are surrounded by movable walls so when the temperatures chill, they erect the walls so children can still enjoy the splash pad, explosion slide and the twister body slide. My children had embraced their own goal to ride down the slides as many times as possible before bedtime.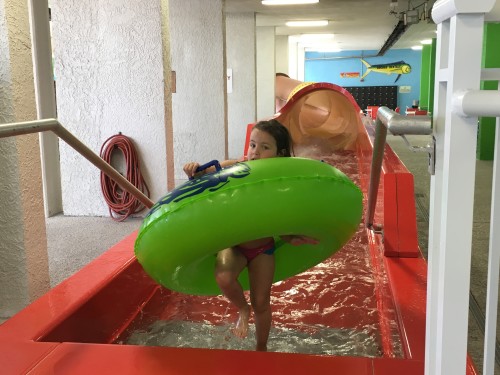 As well, Crown Reef boasts the largest lazy river in Myrtle Beach. While this feature is outdoors, we found the water to be warm so my children were committed to enjoying this experience. While the temperature hit 50 degrees, with the sunshine and heat of the outdoor pool they were comfortable swimming outside. Yes, in November they were swimming outside!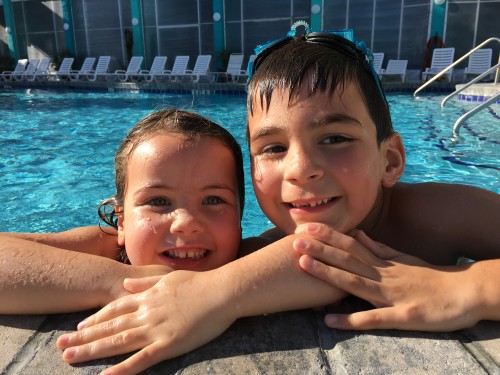 Although, we were unable to swim in the ocean we still had beach moments. My son specifically requested to watch the sunrise so at 6am dressed in jeans and sweaters we tackled a sunrise. Since the front door of the hotel room is a five minute walk to the beach, this was an easy request to achieve. This tranquil moment is one of my favorite memories at Crown Reef.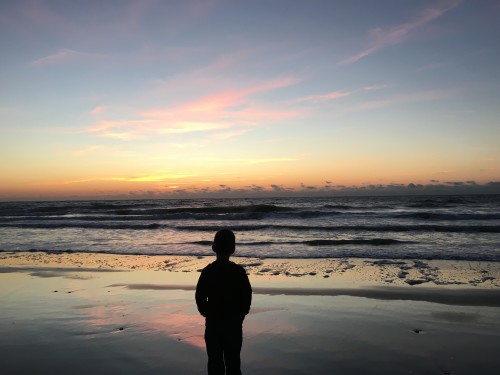 Additional Amenities
The Crown Reef Resort has the Town Center which contains a Grab N' Go Grill & Coffee Bar that serves a light breakfast and lunch. My husband took the kids for breakfast and commented at the friendly staff who were incredibly helpful. In fact, our waitress at Loco Gecko Beach Shak, the second onsite restaurant, recognized that it was our first trip and offered spot-on recommendations on food and activities as well as shared that Rocky Mountain Oysters are not what we think they are. We enjoyed this place to grab food that has burgers, nachos and this divine blended drink for adults called Sandlot. If your children enjoy playing at the arcade, then the Town Center is the place they want to head to after pool hours.
Always improving their space, from renovated kitchens to pavers surrounding pools, The Crown Reef has recently opened a fitness center with a significant amount of equipment as well as laundry facilities which I imagine is great for families that are enjoying a long vacation.
Our first trip to Myrtle Beach was perfect. From the layout of our room to the design of the hotel to the friendly staff, The Crown Reef Resort kept the focus on families sharing time together and bonding. Every morning we were greeted with salty air and sunshine encouraging us to explore. After our morning adventures, the Crown Reef welcomed us back for swimming and fun despite cooler fall temperatures. The hotel's affordable rates empower families to take a family vacation while still being friendly to budgets.
The Crown Reef Resort is a short drive to many cool and engaging activities which we will continue to explore in our Myrtle Beach Travel Series. When considering a vacation at Myrtle Beach, check out Vacation Myrtle Beach that has properties throughout the Myrtle Beach area, each containing unique benefits while maintaining quality accommodations.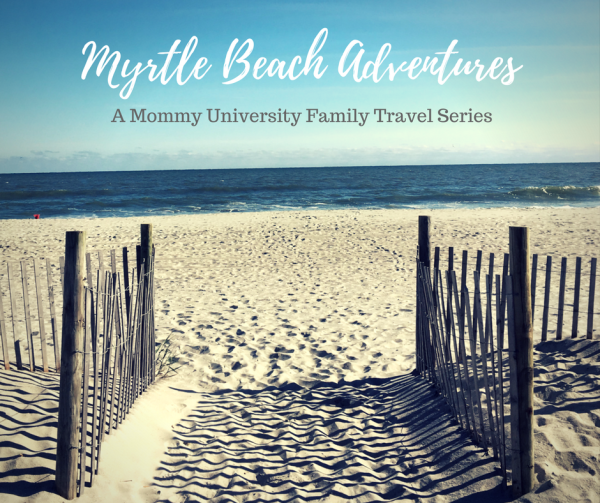 Planning a Myrtle Beach vacation? Check out VactionMyrtleBeach.com for all your vacation planning needs including places to stay, entertainment options and the best places to dine!
If you like this post, you might like: