Is it later gator or see you in a while crocodile?
At Alligator Adventure it's actually both. When we travel, I look for locations to visit that one, if not all of the family members, will enjoy. Ideally, it will offer an educational component or complement an interest one of us already possesses. Exploring Myrtle Beach there are vast opportunities to have fun, and, at the same time, tap into expanding our knowledge which is why Alligator Adventure caused me to utter "whoah!"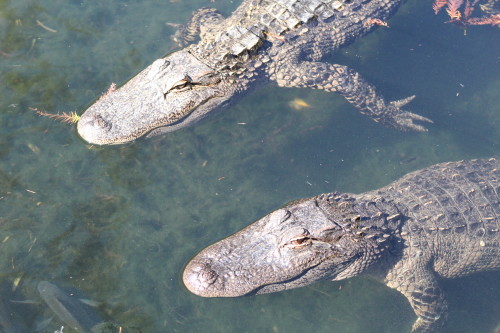 Located on Barefoot Landing, it spans over 15 acres, and, impressively, it is home to over 200 species of animals. Yes, it is filled with Alligators and Crocs. When you walk in the main entrance, there is a space that has so many crocodiles sleeping in a pile that it reminds me of an Indiana Jones movie. Within minutes you will understand how Alligator Adventure earned the title "Reptile Capital of the World".  Personally, zoos and aquariums always are on my to do list; however, what makes Alligator Adventure unique is that it focuses on these rarely understood creatures.
There are paths linking different stations throughout Alligator Adventure. While most are outdoors, there are a few indoor spaces. Strolling to the different spaces, there are spots that are just crocs being themselves. However, there are some key hot spots to visit when visiting Alligator Adventure.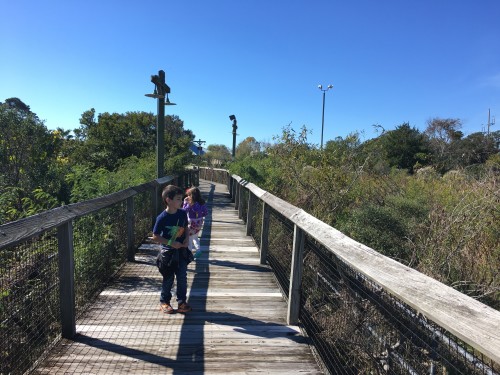 Visit Utan
The largest crocodile in captivity, Utan, is affectionately called "The King of Crocs" and since he is 20' long we can understand how he earned this title. He is a hybrid of Siamese and a Saltwater Crocodile and consumes chicken and turkey. Since both of these crocodiles exist in vastly different locations there will likely never be a croc like Utan again.
Albino Alligator
There are only a dozen Albino Alligators in the world so seeing one in person is very cool and another reason that Alligator Adventure offers amazing learning experiences. Albino Alligators lack melanin and thus are white. It is very rare for them to survive to adulthood because they cannot camouflage themselves. The Albino Alligators here have their own covered space protecting them from the rays of the sun.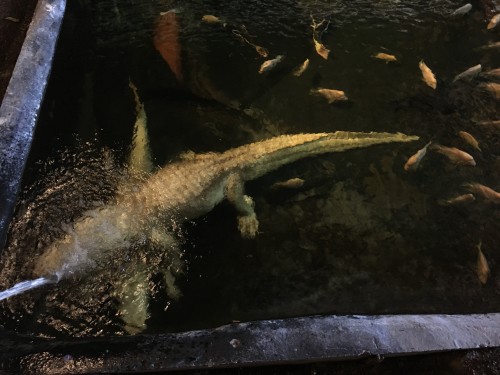 Serpentarium and Reptile House
Explore the Serpentarium that is 4,000 square feet filled with fascinating snacks like a King Cobra or Giant Burmese Python.   We were thrilled with the Reptile House which contains cool and wild looking creatures! This space is dark so when you enter the enclosures are lit up with a wide variety of species, from a Tegu to a Pancake Tortoise. It is astounding how many snakes and lizards we observed. Do not miss walking through these adventures.

Crocodile Cove
At the back of Alligator Adventure is Crocodile Cove which has a diverse range of reptiles. It was absolutely impressive to see Caimens to the rare Siamese Crocodile. Don't forget to see one of Alligator Adenture's favorite residents Bob! She (yes, Bob is a she) was born with a common birth defect among American Alligators which is no tail. Tail-less Alligators don't survive in the wild so seeing her certainly surprised us.
When we return to Myrtle Beach, we will be visiting Alligator Adventure as Crocodile Cove is such a great opportunity to observe how much one species can vary in terms of size and shape. Around every corner children have the opportunity to observe and learn about reptiles, nature and science!

Engage in the Live Shows!
At the amphiteatre, there are live shows on the hour when we visited. Check when you arrive what time the shows run as I imagine the type of show and how often varies between the summer and off-season. Since we went during off-season, we didn't watch an alligator feeding yet we were able to watch two different shows up close.
We watched a live animal show that introduced us to a tortoise and snake. In our home state of New Jersey, when we visit the zoo with animal demonstrations we are not able to pet certain animals but at Alligator Adventure we totally can!
The second show was an Alligator Handling. In the summer months, you can watch an Alligator feeding or you might even catch the Croc Doc answering questions. As the alligators start to slow down in the colder months, this live show allows us to learn about gators as we touch their tail, feet and belly (but leave the head alone as they don't like that!).  Our family enjoyed this multi-sensory approach to learning.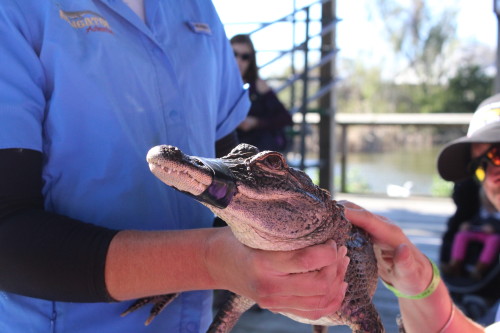 Not Just Reptiles!
Alligator Adventure has other animals such as Kookaburra which is an Australian bird that makes the noise you have heard a million times in movies. If you have a child that prefers fur or feathers on their animals, they will see plenty to keep them engaged as well. My daughter prefers cute and cuddly so a trip to the Lemurs and Marmosets sprinkled with a stop to Flamingos made her day.
Tips & Suggestions
Alligator Adventure is an outdoor destination so in the summer months be prepared with water and suntan lotion.
Since it is an outdoor location, it closes during poor weather conditions like rain.
Your tickets can be used for a FREE second day visit, so schedule your visit early during your trip so you can return again. Before you leave, show your ticket to the ticket booth so that they can give you a return pass which can be redeemed within 7 days of your first visit.
The gift shop is huge and has some great stuff in it! Our favorite item was a stuffed Bob alligator who has no tail.
In the summer heat, you might want to avoid the sun by visiting the Serpentarium or the Albino Alligator.
You can purchase bird feed at a low cost of $2 to feed the birds which my kids enjoyed.
The live shows are very popular and with good reason: you can touch reptiles! I recommend arriving early as only the first two rows of the stadium will be able to touch the featured creatures.
Alligator Adventure is located at Hwy 17 at Barefoot Landing, North Myrtle Beach, S.C.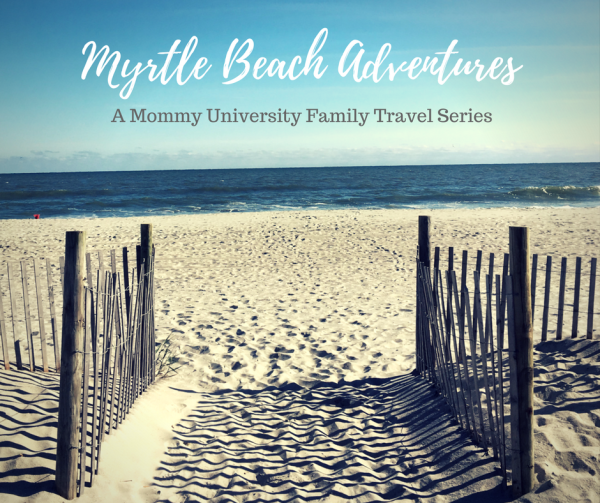 If you like this post, you might like: