We are so excited to bring you this year's Play and Learn Holiday Gift Guide. We are thrilled to partner with so many amazing and award-winning companies who provided many of the brain boosting toys on this list so we can share them with you this holiday season.
Since even before I was a parent, when I purchased a toy for a child, I made sure it had a purpose. For me, a toy has to encourage learning, development and growth in some way otherwise what is the point? Toys and games should stimulate the brain, make kids think and reason and/or spark the imagination. Children learn through play so we have to make sure that play is meaningful!
After careful consideration, and several Mommy University reviews, we have come up with a list of over 30 toys that you are sure to LOVE this holiday season. This list is broken down into 5 categories: Academic/Cognitive, The Arts, Science and Technology, Pretend Play and Motor. Since EVERY toy chosen also encourages growth in the area of language development, a separate category is not needed for this area. Amazon affiliate links are included to make your gift buying experience easier!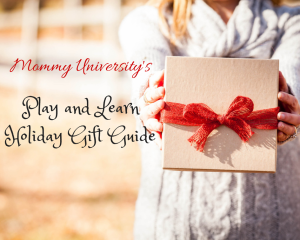 Academic/Cognitive
Sing and Snuggle Scout and Violet (LeapFrog)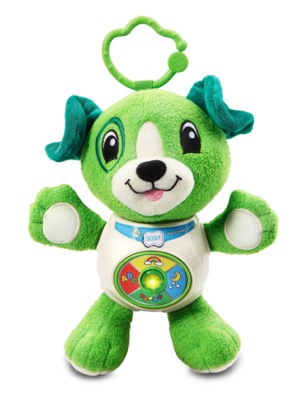 Get your kids excited about learning starting at early age with Sing and Snuggle Scout and Violet from LeapFrog. These adorable plush interactive toys will engage your little one's senses with colorful buttons and lights as well as educational songs about shapes, colors and letters. It is perfect for playtime at home, but can also be clipped to your child's car seat and carrier for on-the-go learning fun! These adorable toys will become your child's new best friend. They cost under $15 on Amazon.
Color Cube Sudoku (ThinkFun)
I have always been a huge fan of Sudoku. Not only does it challenge me cognitively, it also provides a calming escape from my everyday stress. That is why I am so excited for the new Color Cube Sudoku from ThinkFun. This amazing brain boosting game comes with 9 color cubes in a 3×3 tray. To win, the player must have each color appear once in every row and column. In addition to this traditional way of playing, there are also Bonus Challenges for even more learning fun! This award-winning game can be purchased on Amazon for under $20.
Aqua Maze (MindWare)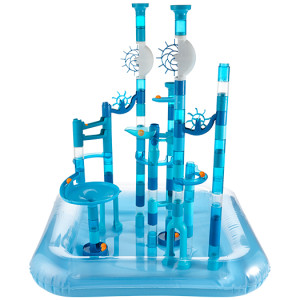 Marble Mazes encourage traditional building skills such as problem solving and creativity. They capture a child's attention after they are built because they are fascinated to see what happens to the marble. MindWare has released an innovative approach to marble mazes with Aqua Maze! Now marbles will have their own splash park adventure as they spin through water. Children will be watching the concepts of physics whether the Aqua Maze is being played with or without water. Priced at less than $40, it is a wonderful toy for children ages 4 and older. It can be purchased on the MindWare website.
The Marine Rescue Center (Build & Imagine)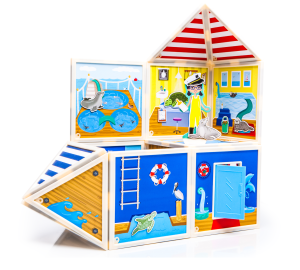 Build & Imagine offers a world where children can design their own buildings, places and stories. The sets offer double-sided pieces which means that there are endless possible configurations for each collection. This toy doesn't require batteries and the only person assembling the toy is your child. While learning through play, they will discover which designs are functional and which ones may require more support. The toy also doubles as a location for pretend play with dolls, figures or the included characters. Build & Imagine is designed for children ages 4-8 years of age and the sets can be combined to expand the worlds that they create. The Marine Rescue Center is priced on Amazon for less than $45.
Dig It Up! Discoveries Sea Life (MindWare)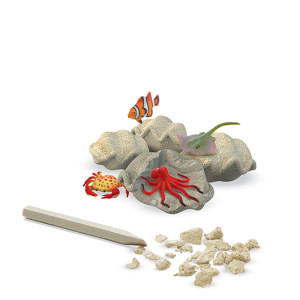 If you have a child that loves sharks, fishing or marine life, then he/she will love the newly released MindWare Dig It Up! Discoveries Sea Life set that includes 12 shells. Your child will chisel out and discover a unique aquatic creature. After the sea life has been revealed, children can compare against the included guide to learn more about it. Priced at less than $25 on the MindWare website, this toy offers academic information as well as promotes fine motor skills. Designed for children ages 4 and older, we love that it will keep them busy while having fun!
2-in-1 LeapTop Touch (LeapFrog)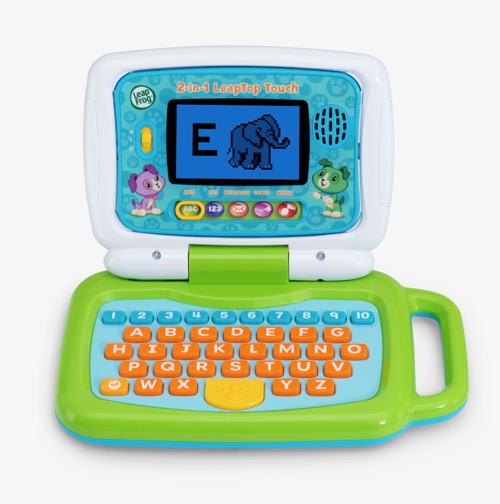 Kids love learning through play especially when technology is involved! The 2-in-1 LeapTop Touch lets kids play with their own laptop while learning letters and numbers. This toy features a keyboard with A-Z and 1-10 number buttons while also offering a touchscreen for more ways to play and learn. It can also be turned into a tablet just by swiveling the screen around. There are 5 modes of learning: ABCs, numbers, games, music and messages, all of which teach important academic and cognitive skills that prepare kids for school. This toy, recommended for ages 2 and up, comes in green and pink and is sold on Amazon for under $25.
Mr. Pencil's Scribble and Write (LeapFrog)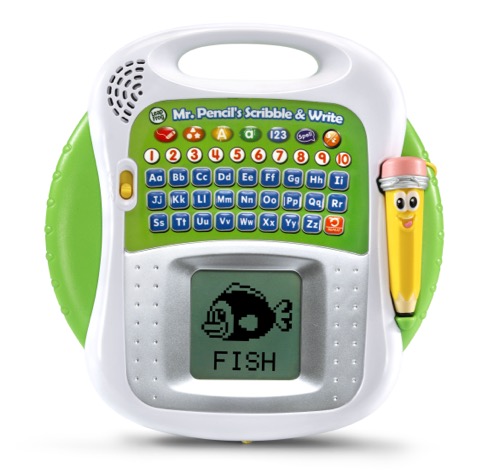 Encourage kids to learn how to write with the new Mr. Pencil's Scribble and Write toy from LeapFrog. Mr. Pencil will help kids learn to write letters, numbers and shapes in a fun and entertaining way. Kids can also watch their drawings come to life which encourages creativity and imagination. As kids use the stylus to write and draw, they are building fine motor skills as well. Early spelling is also introduced which is great for kids in preschool and Kindergarten. This toy is recommended for ages 3 and up and costs under $25 on Amazon. It comes in green and pink!
Pokemon Trainer Guess: Kanto Edition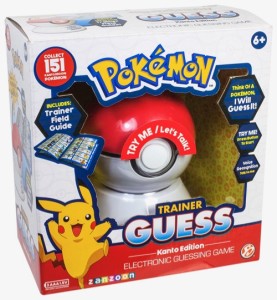 If your kids love Pokemon, then they will love this new electronic game. Kids can test their knowledge and enhance language skills each time they play. Just think of a Pokemon and answer the questions from the Trainer. Based on your answers, it will read your mind and figure out which character you are thinking about. The game also comes with a Trainer Field Guide to "guess" all 151 Kanto Region Pokemon. This game is under $16 on Amazon.
(back to the top)
The Arts
DuoTip Washable Markers (Faber-Castell)


The holidays are the perfect time to buy quality art products for gifts! Faber Castell has amazing markers, crayons and art kits. The DuoTip Washable Markers have bold and vibrant colors as each marker has two colors. Don't worry if your children struggles to put the caps back on their markers because all they have to do with these is dip them in water to rehydrate them. You will also enjoy the fact that they don't have a strong odor or fumes. For less than $10 on Amazon it is recommended for children ages 4 and older.
Calming Swirl Charms (Creativity for Kids)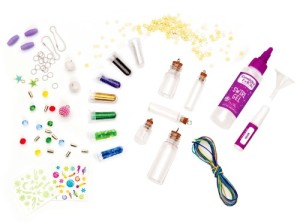 If you have a child that is fascinated with fairies or magic, then the Calming Swirl Charms makes a great arts and crafts project for them. Recommended for children ages 5 and older, they can make up to 5 different charms which can be attached to a necklace or backpacks. The swirl charms are relaxing for children to watch with the appearance of a mini calm down jar. Priced at $15 on Amazon, this kit is fun for an artistic child or for a playdate!
Colour A Cape (Great Pretenders)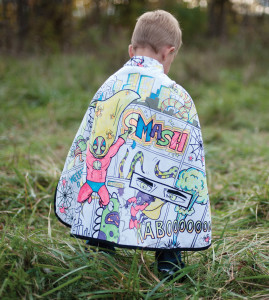 The Colour-A-Cape from Great Pretenders offer a unique coloring experience. There are no rules, patterns to follow or directions. Kids just color! It's so simple yet so perfect! Each cape comes with a set of vibrant markers perfect for coloring on fabric. Plus, the capes are reversible for even more pretend play fun. There are so many reasons to love Colour-A-Cape (you can read our review to see why) and at a price less than $25 on Amazon it is a wonderful gift this season.
Bath Fizzies Kit (Creativity for Kids)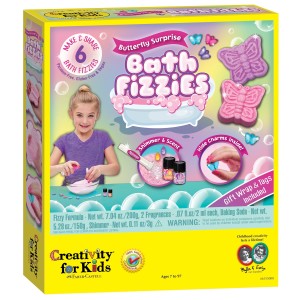 The Bath Fizzies from Creativity for Kids appeals to the tween in your home as they have the opportunity to build up to 6 bath bombs with hidden surprises inside! Call it magic or science, children can make those unique items for themselves or friends. Priced at $16 on Amazon, this kit makes a great gift where kids can get their hands messy!
Color and Erase Mat (Crayola)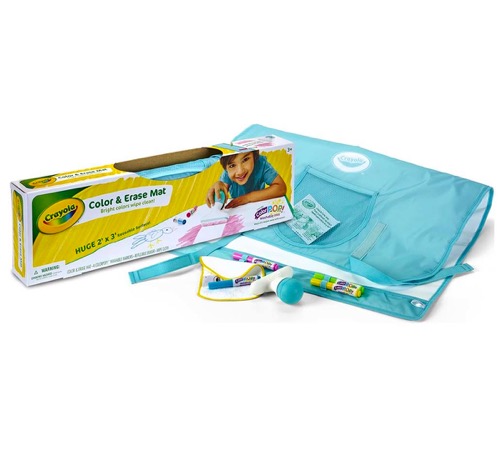 Kids love to color but it can be messy especially when they are first learning and building their fine motor skills. That is why we LOVE the Color and Erase Mat from Crayola. It allows kids to color over and over again without the mess. The set is also portable making it perfect for a trip to grandma's house, the doctor's office or the park. It comes with 4 ColorPop markers, a mat, one water eraser tool and one wipe cloth. The Color and Erase Mat can be purchased on the Crayola website and Amazon.
Playful Chef Cooking Set (MindWare)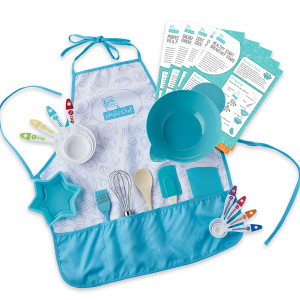 Children who learn even the basics of cooking are learning about math, science and problem solving as well as using their imagination. Playful Cooking Set is an entire kit to inspire your budding chef with an apron, color coded measuring cups and spoons as well as cooking tools sized for their smaller hands. The valuable life skills they learn will be priceless as they grow with healthy eating habits. Designed in a beautiful blue that appeals to all children ages 4 and older, the set is under $40 on the MindWare website.
Playful Chef Knife Set (MindWare)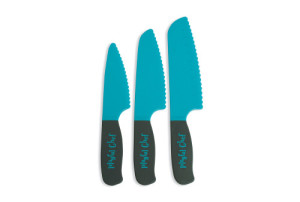 You might be nervous equipping your budding cook with sharp knives, and, we agree, that's why the Playful Knife Set from MindWare is designed so it won't cut little hands. In three different sizes with comfort grip intended for small hands, it can cut through vegetables. The instruction book will review proper cutting techniques as well as expand your child's vocabulary as they "dice" or "chop" into their new skills. For children ages five and older, it is under $20 on the MindWare website.
Pocket Size Pictures (Faber Castell)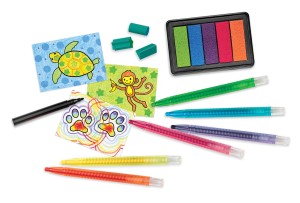 Within the Pocket Size Pictures from Faber Castell are plenty of opportunities to be creative! Children are creating trading cards of their own art work. Included in this kit are stamps, markers and small cards (some with prompts while others are blank). As well, there is a clear case to put the cards when they are done decorating them. This is such a unique artistic gift that it invites children to get creative! Priced on Amazon for $15, it is recommended for children ages 7 and older.
Fisher-Price Classics Tape Recorder (The Bridge Direct)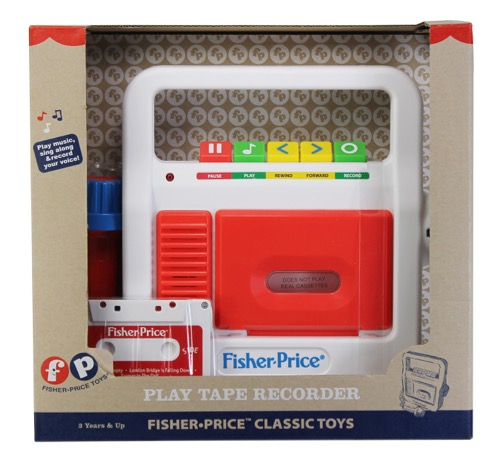 Do you have a future star in your house? Let them show off their unique voice with the Fisher-Price Classic Tape Recorder. I remember this toy from when I was a kid, and I am so glad they have brought it back for more performing arts fun. Kids can sing along to fun tunes as well as record themselves belting out their favorite songs. This fun toy can encourage a child's love of music while inspiring their imagination! It is available on Amazon.
Silly Scents Marker Maker (Crayola)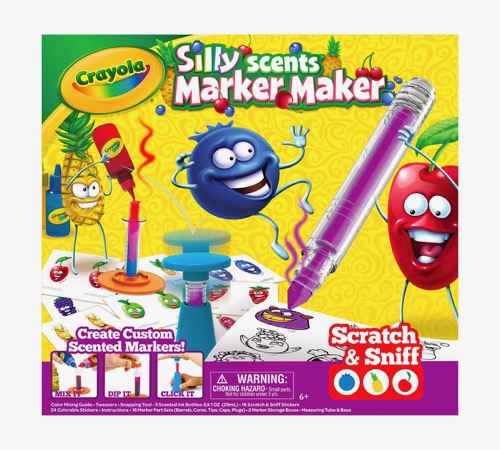 Kids love engaging all their senses, and that is probably because it is the best way for them to learn. Well, Crayola's Silly Scents line is the perfect way for kids to get creative while learning! To add to the learning experience, kids can now MAKE their own markers. What a fun way to combine art and science. The Silly Scents Marker Maker allows kids to make 16 custom color scented markers that can be used to create art master pieces and amazing school projects. The Marker Maker can be found on the Crayola website as well as on Amazon.
2-in-1 Light Up Music Maker (Playgro)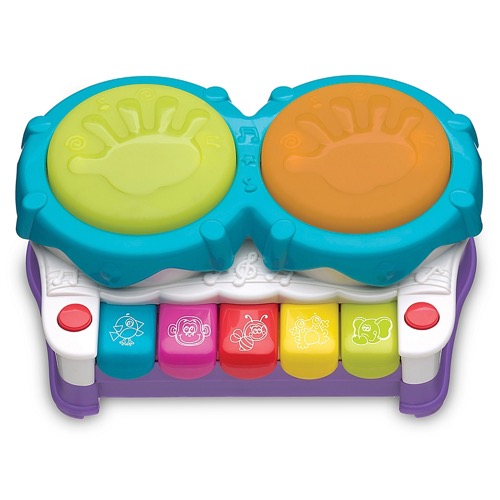 Let your littles artist express their love of music with the 2-in-1 Light Up Music Maker from Playgro. Recommended for ages 1 and up, this adorable toy offers a multi-sensory learning experience. With the bright colors, lights and sounds, kids will engage all their senses as they build motor skills. Little ones will also enhance their understanding of cause and effect. The Music Maker can be purchased at Buy Buy Baby and Amazon.
(back to the top)
Motor
Pull and Discover Activity Elephant (VTech)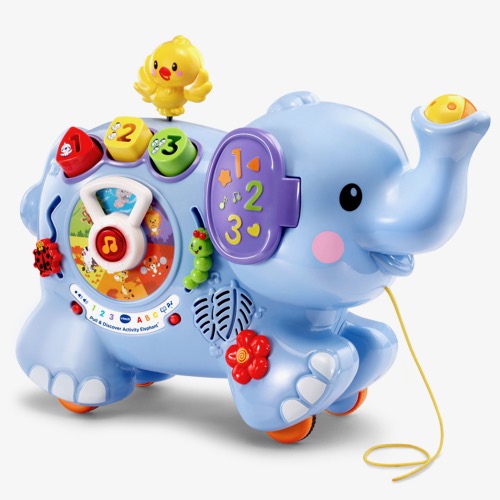 Little ones ages 12-36 months will love playing and learning with the new Pull and Discover Activity Elephant. This multi-sensory interactive toy encourages kids to get moving while enhancing important fine and visual skills. With the bright colors, fun music and exciting lights, your child will enjoy hours of learning through play. Kids can learn shapes, colors and animals with the shape sorter feature which also enhances motor skills. Cause and effect is also introduced as the elephant plays music when pulled. This adorable toy is under $20 on Amazon and perfect for the little on your holiday list!
Jumping Board (Fun & Function)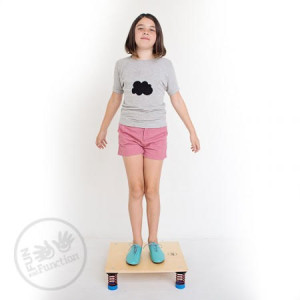 The Jumping Board made by Fun and Function is made for active kids who love to jump long and hard. Since it can hold up to 150lbs it can be used for a long period of time as they can be introduced to your child at age 4 and help to transition them as they mature. Priced at $140, the Jumping Board makes a solid addition to your family especially if you are looking to help the high energy child or the sensory seeker.
Magic Sketch (Boogie Board)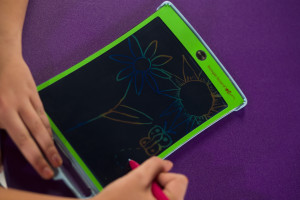 The Magic Sketch is a liquid screen that when pressure is applied creates an image. You can use a stylus to draw, and when you are done, just press the button to erase. It is electronic in that it is supported with a battery but it never plugs into a tablet or computer, rather this is an electronic notepad. My favorite part is that what is drawn has a rainbow color so it encourages children to be extremely creative. Priced at $30 on Amazon, this toy encourages children to write, draw and enjoy developing their fine motor skills.
OgoMinton (OgoSport)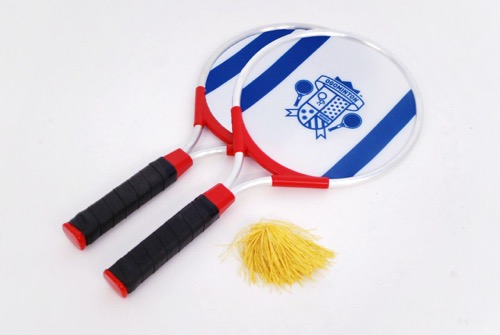 Whether it's inside or outside, kids can get active with the new OgoMinton. It is like Badminton except it offers short-range play instead. This allows kids to play inside or while traveling. Playing OgoMinton helps kids build important gross and fine motor skills while also increasing physical activity.
Sequin Drawing Board, Creativity for Kids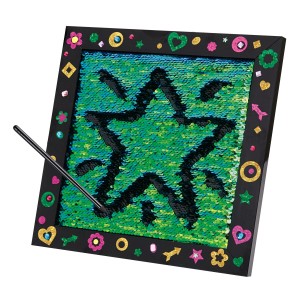 If you are looking for a tactile experience that helps promote fine motor skills, then the Sequin Board from Creativity for Kids fits the bill. Children decorate the frame to the sequin fabric and after that they can draw, write or practice letters. Don't be surprised for some children they will find running their fingers on the fabric to be relaxing after a tough day at school. On Amazon, the Sequin Drawing Board is less than $20.
OGOBILD Kit Pod (OgoSport)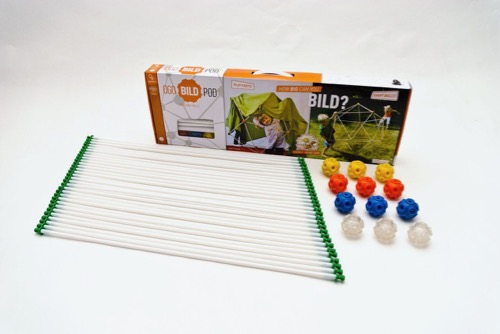 Kids can enjoy hours of building fun with the OGOBILD Kit Pod. The kit comes with connective tubes and interchangeable rubber balls that allow kids to design and create their own moveable structures. Not only are kids building important problem solving and visual skills as they build, they are also enhancing gross motor skills and coordination as they play with their unique creations. Will my design bounce or roll? How far can I throw it? These are all questions your kids can answer as they play which encourages STEM learning. The set is available on the OgoSport website for under $50.
(back to the top)
STEM/STEAM
GearZooz Roll and Roar Animal Train (VTech)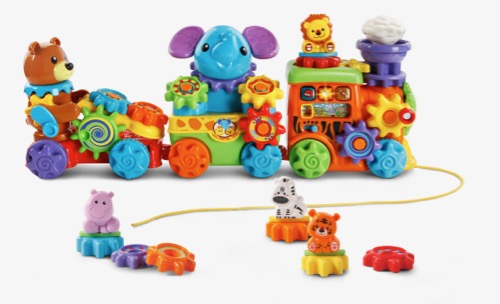 Introducing kids to STEM concepts beginning at a young age has amazing developmental benefits. As little ones play with the new GearZooz Roll and Roar Animal Train, they will gain an understanding of cause and effect as they push and pull the train as well as begin to build problem solving skills as they put the train together and take it apart. Kids will also enhance fine motor skills and academic knowledge such as colors, shapes and object identification. This fun toy offers a multi-sensory learning experience as it has different sounds, textures and colors. The Roll and Roar Train is under $30 on Amazon and recommended for ages 1.5-4 years old.
Roller Coaster Challenge (ThinkFun)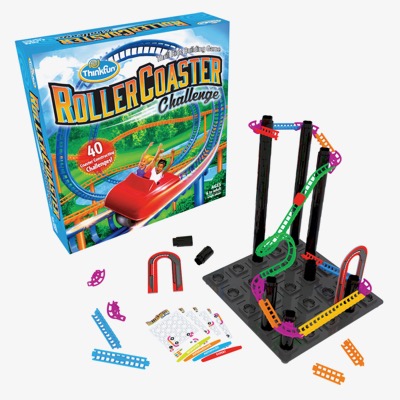 If your kids love building toys, then they will LOVE Roller Coaster Challenge from ThinkFun. Players must use their fine motor, problem solving, spatial reasoning and visual-organizational skills to build roller coasters that meet the build conditions on the challenge cards. This STEM toy encourages an understanding and love of engineering and architecture all while having fun. Recommended for ages 6 and up, Roller Coaster Challenge can be found for under $30 on Amazon.
Log Cabin Set (Magformers)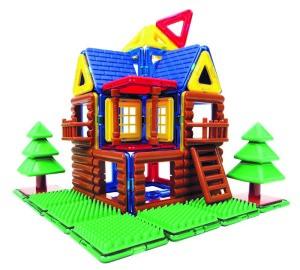 Magformers is a magnetic building toy set that has primarily focused on basic shapes and colors; however, they have recently launched their new Log Cabin Set. This new set enables children to merge their building skills with pretend play to create a cabin in the woods. The set has pieces to represent grass, trees and the log portion of the cabin; however, they can redesign in dozens of ways. Their imagination takes off with this set that comes with 87 pieces and can be combined with other Magformer sets! Children ages 3 and older will enjoy assembling these pieces together. Priced at $79.99 on Amazon, Magformers are a toy that will be a popular toy in your home.
Beasts of Balance

Whether you consider it a building toy or a technology toy, Beasts of Balance is an innovative toy that challenges children to think outside the box. In fact, it is a fascinating premise. Children are asked to be Divine Creators, either solo or with a team of friends, to build worlds and achieve high scores by stacking shapes called Artefacts into towers. What is stacked on the tower interacts with the virtual game. Players need to keep balance in the virtual world. It is a mentally challenging game that will keep children engaged while developing problem solving skills. On Amazon, Beasts of Balance is $99.95 and recommended for children ages 7 and older.
TileBlox Rainbow Set with Board (Magformers)

TileBlox are a wonderful toy for the preschool child in your life; however, admittedly even my Kindergartner still loves playing with this toy. Bright and bold colors invite children to play with these tiles but the magnetic sides make it easy for children to assemble. They will make houses, bridges, hotels and tents to name a few. You can place these on your refrigerator for kids to play with and challenge them to make the shape of letters. The 30 piece set is under $55 on Amazon and is recommended for children ages 3 and older.
Rover Control (ThinkFun)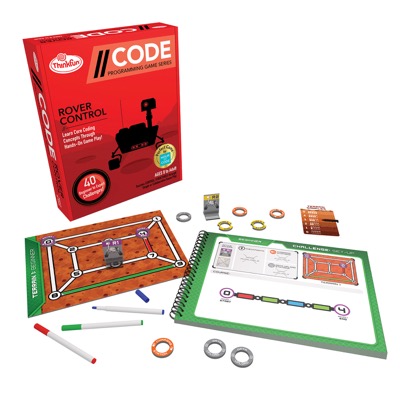 Enhance strategic thinking and problem solving this holiday with the new Rover Control! Created to build skills in the are of coding, Rover Control offers 40 challenges with maps. The only problem is the pathways are colorless while the rovers are programmed to only move on colored pathways. Players must figure out how to color the pathways so the rover can complete its mission. This game is a wonderful way to enhance critical thinking skills for individuals ages 8 and up. Rover Control is under $45 on Amazon.
Power & Play Motorized 50 Model Building Set (K'Nex)
If your kids love cars, planes or robots then the Power & Play Motorized 50 Model Building Set is the set for them. It is a great set that helps promote fine motor skills, problem solving and most importantly their imagination. They can create one of the models listed in the booklet or use their creativity to make something unique. Recommended for kids ages 7-12, this set is priced on Amazon at $59.99.
Robo Alive (ZURU)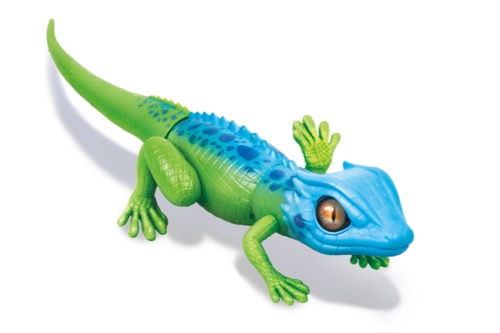 Technology meets pretend play with the Robo Alive creatures. Whether it's the lizard, fish, turtle or snake, this innovative toy will have kids engaged in learning through play for hours. The robots bring these animals to life as they mimic their real movements and sounds. The lizard features a motion sensor in his neck that stops its movement when blocked while the snake has 2 predator warning colors along with a smooth texture like a real snake. Robo Alive can be found on Amazon in a variety of styles.
Jakku Scavenger Metal Detector (Uncle Milton)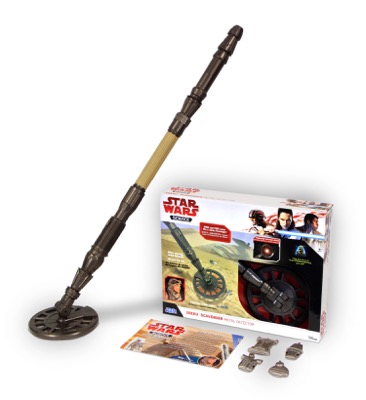 Let your kids imagine they are on Planet Jakku searching for treasure with this new Jakku Scavenger Metal Detector from Uncle Milton. As kids find metal, the detector's lights will flash as it makes authentic Star Wars sounds. The metal detector also comes with a science learning poster that teaches users about Planet Jakku, Rey and how metal detectors work. What a fun way to encourage a love of science. The metal detector is designed after Rey's staff, and it is lightweight making it perfect for kids. Learn more on the Uncle Milton website.
Circuit Pinball Electronics Lab (Uncle Milton)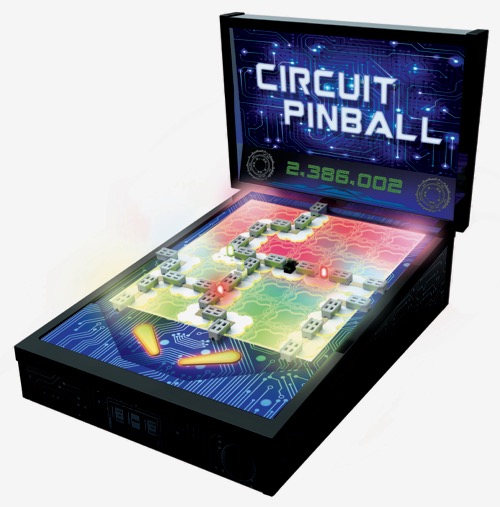 With over 20 experiments using over 60 components, Circuit Pinball Electronics Lab truly inspires learning through play. Kids (and parents) will have a blast putting circuits together to activate their own pinball game complete with lights and sound. Recommended for ages 8 and up, this set is the perfect way to encourage a love of STEM. Learn more about the Circuit Pinball Electronics Lab on the Uncle Milton website.
(back to the top)
Pretend Play
Princess Tea Party Dress (Great Pretenders)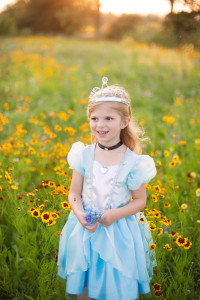 Great Pretenders is a passionate Canadian company that produces quality costumes. The costumes are well made, comfortable, and with a beautiful design. Costumes are wonderful to encourage pretend play as children easily imagine themselves in the roles they are dressed, and Great Pretenders has an extensive line for girls and boys. From professions to characters to superheroes, all of these costumes are sewn at an affordable cost. You can find a variety of costumes on Amazon including the wings featured above. Read more about the Tea Party style princess dresses here.
PJ Masks Rival Racers Track Playset (Just Play)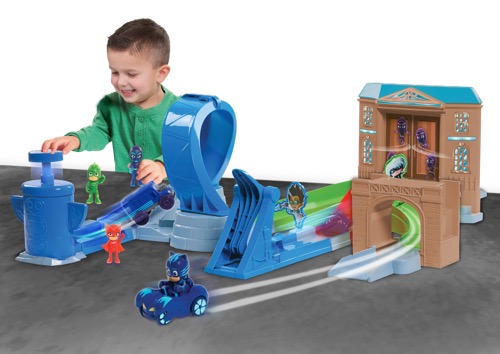 Encourage kids to go on a fun adventure with Catboy, Owelette and Gekko with the new PJ Masks Rival Racers Track Playset. This interactive play set sparks creativity and imagination as kids have to save the Museum from the Night Ninja. The set comes with a Catboy figure, Cat-Car vehicle and Night Ninja Bus. The vehicles can race on the track that offers 2 built-in mega launchers allowing for super-fast looping fun. This set offers hours of learning through play! It can be purchased on Amazon for under $30.
MAGIC Hat (Thames and Kosmos)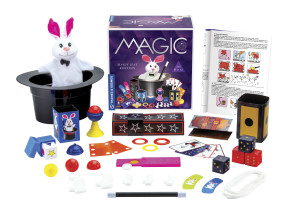 Magic teaches kids to the possibility of the incredible! Reality stops for a second as they explore logic and problem solving. The MAGIC Hat from Thames and Kosmos is an introductory kit for children ages 6 and older that includes over 40 different props. Children have the opportunity to learn and perform over 35 different magic tricks. The set is under $30 on Amazon.
DreamWorks Spirit & Lucky Friendship Set (Just Play)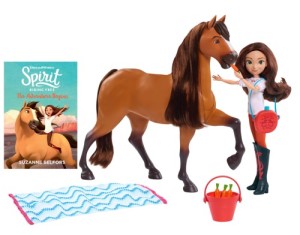 Based on the new DreamWorks television show Spirit Riding Free, this adorable playset encourages pretend play while fostering responsibility. Children will not only have fun having Lucky ride her favorite wild mustang Spirit, but they can also feed spirit whose mouth moves as he really eats. Through play, kids learn the importance of taking care of a pet and treating animals with respect. This set is recommended for ages 3 and up. Spirit and Lucky toys can be found on Amazon.
Scoop and Learn Ice Cream Cart (LeapFrog)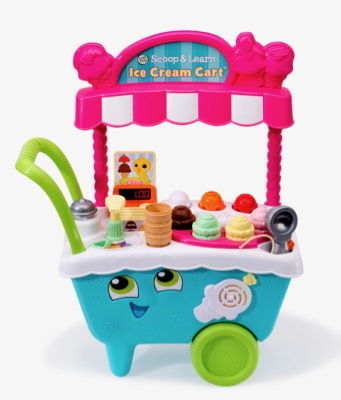 Whether it is to create their own ice cream shop, make dessert for the family or pretend to be the local ice cream man, the Scoop and Learn Ice Cream Cart is perfect for encouraging pretend play. We were introduced to this adorable new set at Toy Fair 2017 and instantly fell in love with it. Kids will enhance fine motor skills as they "scoop" their ice cream, but they will also build language, social and academic skills while playing. This toy is recommended for ages 2-5 but older kids will love it as well. This set can be found at your local toy store or Amazon.
Puppy Dog Pals Doghouse Playset (Just Play)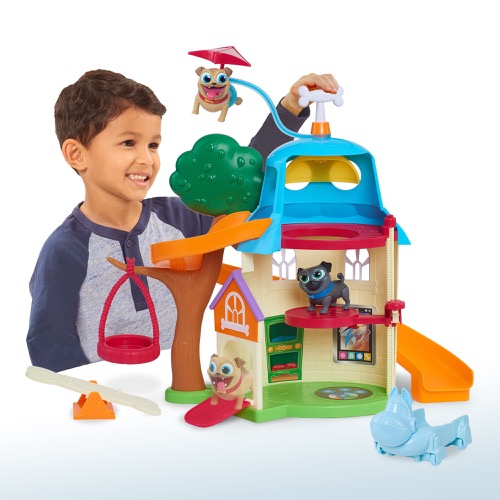 My kids LOVE the new Disney Junior show Puppy Dog Pals, and I know they will love this new playset. With this 2-story doghouse playset, kids can enjoy a fun adventure by themselves and with peers. The set includes Bingo and Rolly figures and one vehicle. The playset offers a tire swing, slides, see-saw and more which allows for hours of play. This set is under $40 on Amazon.
Vampirina B&B (Just Play)
Do your kids LOVE the new Disney Junior show Vampirina? It is an adorable new show about a vampire family that moves from Transylvania to Pennsylvania. Just Play brings this show to life this holiday season with the Vampirina B&B playset. It offers 3 floors (26″ tall) full of brain boosting fun as kids build their imagination while also enhancing language, social and academic skills. With transforming pieces, rising food in the kitchen, 2 included figurines (glow-in-the-dark Vampirina and Poppy) and so much more, the opportunities for play is endless. This adorable set can be purchased on Amazon.
(back to the top)
We hope you enjoyed our Play and Learn Gift Guide for 2017! Keep checking back because we will be adding more amazing gifts soon!