At Mommy University, we love visiting farms especially farms in NJ! A family or school trip to the farm offers so many amazing developmental benefits as well as fun and exciting adventures. Although we love visiting farms year round, the fall has a special touch of magic. As I scroll through Facebook and Instagram, I see family pictures at apple orchards and in pumpkin patches. Kids (and kids at heart) love spending a fall day on the farm. One activity families really enjoy is pumpkin picking. Since I love finding and exploring new farms, I thought it would be fun to put together a list of some of the amazing places to pick pumpkins in NJ!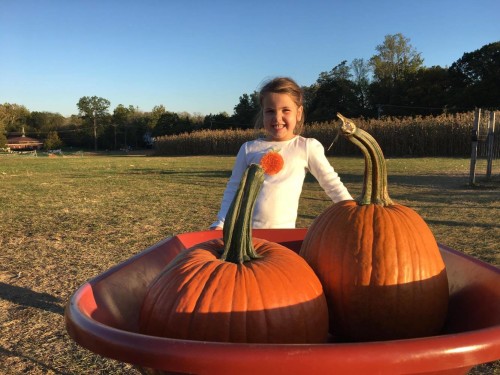 Amazing Places to Go Pumpkin Picking in NJ
Alstede Farms
Located in gorgeous Chester, Alstede Farms is known for its wide variety of farm fun. They offer hayrides, a corn pit, wagon rides, pony rides, a hay pyramid and much more. In addition to picking apples and veggies this fall, hop on the hayride at Alstede Farms to pick some amazing pumpkins too.  What makes this farm unique, however, is that you can also pick pumpkins at night! Just bring your flashlight and find your perfect pumpkin. The Harvest Moon Hayride to the pumpkin patch is available every weekend September 25-October 31.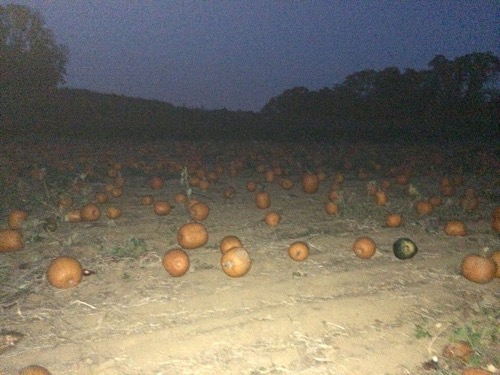 Conklin Farm U-Pick
Located in Montville, Conklin Farm U-Pick is a must-do fall experience! Guests can pick from thousands of pumpkins of all shapes and sizes. You can also visit the store for a selection of already painted pumpkins to add to your seasonal decor. For more farm fun, visit the farm animals, explore the FREE corn maze and take a hayride. If you are really daring, you can also try the Haunted Hayride!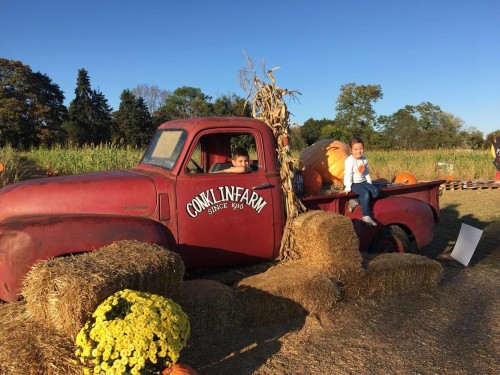 Heaven Hill
Being Sussex County residents, we love visiting Heaven Hill Farm each year. Located in Vernon, this farm offers a full day of fun on the farm for the entire family. From corn maze to hayrides to a petting zoo, there is something for everyone. The Heaven Hill Farm Pumpkin Festival takes place Wednesday – Sunday through November 8. After exploring the corn maze and watching a pig race, head out to the field to pick the perfect pumpkin!
Etsch Farms
Etsch Farms in Monroe Township is a 4th generation family owned farm that offers a wonderful fall experience for guests. You can sample some apple cider, explore their 8-acre corn maze or just enjoy a hayride with family on a gorgeous fall day. Guests can also pick their favorite pumpkin to celebrate the fall season.
Fairfield Farms
A family run farm located in Essex County, Fairfield Farms offers hours of farm fun this fall. In addition to a 5-acre corn maze, hayrides and tower slide, families can also enjoy pumpkin picking. Being only minutes from major cities, Fairfield Farms is the perfect farm destination for North Jersey and NYC residents.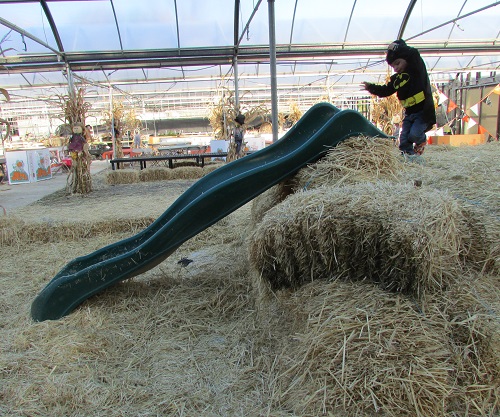 Terhune Orchards
Found in gorgeous Princeton, Terhune Orchards offers endless fall fun for individuals of all ages. What I love are all the educational activities offered such as their Read and Pick programs. This fall, after exploring the barnyard animals, riding the tractors and taking a stroll through their corn stalk maze, head over to their 5-acre pumpkin patch where you can pick the perfect jack-o-lantern pumpkin! The Family Fun weekends take place until November 1.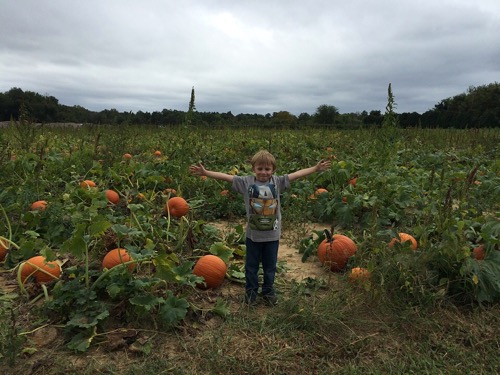 Johnson's Corner Farm
Located in Medford, Johnson's Corner Farm offers hours of farm fun for the entire family. With pick-your-own adventures and hayrides along with the Discovery Barnyard and Fall Festival Weekends, you will want to visit this amazing farm. The pumpkin patch can be accessed by taking a fun hayride. Picked a pumpkin too heavy to carry? Don't worry, they have wagons you can borrow!
Oasis Family Farm
If you are looking for a fun farm experience in South Jersey then Oasis Family Farm is for you! Housed in Robbinsville, this farm offers a wide variety of family friendly activities everyone will love! From fossil digs to a live bee demonstration to the Fun Zone to their amazing festivals, Oasis Family Farm is the farm that packs in the most adventures all year long. This fall, you can also enjoy pick your own pumpkin. Don't forget to pick up some fresh baked pumpkin pie, donuts and bread before you leave too!
Ort Farms
Located in beautiful Long Valley, Ort Farms has become a fall tradition for many New Jersey families. It offers hours of fall fun for all ages including train rides, a corn maze, monster truck rides, play areas, hayrides and more. Guests can also experience a wonderful pumpkin picking adventure. Make Ort Farms your new fall tradition!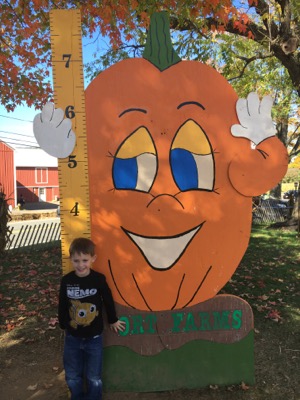 Tranquility Farms
Take a trip to Allamuchy for a fun fall day on the farm. Tranquility Farms offers a unique on the vine pumpkin picking experience that families will love. Their Fall Fest also brings fun activities such as pumpkin launchers, corn cannons, hayrides, cow train and much more. Tranquility will quickly become your new favorite fall destination!
Hacklebarney Cider Mill
Located in scenic Chester, Hacklebarney Cider Mill has gained recognition by being featured on the Rachel Ray Show in 2017. Seasonal activities include a corn maze and children can pick pumpkins from the vine; however, it also boasts of some other activities we have found to be worth mentioning. For example, stop in early to sip apple cider at one of the picnic tables with a maple bacon donut all made on the premises. In fact, your children can observe apple cider being pressed.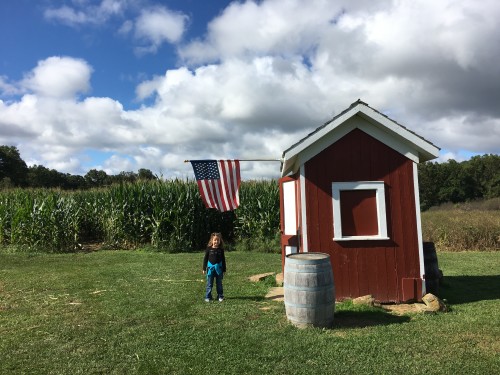 VonThun Farms
Located in Monmouth Junction, VonThun Farms offers events and activities the entire family will love. It is also a great destination for pumpkin picking as they have not one but TWO patches to choose from. There is the Walk-to-Patch next to the apple picking area and the The Main Patch that requires a hayride to get to. They offer a wide variety of pumpkins and gourds along with fun family photo opportunities. Next to the Main Patch, guests can also enjoy the Corn Cannons and Pumpkin Blaster.
Donaldson Farms
Located in Hackettstown, Donaldson Farms is one of my favorite farms in all of NJ! This family run farm offers fun educational experiences for the entire family including cooking classes, workshops, festivals and farm tours. This fall, families can take a hayride (or horse-drawn wagon) to the pumpkin patch where you can pick one right off the vine. With a picturesque backdrop, this is the perfect farm to spend the day picking pumpkins (or apples).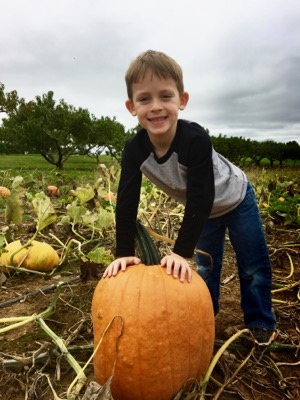 Norz Hill Farm
If you are looking for a huge variety of pumpkins to pick from then Norz Hill Farm in Hillsborough is for you! With 60 different varieties of pumpkins grown over 45 acres, families will not have trouble finding their perfect pumpkin. They come in all shapes, sizes AND color (yes, you can get a white, blue, grey, orange or red pumpkin). Guests can also find squash and gourds to add to their fall decor. Families can also enjoy hayrides, a corn maze and more during their Fall Festival weekends.
Happy Day Farm
Head down to Manalapan Township and enjoy the day on Happy Day Farm. With a 15 acre pumpkin patch, families are sure to find their perfect pumpkin. The patch is open 7 days a week, and additional farm activities are available Friday-Sunday 11am-5pm. Families can enjoy pumpkin bowling and pumpkin blasters along with a corn maze, hayrides, pig races, hay maze, playground, duck races and so much more!
Sun High Orchards
Sun High Orchards may be a small farm but it is packed with fun. It is the perfect farm if you just want to take a quick trip after school or you can spend a few hours exploring and taking in the sights and sounds. Sun High offers an amazing apple picking experience but their pumpkin picking cannot be overlooked. Although families can choose from already picked pumpkins in the front, they can also pick one from the pumpkin patch which my boys love to do! Guests can walk to the patch and admission is FREE.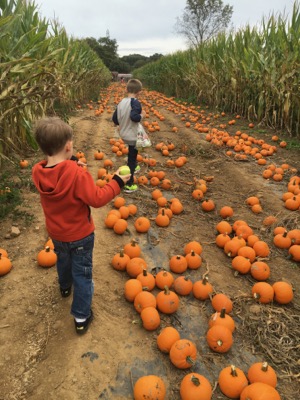 Do you know of another AMAZING farm for pumpkin picking? Let us know in the comments section below!
You may also enjoy: