Take photographs and leave your footprints…
One of the greatest experiences we can offer our families is the ability to enjoy the outdoors and appreciate nature. There is a tranquility and balance achieved with each step we take into the woods. New Jersey may be known for being the Garden  State, however, it is also the source for many Amazing Nature Centers!
What we love about visiting nature centers is that they offer a wide variety of programs tailored for toddlers to senior citizens. Usually, the programs are reasonable in price and sometimes even FREE! However, if you don't participate in workshops, classes or events you can often times just visit the center instead. Whether it is for a nature walk or to visit exhibits in the indoor visitor center, nature centers enable families to enjoy the outdoors. They are another space to add to your menu of options for something to do with the kids!
Amazing Nature Centers in New Jersey
Nature Center of Cape May, Cape May
The Nature Center of Cape May has FREE admission which only adds to the massive appeal of this unique nature center. You can utilize the loaner binoculars and enjoy the view from the top of the observation tower, beach comb the harbor for interesting shells or enjoy a relaxing picnic. There are also hands-on activities for children to develop a better appreciation of nature. Their hours include: April 17-May 31 daily from 10am-4pm (closed on Memorial), and June 1-October 31 Monday-Saturday 9am-5pm and Sundays are 10am-4pm.
Duke Farms, Hillsborough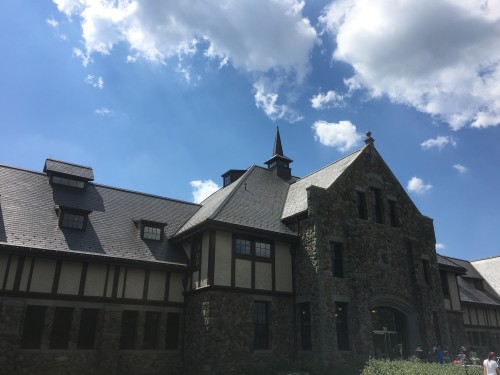 The historic estate at Duke Farms offers gardens, workshops, outdoor activities and undeveloped natural habitats. Families can enjoy story times, guided walks and more. Two family events we recommend is the Maple Sugaring Festival held in March and the Monarch and Meadow Festival held in August. Duke Farms also has a story time nook and a cafe that serves fresh food and delicious coffee. It is open from 8:30am – 6pm, but closed on Wednesdays.
Essex County Environmental Center, Roseland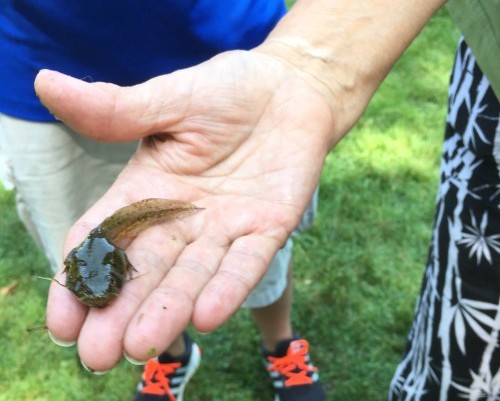 The Essex County Environmental Center  hosts events throughout the year including winter for every age range. Winter programs include nature clubs for young children and nature camps when school is closed as well as birthday parties. It is open year round Mondays through Saturdays and visitors can stop in to see the free Energy Exhibit. You can read our review here!
Flat Rock Brook, Englewood
Flat Rock Brook is a nature preserve extending 150 acres. Visit their 3.6 miles of self-guided forested hiking trails that lead to a cascading stream, wetlands, pond and meadows. Visit the nature center which contains an interactive exhibit "A Walk in the Woods" which explores the wildlife residents of this area. While the trails are open from dawn to dusk, the visitor center is open Monday through Friday 9am-5pm and on weekends from 1pm-5pm.
Great Swamp Education Center, Chatham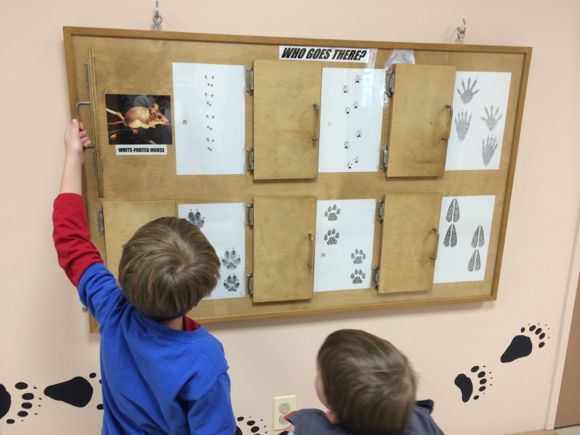 Guests can explore 44 acres of the Great Swamp National Wildlife Refuge by walking their 2 miles of trails. The location is unique because it contains diverse habitats such as a swamp, marsh, meadow, pond, forest habitats and wildlife. The Great Swamp Outdoor Education Center offers nature exhibits, hands-on experiences and fun programs. The Great Swamp Outdoor Education Center trails are open daily sunrise to sunset throughout the year. The Visitors Center is open daily 9am to 4:30pm throughout the year.
Huber Woods Environmental Center, Middletown Township
In Monmouth County, the Huber Woods Environmental Center hosts activities to encourage families to appreciate and support the environment. You can borrow the Safari Backpacks for FREE which are organized at different levels to encourage children to explore the outdoors. The Environmental Center and the Reptile House are open weekdays from 10am to 4pm, and on weekends from 10am to 5pm.
James A. McFaul Environmental Center, Wyckoff
Originally an 81 acre pig farm, in 1967 The James A. McFaul Environmental Center was established. It has an amazing Observatory and several natural science exhibits. There are winding paths, science exhibits, bird shelters, gardens and more on this 81-acre Wildlife Sanctuary. This center offers programs for children in pre-k through 6th grade which teach kids all about nature. The center is FREE but you will have to call (201) 891-5571 for seasonal hours.
Rancocas Nature Center, Westampton
The Rancocas Nature Center has been run through the volunteer efforts of the Friends of The Rancocas Nature Center. They offer various programs throughout the year and feature 3 miles of hiking trails through varied habitats including meadows, forest and wetlands on their 210 acre property. The trails are open from dawn to dusk, and the visitor center is open Tuesday to Saturday from 10am-4pm and Sunday from 12-4pm.
 Sommerset County Environmental Education Center, Basking Ridge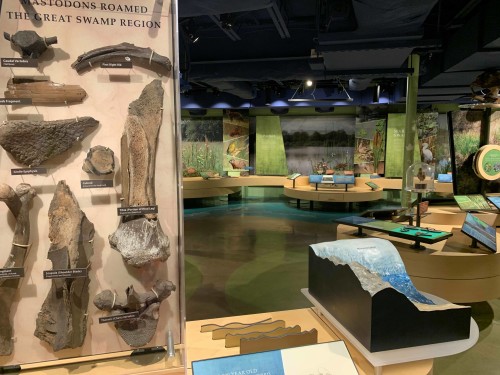 Located on the western portion of the Great Swamp Basin in Basking Ridge, The Somerset County Environmental Education Center offers families educational programs throughout the year including field trips and the EEC Program Passport which further promotes children learning about the environment.
Stony Brook-Millstone Watershed Reserve, Pennington
Located on 1,000 acres in Hopewell to other locations, the Watershed includes Watershed Center for Environmental Advocacy, Science and Education, the Kate Gorrie Butterfly House, the Honey Brook Organic Farm, 4-acre Wargo Pond and more than 10 miles of hiking trails. They host many programs for preschoolers to high school students where they can learn about nature, science and engineering. While the trails are open from dawn to dusk, the Watershed Center is open Monday through Friday 9am-5pm and on weekends from 10am-4pm.
Tenafly Nature Center, Tenafly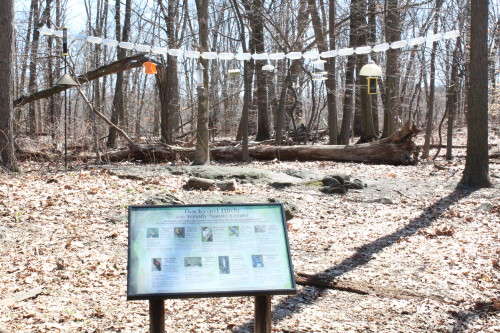 In Bergen County, the Tenafly Nature Center offers seasonal programs such as maple sugaring, scout campfires and nature story times. Tenafly Nature Center also offers after school programs, school vacation camps, birthday parties and teacher professional development opportunities.  One feature we have enjoyed is the Story Walk which highlights different pages of a book spread throughout a half mile walk. Our children loved finding each page along the trail!
Trailside Nature & Science Center, Mountainside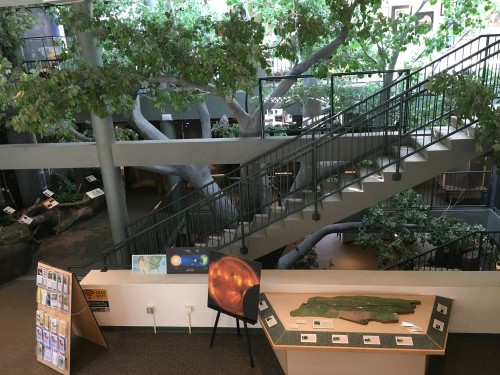 Located on Watchung Reservation, the Trailside Nature & Science Center is adjacent to over 2,000 acres of woodlands, fields, lakes and streams. The Center includes interactive exhibits, children discovery room, and even an auditorium. Open seven days a week from noon to 5pm, this center offers workshops, camps and even birthday parties. You can read our review here!
Washington Crossing Nature Center, Titusville
The Washington Crossing Nature Center offers outdoor nature education programs for schools, youth groups, community organizations and visitors to the park. Check each regularly for seasonal programs which range from family hikes to stream stomps to solar observations. There is a gate fee of $5 during the weekends or on holidays.
Woodford Nature Center, Medford
Sitting on 171 acres in the Pinelands, sits the Cedar Run Animal Refuge and the Elizabeth Woodford Nature Center which contains the "Slither on Inn" reptile room and gift shop. Admission is $5 for adults 13 and over, $3 for children 4-12, children 3 & under and members are free. Cedar Run is open Monday through Friday 9am-5pm and on weekends 10am-4pm.
If you like this post, you might like this: