"It's about reinforcing a child's natural instinct to believe!" –Mario the Magician
At Mommy University, we have been fascinated by the idea of magic. The very possibility that what our mind tells us is not logical can be achieved with the snap of two fingers. When our children have the opportunity to witness magic at the various events we have attended, they will plant themselves down and not move. Their eyes open wide as they sit silently hypnotized trying to solve the problem unfolding before them. Magic teaches us many things like physics, math and illusions, but what we really love is that it pushes our minds to suspend its belief in reality.
When children have the ability to imagine, they begin to develop the skills needed to solve problems. Mario "The Maker Magician" Marchese supports the natural instinct for children to believe. He integrates his own robotic creations with an imaginative performance that is perfect for children! While you might recognize Mario from his appearances on Sesame Street and Sunny Side Up on the Sprout Channel, over the years he has also gained a following performing at The Lincoln Center. Mario is also known for teaching after school programs on magic and even small groups like Robert DeNiro's grandkids. Channeling his vaudeville roots, Mario carries all his supplies in a small suitcase which makes leaping to a new adventure quite easy.
Whether it is a robotic monkey or Mr. Lamp, technology is included in his show. In fact, Mario makes all of his props which happens to be a philosophy of the Maker movement. The appearance of the show will evoke warm memories of Charlie Chaplin and Buster Keaton but with a modern influence of punk rock with a vaudeville style. In other words, it is quirky, imaginative and engaging.
"Magic is creating a moment for someone else where they forget that reality is reality and they actually question everything for a moment." – Mario the Maker Magician
You can watch Mario when he was on Sesame Street:
Mario has taken home 6 Editors' Choice Awards and a Best in Class Award at World Maker Faire NY. He is part of the creative team that brought David Blaine's first North American Tour to realization which further enhances the idea that magic is about the art of creation.
So why are we telling you all of this? Well, we are delighted to share that Mario the Maker Magician will be performing at The Maker Depot on Sunday, October 29 at 2pm for an unforgettable, unique and interactive experience. Tickets are $30/child (parents are FREE) and can be purchased here! The Maker Depot is located at 60F Commerce Way, Totowa, NJ 07512.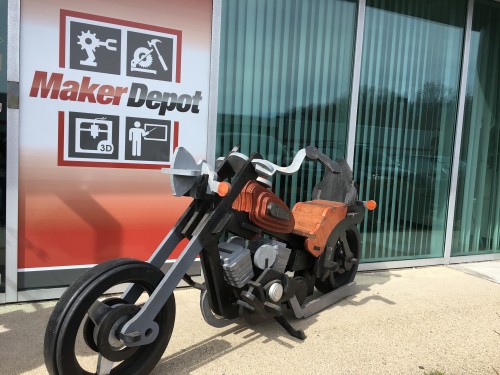 If you like this post, you might like: