"A tale as old as time a song as old as rhyme Beauty and the Beast."
The classic tale of heroic and headstrong Belle falling for the misunderstood and mysterious beast comes to life at The Growing Stage this October. From the stunning costumes to the incredible acting to the inspiring voices, Beauty and the Beast will capture the hearts of all who see this show. From the moment the show begins you will be transported to a magical world only Disney can create. The Growing Stage's interpretation of this iconic story is full wonder, whimsy and, of course, magic!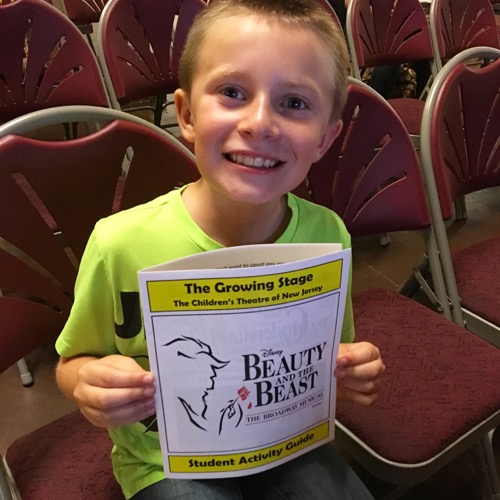 As a huge Disney fan, I was so incredibly excited to see this musical which offers unforgettable lyrics from Howard Ashman and Tim Rice. Howard Ashman was the creative mind behind The Little Mermaid and Aladdin while Tim Rice is known for his work on theatrical shows such as Joseph and the Technicolor Dreamcoat, The Lion King and Aida. The Broadway production of Beauty and the Beast was one of the best shows I have ever seen, and I just knew The Growing Stage would offer a spectacular performance as well.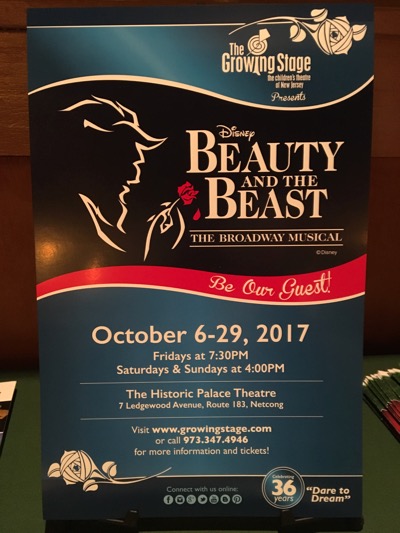 For those that don't know, Disney's Beauty and the Beast is a classic tale of love. Belle is an intelligent and often misunderstood woman who longs for more than her "provincial" life. After searching for her father who went missing in the woods, Belle stumbles upon an enchanted castle. To save her father, she agrees to live in the castle for the rest of her life in exchange for his freedom. Terrified and alone, Belle finds some comfort in her new magical friends. She also discovers that the scary beast may just be misunderstood like her.
Audience members are brought on a magical journey as they follow Belle and the Beast on their quest to get to know each other. Belle begins to see a light inside the Beast that even he did not know existed. You will find yourself cheering on this unlikely pair. But will their love be enough to break the curse that keeps the Prince trapped in his monstrous body? You will have to see the show to find out!
Although Beauty and the Beast is a classic tale that has been told time and time again, The Growing Stage provided a unique presentation infusing their own personality into the production. Being a small theatre, I have always loved how The Growing Stage brings such big productions to life with such energy and enthusiasm.
3 Ways Beauty and the Beast at The Growing Stage Stand Outs
The Costumes
When taking on a production like Disney's Beauty and the Beast, you have to be able to capture the hearts and minds of the audience members. You have to be able to whisk them away to an enchanted world so they can forget about their own lives for a few hours. That is exactly what The Growing Stage does with their interpretation of this show and much of that wonder comes from the amazing costumes. Of course I loved Belle's iconic yellow dress but what really captured my attention were the costumes for Cogsworth and Lumiere. They were so detailed and intricate that they really brought the characters to life. By allowing the audience to REALLY see these characters as objects come to life, the magic was truly enhanced.
Kid Friendly
Disney's Beauty and the Beast is a family friendly show which makes it the perfect option for a first show for kids. What makes The Growing Stage different, however, is how welcoming they are for families with children of all needs and abilities. The environment including the staff is so incredibly welcoming allowing families to feel at ease and comfortable. It is a judgment free space that allows children to enjoy the theatre without stress or anxiety. In addition, at each show at The Growing Stage, children are provided with a Student Activity Guide that helps enhance the experience. It allows kids to learn about theatre etiquette and vocabulary terms as well as enjoy activities such as word scrambles and mazes. There is also an autograph page in the back.
The Love
When you see a show, it is wonderful to witness great acting, but when you see a show at The Growing Stage, you witness great acting performed by even greater people. I have been attending performances at The Growing Stage going on 4 seasons now, and I have seen many of the same actors perform in the shows. For me, that makes this unique theatre seem more like a family than just a group of actors.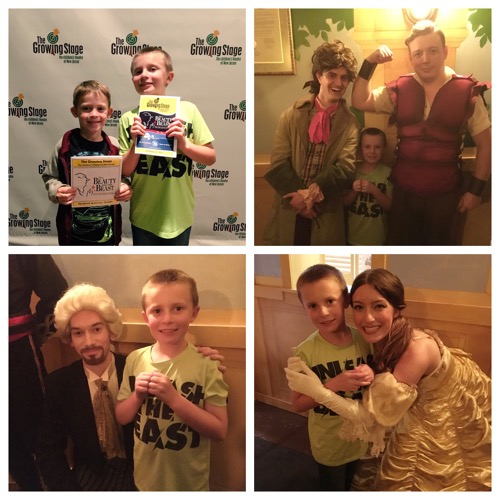 Each person on the stage exudes a love of their craft that comes from their heart. Emily Cara Portune was funny, warm and caring on stage as Belle, but she was just as amazing when my son met her in person after the show. Ryan Slone who stole the show as Gaston was so believable on stage as a narcissistic and selfish character, but in person, he was just as excited to take a picture with my son as my son was to take a picture with him. As for Davis Cameron Lemley (Lumiere), my kids remember him from each performance he has done at The Growing Stage showing how amazing and believable his performances are even for children. My son asks to meet him after every show, and he is often his favorite part of the shows.
The Growing Stage has heart. It is not just a theatre, it is a family. A family full of talented, inspiring and hard-working actors that live to brighten up someone's day. I can go on all day about how amazing the acting was in this production and how phenomenal the singing was but what I loved the most was the pure passion and love that was put into every aspect of this show. It is an absolute honor to work with The Growing Stage and be a part of something so special. It is truly a magical place!
Beauty and the Beast runs through October 29 at The Growing Stage. To learn more and purchase tickets, please visit their website.
Check out the entire season here: