My daughter is self-appointed royalty. For her, the Disney princesses represent the best qualities: strong, brave, hard-working, and artistic. Overcoming obstacles in their lives, each character has strong qualities that inspire her to grow as an individual. She naturally gravitates towards toys that highlight these admirable heroines but as a parent who believes in educational and developmental benefits, I am thrilled with the Disney Princess subscription box from Pley.
What is Pley?
Pley is a company that offers subscription boxes that encourage children to learn through play. The boxes arrive in the mail containing a variety of toys and activities that promote fine and gross motor skills, building, reading, pretend play and problem solving. The different sets include: Toy Library, National Geographic and Disney Princess. The Disney Princess contains items surrounding the theme of one Princess and can include 4-6 Official Disney Princess toys, activities and fashion accessories. These items are unique so if you have budding royalty in your home what they receive will not be available at the store which is a compelling reason that PleyBox makes a great gift! The cost of the Disney Princess PleyBox varies based on the number ordered and boxes are shipped every two months.
1 Box: At $29.99, this is a one time shipment of a Disney Princess Box.
3 Boxes: At $86.97, you will receive three boxes at a slightly lower cost per box.
6 Boxes: At $167.94, this is the best value package.
4 Ways PleyBoxes Help Kids Dream Big
Building a Dream
When the PleyBox arrives, be gentle with the container as it actually is one of the activities. After you open the box, your child can then transform it into the scenery for the figurines included in the box. For example, the box of Merida that we received was turned inside out to form a stand to hold the shield and bow and arrow.
Paint a Future
The PleyBox offers several opportunities for children to color and decorate. With Merida, my daughter was able to color a shield as well as the box itself. The building project is printed on white cardboard which is perfect to encourage coloring with markers or crayons. Included in the package is a magazine that includes coloring pages.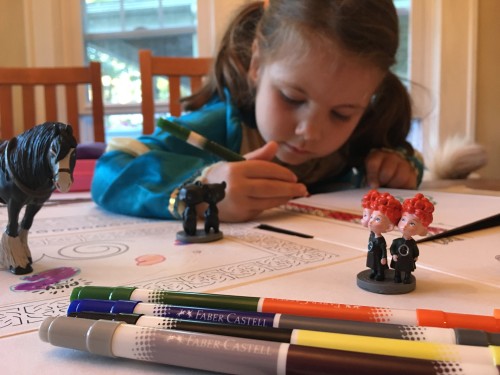 Imagine Your Dream
Since the Merida box included Disney figurines, my daughter was combining her play to include using the box as scenery. She is big on pretend play but the box became a fun scene for this interaction. She began telling her own stories about Merida and the characters of Brave.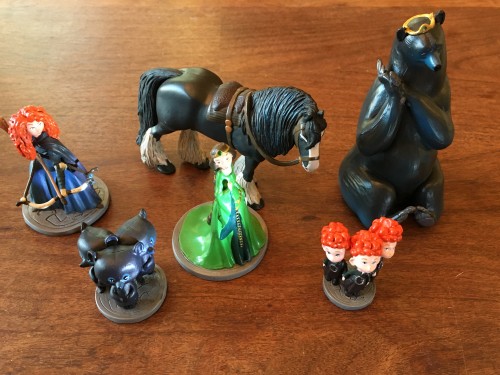 Read a Story
Every box contains a booklet that tells the Princess' story. Even though she knows the story of Brave, reading to her about a strong young girl promotes a positive role model as well as encourages her to develop an appreciation of reading. In addition to the story, the magazine also contains mazes, activities and coloring pages.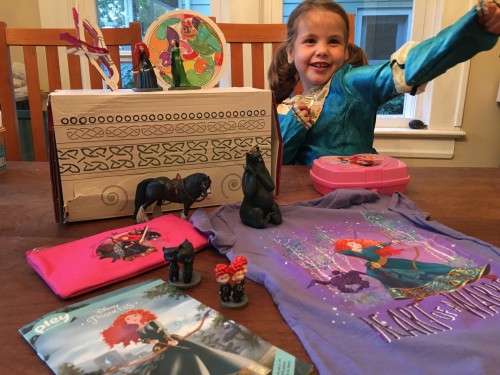 The Disney Princess PleyBox makes an excellent gift for the child you don't know what to get but loves her royalty and, of course, Disney. Contained within this compact box are not only unique toys but, when put together, it offers the child an experience. While Merida is not my daughter's favorite princess, she absolutely loved everything within this monthly subscription. The first boxes were Ariel, Belle and Rapunzel which you can order off the Pley website. This means that the Disney Princess Box will skip around the different heroines available, and it will always be a surprise who they might get!
You may also enjoy: