After attending The Hotel Hershey Wine and Food Festival last year, I could not wait for it to come around again. It is an annual event that recently completed its 8th amazing year. With a variety of events and experiences offered, The Hotel Hershey Wine and Food Festival caters to everyone from wine and food connoisseurs to first time wine drinkers who want to learn some more about the craft of wine making. Last year we attended Wine, Dine and Punchlines but this year we were so excited to be invited guests to the Champagne Tasting.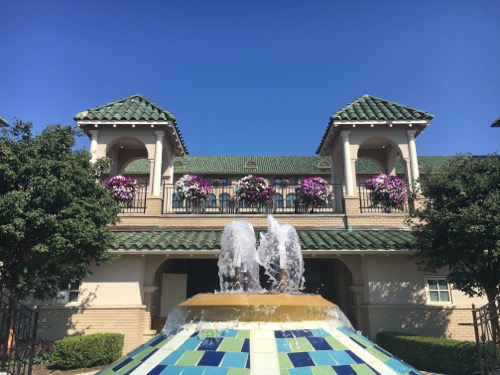 The Champagne Tasting took place on Saturday, September 16, 2017 at The Hotel Hershey. It was an absolutely gorgeous day which made it ideal for exploring the grounds before the event. From the outdoor seating with amazing views of Hersheypark to the beautiful gardens, there is plenty to admire at The Hotel Hershey. Don't want to sit outside? Then take some time to explore the inside of the hotel which offers a cafe with delicious coffee and pastries, a magnificent spa that features specials based around the festival and a beautiful fountain you can sit by and admire.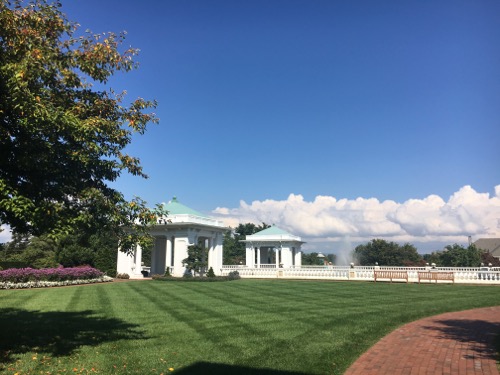 The Champagne Tasting took place from 11:30am-1:30pm and began with delicious cheese and meat from local vendors. Paired with a sample of Ruinart Champagne, this was a delicious way to kick off the event.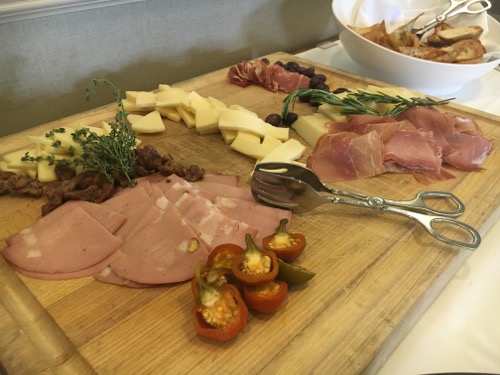 The presentation was provided by the very knowledgable Michelle Bosnick. It began with a slide presentation that included tons of information about how Champagne is made. She also provided visuals such as videos and pictures to enhance our understanding. My favorite part, however, was how we were encouraged to use all of our senses to truly take in the beauty of Champagne. We took time to observe the color of each glass and how the bubbles moved within the glass. We also took notice of the texture and subtle flavor differences as we sipped each variety.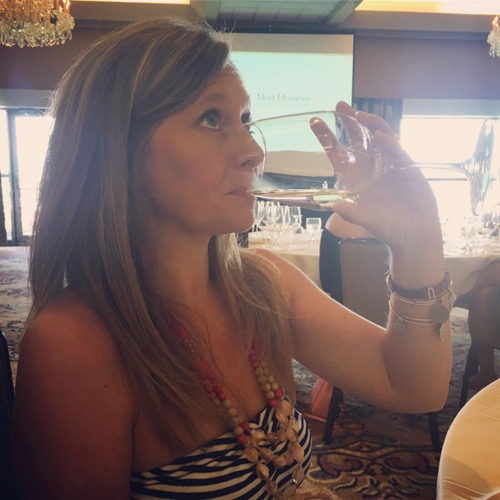 The most interesting and eye opening experience that involved sensory learning, however, was when we combined our senses together. At each table were small bottles of oil that offered various scents. Each guest had the opportunity to smell each scent and then try to guess what it was. Once we identified the smell, we were told which Champagne contained that flavor. We had to find those scents/flavors as we smelled and tasted the Champagne. It was a truly wonderful learning experience!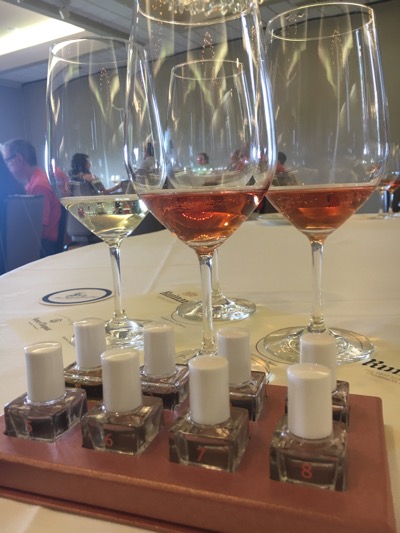 During our guided tasting, we sampled wine from Ruinart, Veuve Clicquot and Moët & Chandon. Each was delicious in their own unique way. My favorite, however, was Moët & Chandon 2008 Grand Vintage Rosé. In addition to learning about my new love of rosé, I also learned some very interesting facts about this often misunderstood wine.
Interesting Facts I Learned at The Champagne Tasting
Champagne pairs really well with food and not just fancy food! Even though Champagne is often synonymous with grand events and expensive food, Champagne can make for an everyday drink choice as well. Our presenter shared that she loves having Champagne with simple meals and snacks like hot dogs, french fries and potato chips.
When opening a bottle of Champagne, it should not POP. Instead, it should hiss when the cork is loosened. When it is popped like in movies or at the end of a big sporting event, it loses its bubbles. To open, carefully twist the cork back and forth to slowly release it. This will save the bubbles AND its intended taste!
In order for it to be called Champagne, it must be made in Champagne, France! (It is about an hour train ride from Paris.) That means not everything that bubbles is Champagne. You may, however, find a bottle of California Champagne, but this name was grandfathered in after the law was created.
Champagne is made from 3 specific grapes: Pinot Noir, Meunier and Chardonnay. This is what creates its unique taste and fragrance.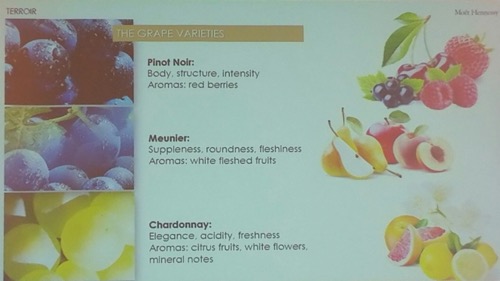 It takes 12 steps to make Champagne! That's right! To make delicious Champagne it must go through 12 key steps. Here they are in order from start to finish: Harvest, Pressing, Fermentation, Tasting, Blending, Bottling, Second Fermentation, Maturation, Riddling, Disgorgement, Dosage and Corking/Labeling.
The best glass to actually serve it in is a wine glass! Even though at events Champagne is usually served in a flute, this is not the recommended glass to serve up a great glass of Champagne. The coupe is also not recommended.
The difference between Non-Vintage and Vintage: I had always wondered what the difference was between a vintage bottle and non-vintage so I was so excited to learn the answer at the Wine and Food Festival. Non-Vintage consists of grapes that have been harvested in different years. A Vintage Champagne consists of grapes harvested in a single year. It is also tells a great story.
The ideal temperature to serve Champagne is between 50-54 degrees. So next time you serve some Champagne to friends make sure you have the thermometer ready!
Those are just a few of the interesting facts I learned about Champagne during the Champagne Tasting at The Hotel Hershey Wine and Food Festival. I hope you now know a little bit more about this amazing wine as well! I cannot wait until next year's event!
You may also enjoy: