Last June, my family was invited to explore Field Station: Dinosaurs as part of Media Day. Lucky for my son, it was also Scout Day! This is a wonderful opportunity for scouts to explore, discover and learn with friends and family. Scout Day takes place twice a year with the next one taking place June 9.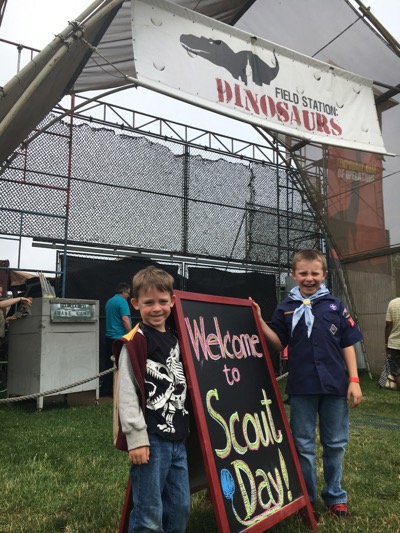 During Scout Day, scouts and their families can enjoy all that Field Station: Dinosaurs has to offer along with additional experiences and hands-on activities. The stations set up around the park help scouts to meet certain merit badge and belt loop requirements as well as gain valuable life skills. This amazing day is open to Brownies, Girl Scouts, Cub Scouts and Boy Scouts. Plus, all scouts who attend in uniform will receive a FREE commemorative patch.
There were so many fun activities that my boys engaged in during Scout Day. Of course they loved the live shows and animatronic dinosaurs, but Scout Day offers extra learning adventures for all ages. From open to closing, Field Station offers special activities geared towards scouts. To get your scout excited for the next Scout Day, I have put together a list of what we enjoyed during our day.
Meet a Paleontologist
My scout was so excited to meet a real paleontologist and ask questions all about dinosaurs. Jason Schein, the Executive Director of the Bighorn Basin Paleontological Institute was on-hand to help scouts and their families learn more about fossils. He even had some the kids could touch and feel.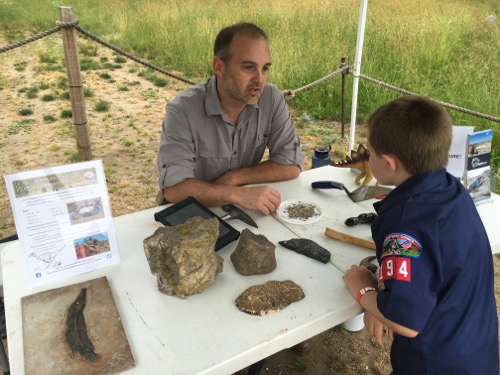 Camping Basics
One of my favorite areas was the mock campsite. The Stawacki family consisting of a father/son Scout Leader and Eagle Scout team, taught guests camping basics with hands-on demonstrations as well as provided hand-outs we were able to take home. The coolest part was learning how to make an outdoor oven with just a cardboard box and tin foil which they used to bake some delicious chocolate chip cookies!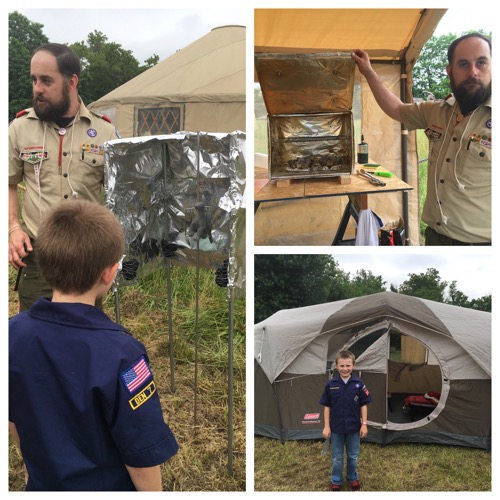 Insectology Tent
This may not have been my favorite tent, but the scouts sure did like it. Guests were able to learn all about bugs and their habitats. The NJ Department of Agriculture was on-hand to answer questions and discuss how bugs impact the environment, eco-systems and even the economy!
The Lizard Guys
If your kids love reptiles and amphibians, then this is the tent for them! The Lizard Guys have live animals such as frogs, turtles, snakes and lizards for the kids to see, and in some instances, pet. Guests can learn all about these amazing creatures such as where they live, what they eat and how they survive.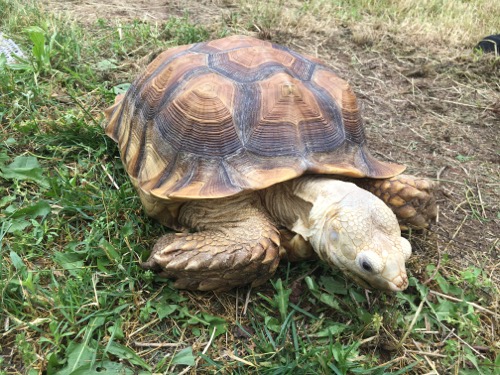 Examine Fossils
One of my son's favorite activities was looking for and examining fossils. This was a fun hands-on activity that offered a wonderful opportunity to learn about the past. Staff from the NJ Department of Environmental Protection were there to lead the activity and answer questions about the fossils. The best part? The kids were able to take home the fossils they found!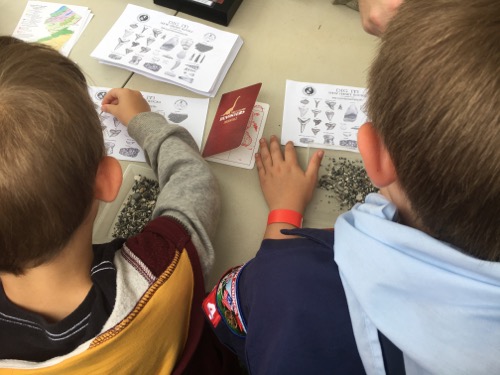 Orienteering Discovery Course
Although this was a little complicated for my son, it is a wonderful opportunity for older scouts to build their map reading skills. Bob Burg from Orienteering Unlimited was on-hand to provide guests with an orienteering map of Field Station: Dinosaurs that was used to navigate around the park. He also had additional maps for guests to look at and learn from.
We had so much fun playing, exploring and learning at Scout Day at Field Station: Dinosaurs. To learn more, visit the Field Station website. You can also take a look at our YouTube video tour!
You may also enjoy: