Each September as the school year commences, I instantly become overwhelmed with all the things that have to get done. Homework, soccer practice, school lunches, laundry, fundraisers…the list goes on and on. With all the craziness that happens during the school year, I wanted to find ways to make mealtime easier as this can be one of the most stressful things for me. As a full-time working mom, by the time I get home, help the kids with homework and get back from soccer or baseball practice, I am too exhausted to fight with the kids over dinner. I decided that this year would be different!
There are so many ways to make mealtime easier not just during the school year, but all year long. If your kids are anything like mine, they fight you on what they have to eat. "I don't like that." "That looks weird." "When can I have dessert?" On top of that, for some, cooking can be exhausting and challenging. To help myself and others, I decided to put together a list of 5 ways to make mealtime easier.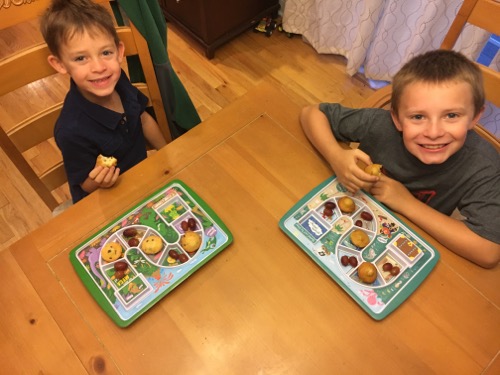 5 Ways to Make Mealtime Easier 
Plan Ahead
I have heard so many people, especially fellow bloggers, talk about meal planning. This consists of deciding what the family will have for dinner each night of the week. This not only makes food shopping easier but also mealtime. By planning meals ahead of time, it eliminates the on-the-spot decision making that often happens at night when you are already exhausted. Meal planning also encourages you to make meals ahead of time and freeze them or even make something that can be used for more than one meal like a whole chicken.
Let the Kids Help
Don't be the only one running around the kitchen getting mealtime ready. Invite the kids to help too! Whether it is setting the table, putting together a simple salad or breading the chicken, let the kids be a part of the action. When kids become involved in the cooking process, they are more willing to eat it. This definitely makes mealtime easier! As kids get older, invite them to meal plan with you as well as prepare some of the meals for the week.

Use Dinner Winner Trays
I was recently introduced to Dinner Winner kid's dinner trays by Fred and Friends. These unique and innovative trays are perfect for making mealtime easier. They come in kid friendly designs such as dinosaurs, superheroes and pirates making kids excited about eating. They are designed like a board game where kids are encouraged to eat an item (or items) in each section in order to reach the finish line which offers a reward. With 8 sections, parents can include important mealtime options such as veggies, meat and fruit. The final section is covered so parents can hide a sweet treat like candy.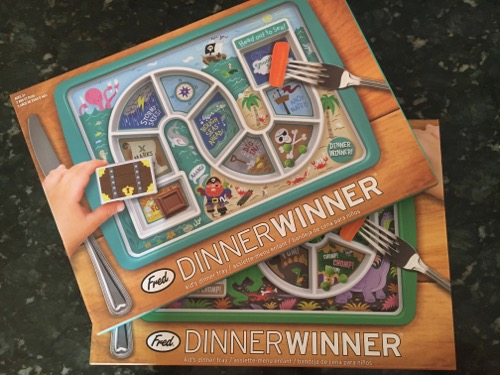 You can make Dinner Winner trays even more fun by filling each section with a different color or create a pattern. You can even let the kids help by allowing them to fill each section themselves. This helps them increase visual and motor skills as well as independence.
Give Them a Snack
I have found that one of the reasons dinner time is so stressful is because everybody is so hungry. By providing the kids (and myself) with a snack after school, I can decrease the amount of whining before it is time for dinner. I recommend providing healthy snacks like fruits and vegetables but you can also offer more substantial snacks for growing kids like mini pizza bagels, cheese and crackers or even a couple of chicken nuggets.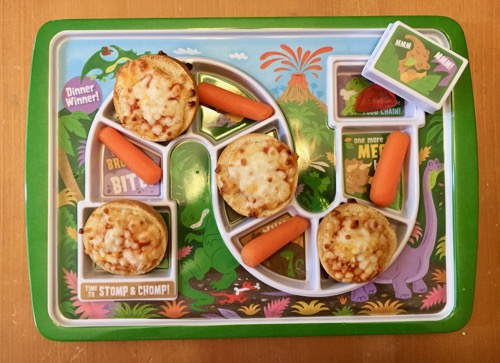 Provide Rewards
My boys give me such a hard time about eating vegetables that I decided to add this task to their weekly To Do charts. They earn a point for eating vegetables which helps them earn rewards at the end of the week. You can also offer rewards at the end of each meal. For instance, if they eat 5 string beans, they can eat a cookie after dinner. The reward does not have to be dessert either. At breakfast time, I have rewarded my kids with money (a dime or quarter) for eating all their fruit!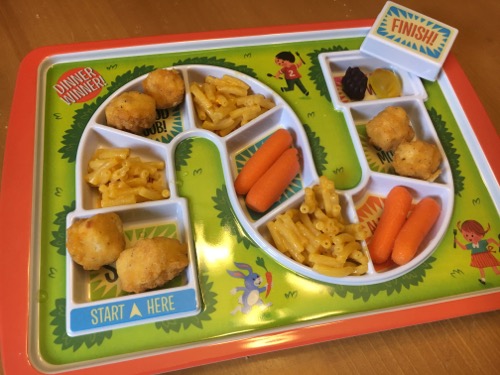 I hope these tips help make your mealtime easier too! Dinner Winner trays are affordable options for making mealtime easier and are available on Amazon (affiliate links provided) in the following designs: Super Hero, Dino Time, Enchanted Forest, Pirate and Original. You can also purchase Dinner Winner trays on the Fred and Friends website.
You may also enjoy: