At Mommy University we believe that kids learn through play! By engaging in hands-on, interactive experiences and activities kids gain important skills and knowledge that helps boost development and leads to greater academic success. We also believe that providing kids with brain boosting toys should not break the bank. All families should have the opportunity to provide quality learning toys and games to their kids. That is why we love the Just Between Friends consignment sale. This 4-day sale offers thousands of brain boosting options at affordable prices.
For those that are not familiar with this event, Just Between Friends is Philly's largest resale event. It takes place September 21-24, 2017 with a pre-sale held on September 20. It is located at the Greater Philadelphia Expo Center (100 Station Ave, Hall A) in Oaks, Pennsylvania. Tickets are required for the pre-sale which can be ordered on the JBF website. Prime Time shopping takes place 2pm-9pm and admission is $10/person. First time parents and grandparents can shop from 4pm-9pm while teachers and homeschool parents can shop 5pm-9pm.
The first day of Public Shopping (September 21) has an admission price of just $3 then the event is FREE for the remaining 3 days. You can get your tickets here. Just Between Friends takes place 9am-8pm September 21-22, 8am-5pm September 23 and 8am-3pm September 24. The last day is also Half Price Day where many items are on sale for 50% off! Just Between Friends accepts cash, Visa, MasterCard and Discover as payment.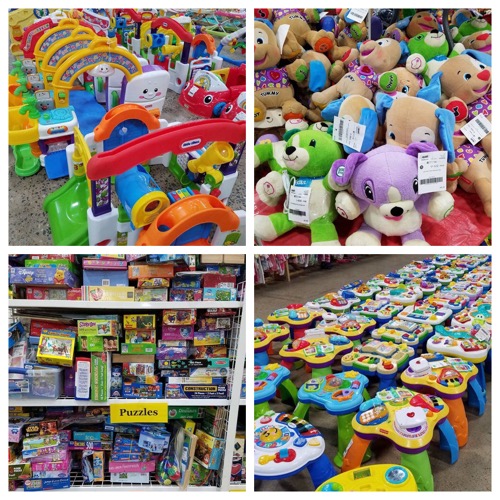 From clothes to high chairs to stuffed animals, there is so much to choose from at Just Between Friends. In this post, however, I would like to suggest some brain boosting must haves to encourage learning through play at home and at school! Since new parents/grandparents, homeschool parents and teachers can shop the pre-sale, you can get first choice of amazing learning products to fill your home and/or classroom.
5 Educational Must Haves at JBF Consignment Sale
Learning Toys
At Just Between Friends, parents, grandparents and educators can pick up some amazing learning toys at affordable prices. From VTech to Leapfrog to Fisher Price, there are dozens of brain boosting toys to choose from. These toys not only build new skills but help enhance what is taught at school. Just Between Friends has learning toys for sale that help enhance fine motor skills, increase academic knowledge such as letters and numbers, build problem solving skills and more!
Games and Puzzles
Family Game Night has become a weekly event in my house. Not only do games and puzzles bring families together, they also help kids build important problem solving, visual-spatial, academic and reasoning skills. At the Just Between Friends sale, attendees can choose from tons of games and puzzles that offer amazing learning experiences. What's even better is that they are available at affordable prices.
Books
Choose from thousands of books for all ages and reading levels at Just Between Friends. Encouraging a love of reading is easy when you offer kids books they will love. For new and expecting moms, this is a great time to start your child's library. For older kids, I recommend purchasing series of books like I Survived or Magic Tree House. Teachers, this a wonderful way to expand your classroom library.
Pretend Play Toys
From kitchens to cars to building toys, Just Between Friends has toys for all ages to inspire and encourage pretend play which helps enhance social and language skills. This is the perfect time to pick up those big items your child has always wanted like train tables, playhouses, tents, dolls and more. Just imagine their faces when they come down on Christmas morning or open their birthday present to find the Doc McStuffins Care Center or Home Depot Work Bench!
Outdoor Toys
Playing outside any time of year helps kids grow an appreciation for nature and allows them to explore the world around them. Just Between Friends allows you to get tricycles, bicycles and scooters that get kids playing outside while also building important gross motor skills. Also available are playhouses, ride-ons and winter toys!
To learn more about the upcoming Just Between Friends consignment sale, please visit their website. You can also follow them on Instagram, Twitter and Facebook for all the latest updates, tips and information!