WitnessHistory is Alive at Wild West City

History often times carries this reputation of being frozen in a book. There are many locations, however, that offer historical re-enactments. What makes history come alive for young children can be introduced with an actor performing from a page in a book. At Wild West City, families take a step back to the OK Corral or the streets where the Pony Express rode, and history now has a three-dimensional shape. It is walking in front of them, riding on horses and representing classic stories.
While I love the performances on the Main Street, I also appreciate how Wild West City has rotating historical figures populating the town. While my children seem to ask an abundant amount of questions, what I have noticed is that these individuals will independently share information. From the School Teacher to the Mountain Man, they are ready to talk about what life was like a long time ago.
Living History at Wild West City
Blacksmith
Do you know who can bend metal? If you answered Superman, you are correct except the caped crusader doesn't typically leave the large screen. Actually, the Blacksmith at Wild West City has the power to do this! If the fire is burning, then stop by and talk to him as he explains the role of the blacksmith or just watch him hammer some metal.
Mountain Man
Listening to the Mountain Man is one of my kids' top requests. As we sit down outside his home, he has taught us about wildlife and hunting. He usually has a little campfire going and happily talks about different experiences each time. My children have enjoyed touching the fur or learning about different tools used by the Mountain Man.
School Teacher
While your kids may not want to go back to school, visiting the schoolhouse is an eye-opening experience. Children can look around the schoolhouse, sit at an old desk and touch school supplies that would typically be used in the Wild West. The School Teacher is informative and can talk extensively on what it was like to be a student in the Wild West.
Campfire Cook
If you see smoke, there probably is a fire, and the campfire usually has food cooking too! Located near the train station, this is a fun place to stop and talk to the chef. He will tell you how the meals were made and consumed in the Wild West. While you may be tempted to take a bite, the food is only for staff. If you do get hungry, don't worry, you can grab a bite to eat at The Golden Nugget or pack a lunch for the picnic tables.
Sheriff
This is one of the few times you can boast about going to jail! There is always a Sheriff at Wild West overseeing the jail and rounding up Deputies to help find outlaws. Stop by the jail and take a photo behind bars but also stop to talk to the Sheriff. Our first visit to Wild West we spent a half hour talking to him as we learned about law and order on the dirt streets of the West.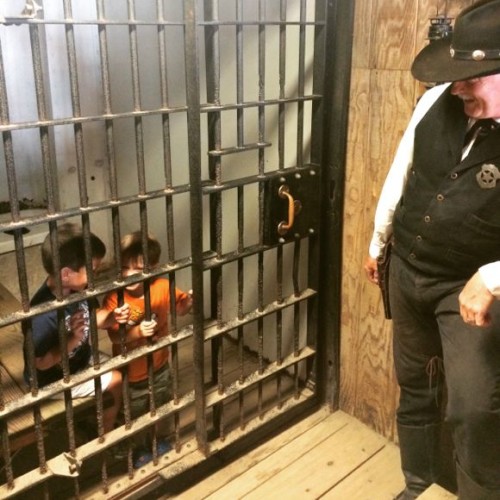 While the individuals I mentioned will talk about their role in the Wild West, they are not the only ones who will talk to you when visiting Wild West City. Don't be surprised if a cowboy on the street talks to you about the different types of horses or about the animals on the farm. The staff is incredibly informative and enthusiastic. Don't forget Wild West City also offers unique experiences such as Civil War Encampment as well as hosts The Native American Intertribal Dancers.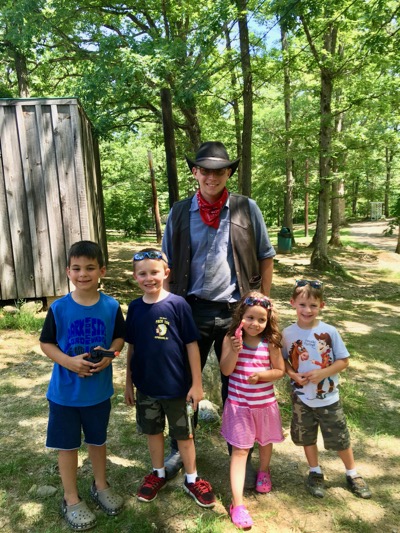 Wild West City is open every day through Labor Day. It is open for weekends again Labor Day through Columbus Day. Special Events are included in the price of admission which is $24/adults, $20/children ages 2-11 and $18/senior citizens. Wild West City also accommodates school and camp groups as well as hosts birthday parties. To learn more please visit their website.
If you like this post, you might like: