One of the places I was most looking forward to exploring when visiting Myrtle Beach was Brookgreen Gardens. From gorgeous statues to colorful flowers to interactive learning adventures for kids, Brookgreen Gardens offers hours or should I say days of exploration and discovery!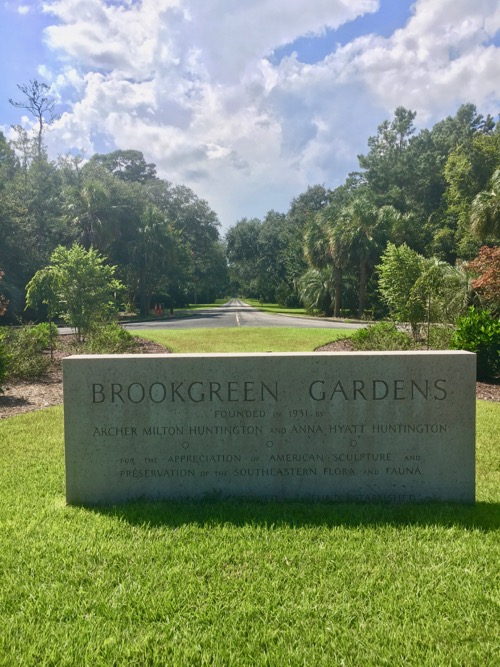 Conveniently located on Route 17 between Murrels Inlet and Pawleys Island in South Carolina, Brookgreen Gardens is a wonderful escape from your everyday life. This spectacular, whimsical and breathtaking space combines art, history and nature to create a one-of-a-kind experience. There are activities and adventures for all ages making it perfect for families like mine. Whether you live in the Myrtle Beach area or are on vacation, Brookgreen Gardens is a must do experience!
Brookgreen Gardens is a large property with several distinct areas that all flow together in harmony. Daily tours are available free with admission but we chose to explore on our own as we felt it would be easier due to having a 5 and 8-year-old. If exploring on your own, I highly recommend stopping at the Welcome Center to pick up a map as it will become very helpful as you explore the grounds. There are 3 parking lots at Brookgreen Gardens as well as free transportation from the Welcome Center to the Native Wildlife Zoo. Some bike paths can also be found throughout the gardens.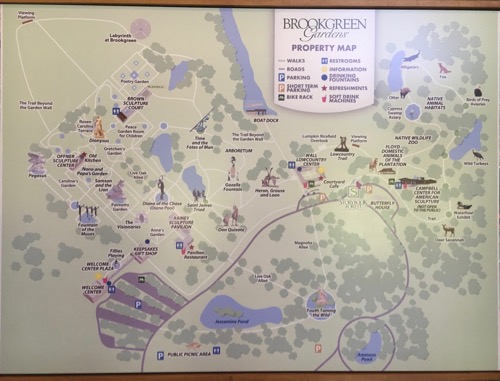 There was so much to see, do and explore at Brookgreen Gardens that we were unable to do it all in one day. That just means we will have to come back one day! The spaces we did see were amazing and offered so many opportunities to learn. I love how Brookgreen Gardens unites art, history and nature in one spectacular place. This helped sparked important and interesting conversations with my kids and allowed them to see the world from a whole new perspective. Here is a look at our favorite places at Brookgreen Gardens that brought art, nature and history together.
Amazing Spaces at Brookgreen Gardens
Sculpture Gardens
Take a beautiful and magical walk through history at Brookgreen Gardens. The Sculpture Gardens offers a breathtaking and inspirational experience the entire family can appreciate. Whether you take a guided tour or walk around on your own, you will discover pieces of art living in harmony with gorgeous greenery and flowers. There are over 1700 sculptures made by more than 400 sculptors placed within over 50 acres of beautiful landscapes. It is the perfect way to combine art, history and nature.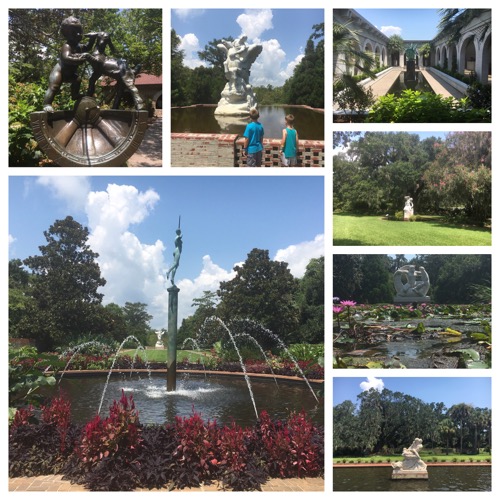 As we walked through the Sculpture Gardens, my kids asked questions and their imaginations were sparked. We talked about important figures and events in history based on the sculptures we walked by. I especially loved the focus on mythology with sculptures such as Pegasus and Dionysus. I also enjoyed showing my boys the whimsical statues of children as well as taking them on a stroll through the Garden Room for Children.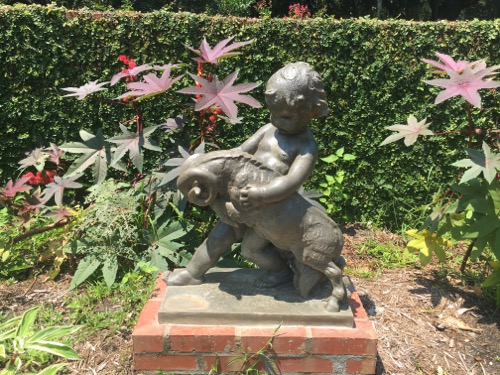 My absolute favorite experience, however, was walking through Live Oak Allee which left me just standing in awe in the presence of these magnificent trees that were planted over 200 years ago!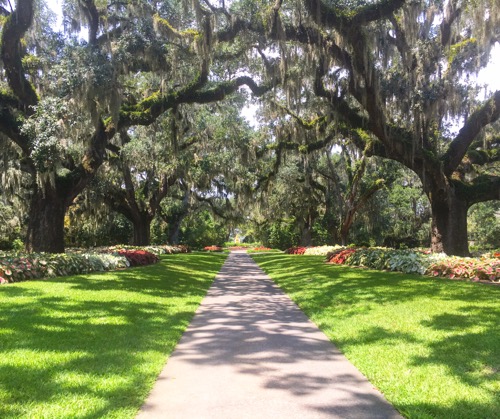 Children's Nature and Sensory Trail
Located next to Enchanted Storybook Forest (described below), the Children's Nature and Sensory Trail offers a fun hands-on adventure. Although it is recommended for children ages 6 and up, my 5-year-old loved exploring this unique space. Throughout the trail, kids can enjoy interactive stations that engage the senses. From feeling the texture of bark to making music to creating art out of things found in nature, kids can spend hours learning through play. There are 5 main stations to explore:
Sensory: Visitors use their senses to understand the world around them.
Information: Kids can read questions and answers about nature.
Mimicry: Children are instructed to imitate the movements of animals.
Creative Physical Activity: Children use their bodies to move about the spaces provided.
Unstructured Play: Audio stations encourage storytelling and singing.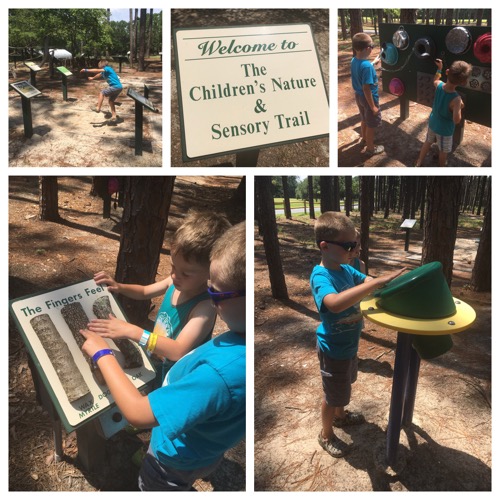 This space clearly highlights art and nature, but there are touches of history as well. Children are invited to enter and explore models of a Native American Dwelling as well as an Enslaved African Dwelling. Kids (and parents) can also read about the importance of these structures in history.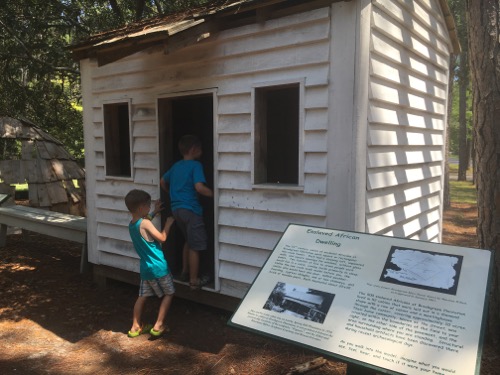 Enchanted Storybook Forest
The Enchanted Storybook Forest is a whimsical, playful and magical place where kids can imagine, play and learn. With playhouses made to represent a classic story or nursery rhyme, kids will have a blast creating their own imaginary worlds while playing. Kids must be accompanied by an adult in this area, but that is not a problem as parents will want to join the fun too. From being a pirate to a train conductor to a prince saving a princess, there is so much to do in this enchanted space. In fact, it even became a great place to hangout when it started raining!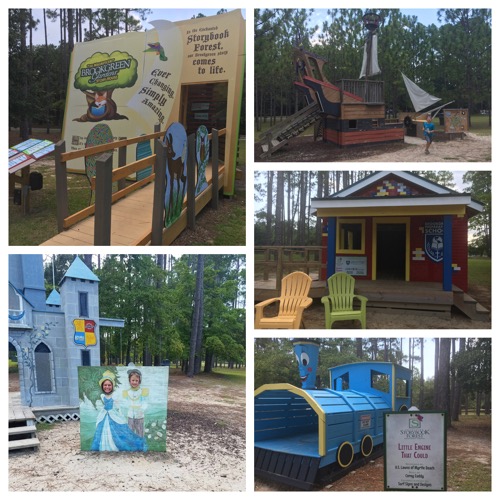 Just like other spaces at Brookgreen Gardens, Enchanted Storybook Forest also brings art, history and nature together. Amongst the beautifully designed playhouses, guests are surrounded by impressive longleaf pine trees. While exploring, guests can read signs all about how the trees were formed and their important role in history. You can also read how they are conserved through a controlled burn process.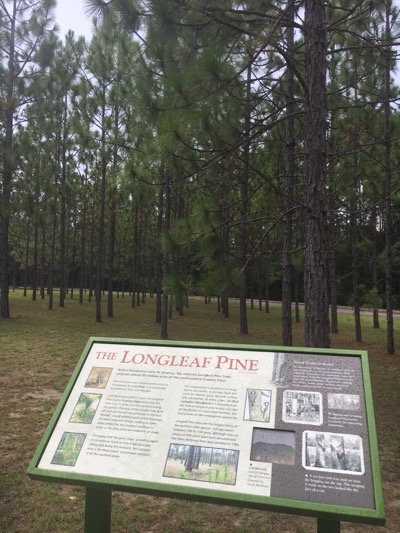 Native Wildlife Zoo
My son loves animals so I knew he would love this space. What was unique about this zoo is that you did not feel as if you were in a zoo. All the animals are native to the area so they appear comfortable in their surroundings, and each enclosure seemed as if it was naturally part of the landscape. My favorite areas were the aviaries where the birds flew freely about and guests were able to get a close look of these amazing creatures.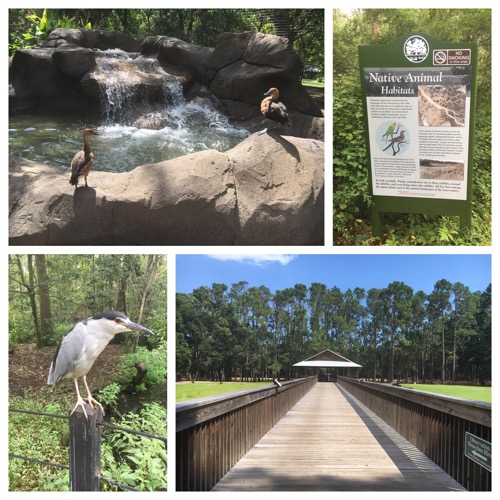 Art and history are also present as you walk through the nature paths at the zoo. Sculptures of the animals can be found as well as signs that explain the historical significance of many of the animals. Guests can also read about habitats, migration and conservation efforts. Make sure you stay on the paths! Don't forget you are in the South so it is not uncommon to see snakes and alligators.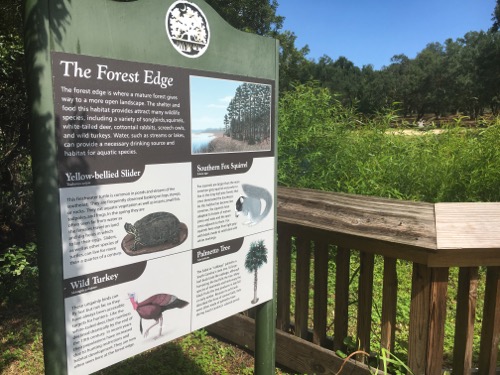 Brookgreen Gardens does a wonderful job of engaging children and encouraging them to love and appreciate art, history and nature. Besides offering tons of hands-on activities, they also provide children with a Little Brookgreen Detectives book which can be picked up at the Welcome Center. As kids walk around the grounds, they have to answer questions and look for specific sculptures and animals. It was a fun way to add to the learning experience. When the book is completed, you can take it back to the Welcome Center for prizes!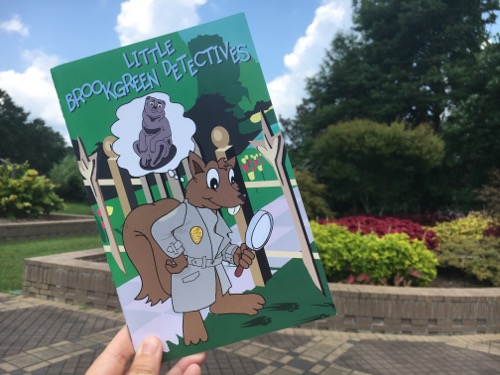 Brookgreen Gardens is open daily from 9:30am-5pm with some late hours available. Admission is $16/adults ages 13-64, $14/seniors 65 and over and $8/children ages 4-12. Children 3 and under are FREE. What's even better is your ticket is good for 7 consecutive days so you can visit all week! For more information, please visit the Brookgreen Gardens website. We cannot wait to come back to Brookgreen Gardens to experience even more learning through play!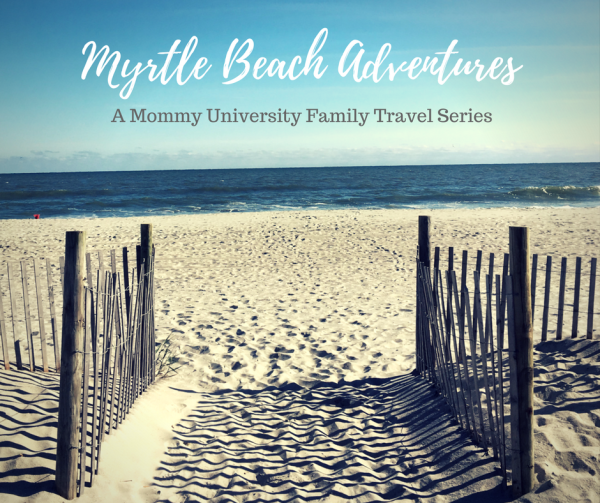 Planning a Myrtle Beach vacation? Check out VactionMyrtleBeach.com for all your vacation planning needs including places to stay, entertainment options and the best places to dine!
You may also enjoy: