A Review of the Children's Museum of Manhattan
New York evokes thoughts of museums, stunning architecture and cultural institutions. As much as I love bringing young children to these locations, spaces that are designed for them are still needed and beneficial. Children still need to run, move and play. Children's museums place emphasis on hands-on activities to promote healthy development in children. They align themselves with the belief of learning through play and contain spaces created to promote wonder and curiosity in young minds as they highlight science, art, music, math and language skills. The Children's Museum of Manhattan (CMOM) resides in the Upper West Side boasting of five floors of fun and learning.
Mommy University Presents
Must Do Spaces at Children's Museum of Manhattan
Dynamic H2O
My favorite space at CMOM is the outdoor splash sensation that is Dynamic H2O. This is a seasonal exhibit that is only open during good weather days. Visiting on a scorching hot day made this space refreshing. At the same time, children are thinking about physics. There are several tables filled with water where children can maneuver levers, push toys or just test cause and effect. Some children will enjoy painting with water on slate framed pictures. In either instance, parents can sit down at the table under shade while the kids play.
Playworks
Dominating the third floor is Playworks which is designed specifically for children ages 3 and younger. From the alligator that you can feed letters to the fire truck, this is a colorful area that invites young children to learn through play. Kids can go shopping at the store and organize different fruits and vegetables or they can build tracks to race cars. Attached is a space for guided activities as well as a sensory space to play with sand.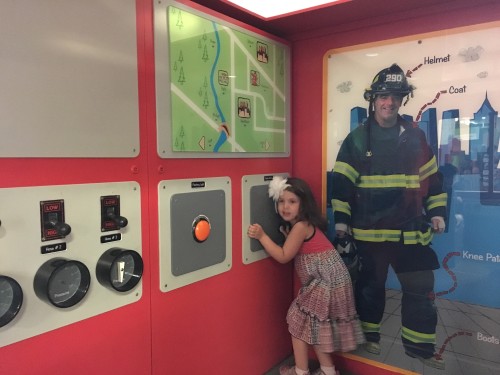 Adventures with Dora and Diego
Vamonos! Let's go on an adventure with Dora and Diego. This large scale exhibit offers children the opportunity to play pretend in many possibilities such as helping animals or exploring a rainforest. Not only do little ones engage in imaginative play but they will also be seeking solutions to problems, learning about science and practicing Spanish.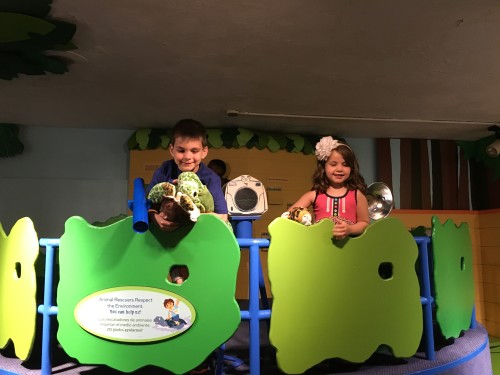 Let's Dance
This space was under renovation when I visited, however, it is now open! Children can learn about movement and their body. Through a video projection portal, children mimic different body movements. Visitors can also experiment with percussion instruments and different rhythms.
America to Zanzibar (Temporary Exhibit)
This exhibit is spread throughout the first floor containing a camel children can climb that represents their transportation to this new experience. America to Zanzibar enhances children's cultural understanding. In the Global Market, children can organize plates with similar patterns or learn about fruits from different countries. My favorite space was a room where children learn about architecture and even create their own building by using tracing paper. My children's favorite space was the Indian Ocean dhow (ship) they could climb, steer and move goods with a lever system.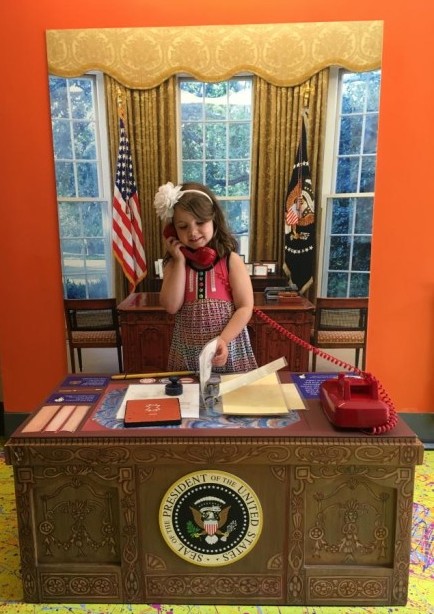 Stopping by CMOM your kids can also step in as the President! There is plenty of fun and hidden corners throughout this children's museum. The Children's Museum of Manhattan is located at The Tisch Building, 212 West 83rd Street, New York, NY 10024. Admission is $14 for children and adults, $11 for senior citizens and FREE for children under 12 months.
You may also enjoy: