When my family decided to take a mini vacation in Myrtle Beach, I immediately began researching all the fun attractions and experiences we could enjoy. One entertainment experience that stood out above the rest was Pirates Voyage Dinner and Show. Since my boys are huge fans of all things pirates, I knew they would absolutely LOVE this show. That is why I was so excited when Pirates Voyage agreed to host my family for an evening performance.
For those who don't know, Pirates Voyage Dinner and Show is located right on N. King's Highway in Myrtle Beach, South Carolina which is close to all the action. It is a Dolly Parton Company production so you know right away that it will be spectacular. Pirates Voyage is a live action show that will keep you on the edge of your seat while you enjoy a delicious 4 course feast. Families will witness an epic battle between two pirate crews on their quest to find lost treasure. Where you sit will determine if you are cheering for the Sapphire or the Crimson crew.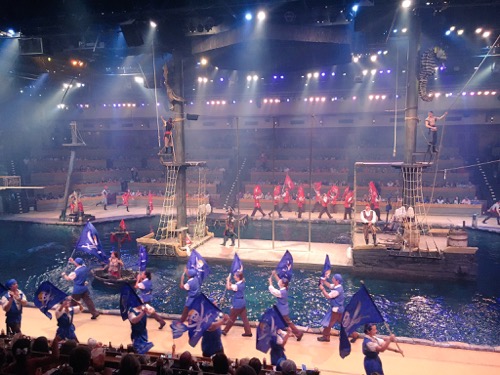 As soon as we arrived at Pirates Voyage, we were in awe. From the grand building adorned with pirate flags and skulls to the Pirates Village offering pre-show entertainment. It was as if we really walked into a pirate's world. Guests are invited to arrive 50 minutes before the show to explore Pirates Village and enjoy interactive family fun. From juggling to sing-alongs to trivia to even a sea lion show, there is entertainment everyone will enjoy. Pre-show guests can also enjoy light snacks and delicious drinks from the bar.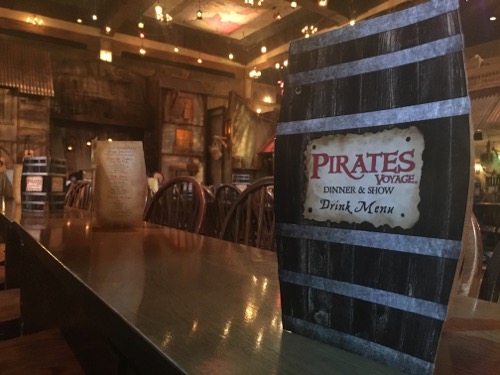 After enjoying an exciting pre-show, guests are asked to make their way to their seats for the main event. As soon as you enter the arena, you will be awestruck. The pirate ships are absolutely gorgeous showing supreme craftsmanship and artistry. The sheer size of the arena is amazing so you immediately know you are in for an unforgettable experience.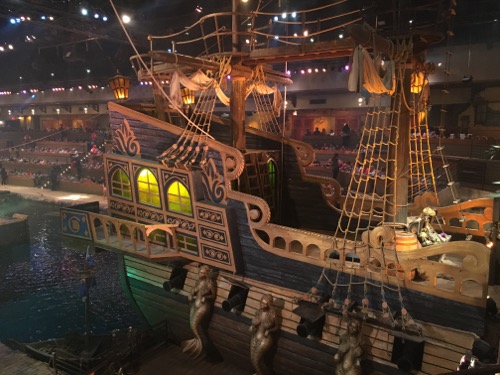 The show started with gorgeous tropical birds swooshing past the crowd which my boys loved. Then we sipped on creamy vegetable soup as we were introduced to Captain Blackbeard and the pirate crews. As the rest of our meal including chicken, BBQ pork, herb-basted potato and corn arrived, we witnessed incredible feats of strength, balance and agility. From juggling to fire acts to aerial artists to incredible acrobats, the show had us grinning from ear to ear and cheering loudly. We especially loved the performance by the sea lion and its trainer.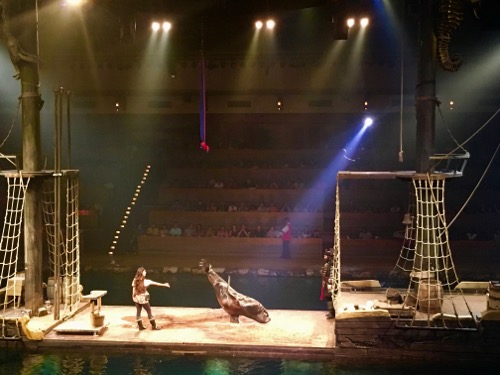 There are so many reasons to love Pirates Voyage but at Mommy University we always look for ways an experience can help our kids grow and learn. Some may see this show as just a show; however, I saw it as so much more. There were so many opportunities for families to learn while having fun!
5 Benefits of Experiencing Pirates Voyage Dinner and Show
Sparks Conversations
I LOVE how Pirates Voyage sparked conversations with my kids. They asked questions about the show and made their own predictions about what would happen. This not only helped enhance their language skills but also increased their comprehension. My boys also built upon their thinking and reasoning abilities as I asked them questions about what they saw and had them describe the storyline.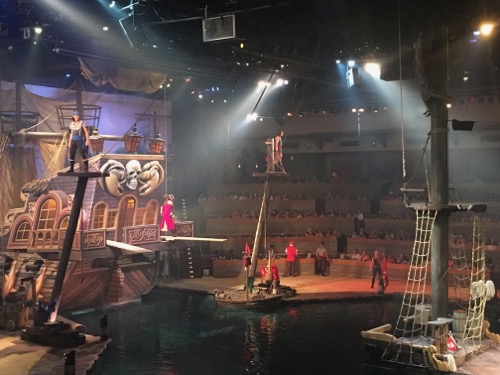 Enhances an Understanding About History
Pirate life is a big part of history. By seeing a Pirates Voyage, my boys became interested in the history of pirates and the open seas. It encouraged them to learn about important figures and events in history. In addition, during the pre-show, guests were provided trivia questions about pirates which added to their knowledge in this area.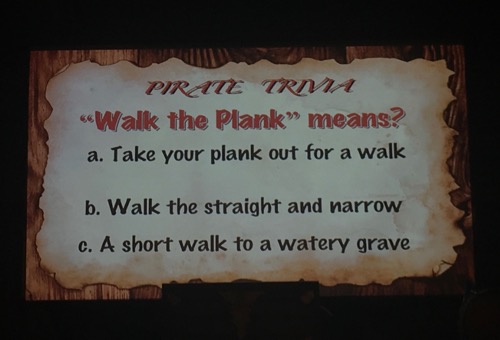 Promotes an Appreciation of the Performing Arts
As a choreographer and a former dancer, performing arts hold a special place in my heart which is why I love to expose my kids to this form of the arts whenever I can. Pirates Voyage is a unique and inspiring show that offers an introduction to many forms of performing arts. From diving to dancing to acting to aerial acts, Pirates Voyage shows kids an array of artistic expression. This show helps kids (and adults) develop an appreciation for the arts as they can see the hard work, dedication and talent it takes to put on a show like Pirates Voyage.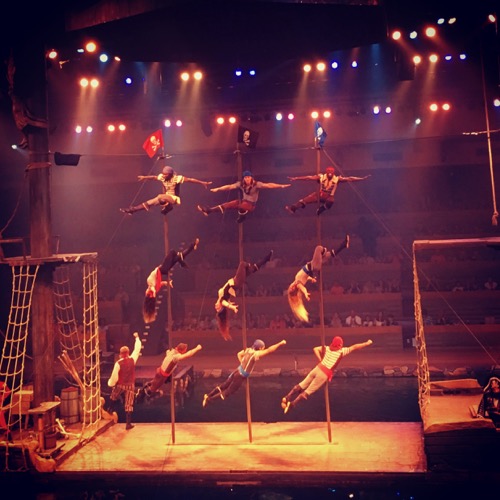 Engaging and Interactive
Kids learn best by being engaged in the learning process. During the pre-show, guests are encouraged to sing-along and answer questions allowing them to be a part of the action. They even get to meet pirates or transform into one with Pirate and Mermaid packages. For the main event, guests cheer for their favorite pirate crew allowing them to play an important role in the show. In fact, at times, children are chosen from the audience to participate in the show. When kids feel a part of something, they are more likely to remain focused and attentive allowing them to really take in what they are experiencing!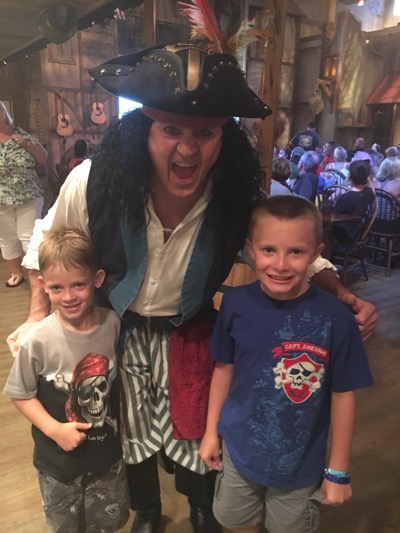 Sparks the Imagination
Dressed in pirate hats, holding swords and having their parrot resting on their shoulder, kids enter this show already feeling like a pirate. While watching, their imaginations run wild wondering what it would be like to be a part of the pirate crew or how it would feel to dive into the water like a mermaid. After the show, kids continue to create their own pretend pirate worlds. This imaginary play helps build language, social and problem solving skills which are all important for academic success.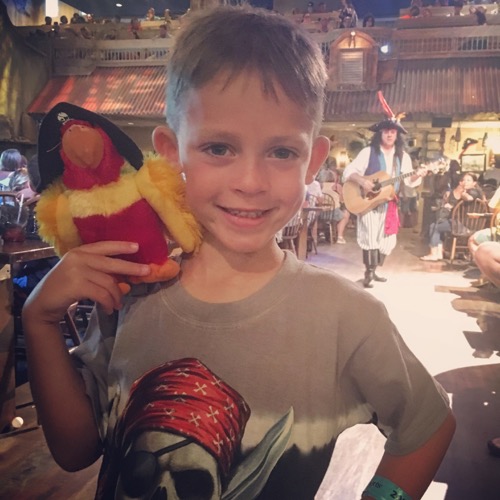 Pirates Voyage is a unique experience the entire family will love! It is a MUST DO during your next Myrtle Beach vacation. Show times and ticket prices vary, and it is recommended to purchase tickets before the show. Tickets can be purchased on the Pirates Voyage website or by calling 843 497-9700.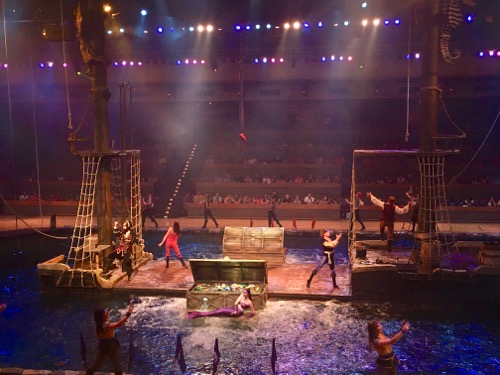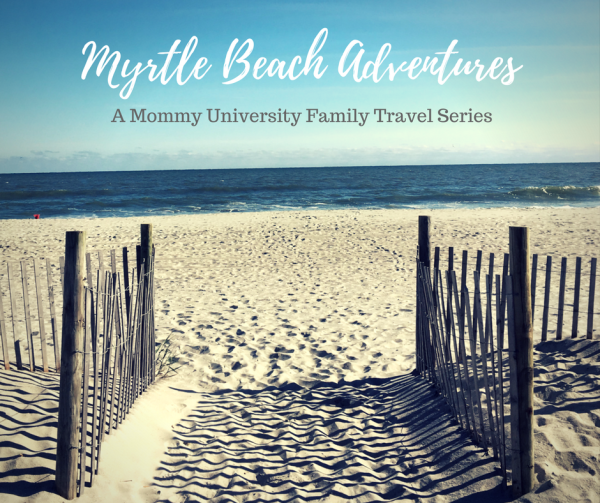 You may also enjoy: