This summer we were introduced to a unique new learning tool that my kids fell in love with. We took Flip 'N' Check on our two summer road trips which not only had the kids learning while traveling but also had us rolling in laughter as well as working together as a family. Flip 'N' Check are dry erase activity books that allow kids to play and learn over and over again.
How Does It Work?
Each Flip 'N' Check activity book comes with a dry erase pen and 20 activity sheets. One sheet at a time is placed under a clear plastic cover in the book. The learner then uses the dry erase pen to complete the activity. Once completed, the learner takes out the sheet, flips it over then puts it back under the plastic cover. The answers are revealed so the child can see if he/she was correct. What a fun way to learn!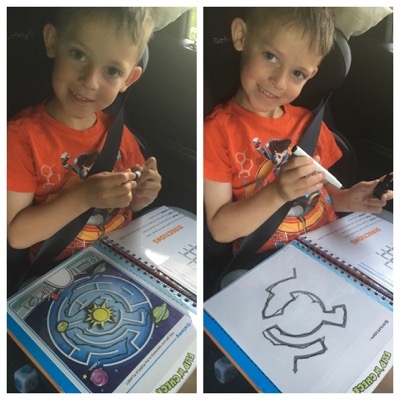 Flip 'N' Check comes in three themes: Mad Libs, Brain Games and Ocean Explorer. My boys enjoyed all three books; however, my oldest son enjoyed Mad Libs the most and played it frequently during our road trips. Although the activity books are recommend for children ages 7 and up, my 5-year-old really enjoyed many of the activities such as the mazes and connect the dots.
Benefits of Using Flip 'N' Check Activity Books
Never-ending Learning
Since the answers can be erased, the activities can be completed over and over again. This is especially true with the Mad Libs book as kids can come up with new nouns, verbs and adjectives each time creating new and unique stories. Kids can also erase mistakes and start over without ruining the paper. In addition, the books can be shared with friends and family allowing them to provide learning fun again and again!
Increases Fine Motor Skills
Each time a child makes their way through a maze, connects all the dots and writes the answers to a questions, they are enhancing their fine motor sills. Flip 'N' Check allows new writers as well as those with fine motor difficulties, to erase their answers and try again until they are able to do it correctly. Many of the activities themselves also increase fine and visual motor skills as well.
Enhances Language Development
As kids engage in Flip 'N' Check activities such as Mad Libs, answering trivia questions and creating compound words, kids are gaining important language skills. Younger kids can learn basic letters, words and sounds, while older kids will expand their vocabulary. Kids also talk about what they did and learned which increases their conversational language skills.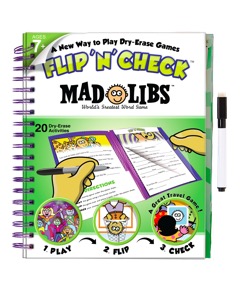 Promotes Family Bonding
You may be wondering how what is meant to be a single-player activity can promote family bonding, but it definitely does! During our road trips, I had so much fun helping my kids solve problems and answer questions. We also all worked together to provide words for the Mad Libs which made the final product a fun family project. My boys loved showing me their answers and beamed with pride when they were correct.
Flip 'N' Check books are not only perfect for road trips but also great for classrooms, as a supplement to home school lessons and a fun way to enhance learning during school breaks. Activities include mazes, word searches, spot the differences, trivia, crossword puzzles and much more! Flip 'N' Check books can be purchased at various learning stores such as Learning Express and on Amazon (affiliate link). Find out more about this amazing learning tool on the Flip 'N' Check website.
Want to win your own Flip 'N' Check Activity Book? Of course you do! We are so excited to partner with Flip 'N' Check to bring you this amazing giveaway. We will choose 3 winners to each receive an activity book of their choosing.
Here are the rules and conditions for this giveaway:
Participants MUST live in the United States.
The winner will be chosen by Rafflecopter.
The contest will run from August 22, 2017 through 12am on September 5, 2017.
The winner will be announced on September 5, 2017.
The winners will receive the activity books from Flip 'N' Check.
The winner must respond within 1 day or another winner will be chosen.
To enter, participants can earn entries by: visiting the Mommy University Facebook page (likes are appreciated but not required), following Mommy University on Twitter, sharing the contest with friends, entering/sharing another MU giveaway, providing an email address and subscribing to Mommy University's YouTube channel.
No purchase is necessary to win.
Your chances of winning are dependent on the number of entries received.
Enter here: a Rafflecopter giveaway