My family and I recently returned from our first family vacation at Universal Orlando Resort. We had visited once before 4 years ago but only spent the day at Islands of Adventure, and the boys were too young to remember much. Due to our very limited experience with Universal parks, I felt we were true newbies. Before our trip, I did a great deal of research to prepare for our vacation but I had a hard time finding everything I needed to know in one place. I decided the best way to help new Universal Orlando Resorts visitors like myself would be to put together a guide for beginners. Hopefully, this will answer many of your basic questions to get you started on your magical journey. You can scroll through the post or choose from the menu below.
What Should I Pack?
What clothes you pack will depend on what time of year you go but some things are helpful for all trips. Here are some items (besides clothing basics) I recommend you take with you on your trip to Universal:
Comfortable Shoes
Poncho and/or Umbrella
Bathing Suit
Towels (for Volcano Bay)
Sunscreen
Backpack (to carry water, snacks and supplies into the park)
Where Can I Stay?
I highly recommend staying on Universal property. There are so many amazing perks like transportation to the parks, early admission, wonderful service and express passes (not all resorts offer this feature). Here are the properties to choose from:
Prime Value (Includes Early Admission to The Wizarding World of Harry Potter, Complimentary Shuttle Bus Transportation to Parks)
Universal's Cabana Bay Beach Resort
Universal's Aventura Hotel (opening August 2018)
Preferred (Includes Early Admission to The Wizarding World of Harry Potter, Complimentary Water Taxis and Shuttle Buses)
Loews Royal Pacific Resort (also includes FREE Universal Express Unlimited Pass and Priority Seating at Select Restaurants)
Loews Sapphire Falls Resort
Here is a look at Loews Sapphire Falls Resort:
Premier (Includes Early Admission to The Wizarding World of Harry Potter, Complimentary Water Taxis and Shuttle Buses, FREE Universal Express Unlimited Pass and Priority Seating at Select Restaurants)
Hard Rock Hotel
Loews Portofino Bay Hotel
How Do I Get There?
If you choose to drive to Florida like we did, you can park your car at your resort. There is a fee, however. If you fly, you will have to find transportation from the airport like renting a car or using Uber or Lyft. Universal does not provide transportation to and from the airport.
What are the Universal Parks?
Many people are confused as to what parks are part of the Universal franchise. Although Orlando is jam packed with theme parks, there are only 3 that are part of Universal Orlando Resort.
Universal Studios
Islands of Adventure
Volcano Bay
City Walk is another Universal property, however, it is not a theme park. It offers amazing dining, shopping and entertainment options for all ages. It also offers fun nightlife for guests ages 21 and up.
What are the Ticket Options and What Do They Include?
I have to start by telling you that the tickets are paper tickets. That means they can get lost, damaged and wet. I highly recommend getting a lanyard with a plastic holder to protect the tickets especially on water rides. (TIP: If you take a VIP Tour, they will provide you with a lanyard and ticket holder.) There are numerous ticket options for Universal parks. Here is the breakdown:
Single Day Tickets: Families can purchase tickets for just one day for just one park or a one day park to park ticket. Prices vary based on the park.
Multi-Day Tickets: For the most action at the best price, I recommend multi-day tickets. Guests can purchase a 2-day park to park ticket or 2 day 3-park ticket. The more days you add on, the more you save. Check the Universal website frequently as they often offer deals. For instance, now through November 30, 2017, if you buy a 2 day park to park ticket, you get another 2 days FREE!
Should I Get Express Passes?
Yes!!! Express passes at Islands of Adventure and Universal Studios allow you to cut your wait time to about half. That means if Spiderman has a wait of 60 minutes, you will only wait about 30 minutes. This allows you to experience more rides during your stay. The Express Pass can be added onto your ticket for a cost but if you stay at Hard Rock Hotel, Loews Royal Pacific or Loews Portofino Bay, they are included with your ticket purchase. That is just one more reason to stay on property. Express Pass options:
Universal Express Pass: Skip the regular line once for each participating ride and attraction. This pass can be purchased for one park or both.
Universal Express Unlimited Pass: This pass allows you to skip the line unlimited times on each participating ride and attraction. This pass can be purchased for one park or both.
Should We Get a VIP Tour?
If your time is limited and budget is not a concern, I highly recommend getting a VIP Tour! We had an amazing time on our tour, and it allowed us to enjoy 13 rides plus lunch in just a 6 hour time frame. That left more time afterwards to explore on our own. PLUS, you get a discount at restaurants and gift shops for the remainder of the day.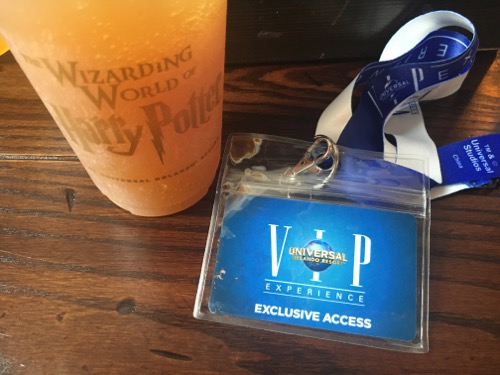 How Do I Get to the Parks?
The entrances for Universal Studios and Islands of Adventure are both located at City Walk.
Driving: If you are driving to the parks from another local resort or from home, you can park at City Walk then walk to the park entrance.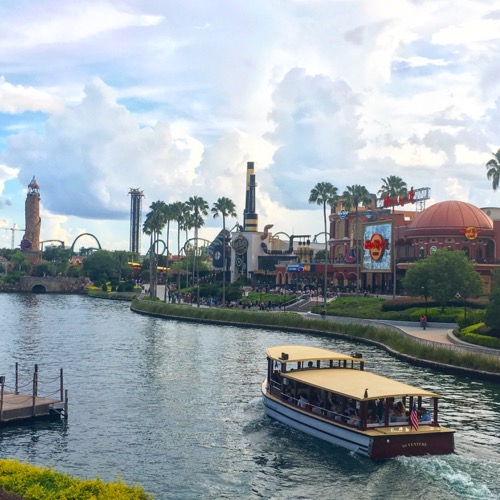 Water Taxi: Universal Orlando Resort offers FREE water taxis to City Walk. The taxis run when it is raining but do not run when lightning is spotted nearby.
Walking: There is a beautiful walkway from the resorts to City Walk.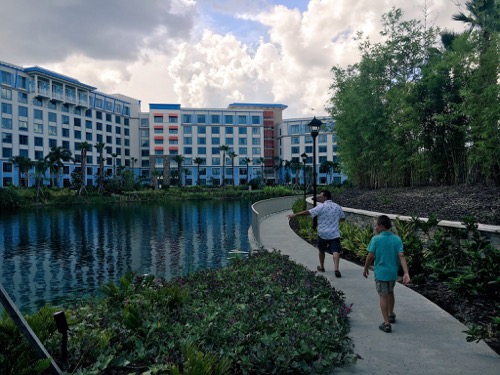 FYI: Before entering the water taxi and City Walk, guests must go through security where your bags will be scanned. You will also be asked to walk through a full body scanner so if you have a medical condition that does not allow you to do this, make sure to let them know.
Volcano Bay has its own entrance separate from City Walk. Guests of Cabana Bay Resort can walk to the park while all other resort guests must take a bus.
How Many Days Do I Need?
This is a tough question but I am going to give you my best advice. Can you do Universal Studios and Islands of Adventure in one day? Yes. Do I recommend it? No. Here is why: There is so much to see and do that one day does not give you the time to really take everything in and admire what Universal Orlando Resort has to offer. I recommend at least 2 days for the dry parks and one day for Volcano Bay for a total of 3 days. Of course even longer would be better.

What Can I Bring in the Parks?
Guests are allowed to bring in water and snacks which I definitely recommend as it gets hot and water can be expensive! Strollers can also be brought in the park or you can rent them. I also recommend bringing ponchos and/or umbrellas because, well, it's Florida and it rains frequently. In fact, in the summer, it has been known to rain once a day. Don't worry, it doesn't last long! For Volcano Bay, I recommend bringing your own towels. If you are limited on packing space, however, you can rent them for $5/each.
How Does Child Swap Work?
Universal has an amazing child swap system. Kids and parents can stand on line and experience the queue together but before getting on the ride itself, one parent/adult can stay with the child in the child swap room. The other parent will ride the ride then, when they return, the other parent can ride. The child swap room is themed to fit the ride and usually has the movie playing that goes along with that experience such as Harry Potter.
When is the Best Time to Visit?
Honestly, anytime is a great time to visit Universal Orlando Resort. Being a public school employee in NJ, I can only get away during peak times of travel for Orlando theme parks, but I have always had an amazing experience. However, if you are looking for less crowds then you should stay clear of holidays like Halloween, Thanksgiving, Christmas and Easter as well as Harry Potter Celebrations that take place in late January (but those are exciting times to see the parks). To make the most of your visit, use the Universal Orlando Resort app to keep track of wait times, stay at a resort on property and arrive to the theme parks early.
I hope these questions have helped plan your first (2nd or 9th) trip to Universal. If you have any additional questions, please leave them in the comments section below and I will do my best to get you the answers. Also, check out the Universal website for more information. Stay tuned for more posts including a breakdown of The Wizarding World of Harry Potter!
For more FAQs about Universal, check out the Universal post from my friend Julia at Wine In Mom Blog.
We were so excited to be a part of the Family Forward adventure this year which worked closely with Universal Orlando Resort to bring us the best possible experience. All opinions expressed are my own.
You may also enjoy: