I am sure you have heard the buzz by now that a Solar Eclipse will be taking place on Monday, August 21, 2017, but did you know that there are several places to observe this phenomenon right here in New Jersey? For those that don't know, a solar eclipse is when the moon passes between the Earth and the sun which blocks our view of the sun. This event can take up to 3 hours beginning to end; however, the time the moon completely blocks the sun is only about 2 minutes and 40 seconds. The last time this was visible from the United States was in 1979!
A partial eclipse can be seen from anywhere in the North America with a total eclipse only to be seen from those areas within the path of totality. This includes the following states: Oregon, Idaho, Wyoming, Montana, Nebraska, Iowa, Kansas, Missouri, Illinois, Kentucky, Tennessee, Georgia and North and South Carolina. The eclipse will begin 9:05am (PDT) in Long Beach, Oregon, and the lunar shadow will leave the United States by 4:09pm (EDT). More information can be found on the following website: https://eclipse2017.nasa.gov/eclipse-who-what-where-when-and-how.
So where can you see it in New Jersey? Now, of course you can look out your window, stand in your driveway or look up from your deck, but there are more exciting places to visit on August 21, 2017 to witness this awesome experience.

Mommy University Presents
Amazing Places to See the Solar Eclipse in New Jersey
Liberty Science Center, Jersey City
Not only is Liberty Science Center filled with several floors of STEM learning and fun, but they are all prepared for the arrival of the great American Eclipse. On the lawn, they will have special telescopes and sunspotters as well as a special scope with camera to capture the eclipse during its progression. Live science demos will help children (and adults) understand the eclipse through a solar eclipse model and explanations. They will also share a live remote broadcast from Cadiz, Kentucky as NJ will only reach 77% totality. Experience the fun all day, starting at 10 am and it is included with admission. The eclipse itself will start at 1:23 pm, reaching maximum at 2:44 pm, and end at 4 pm. If you are looking for an additional experience purchase additional tickets for the laser light show of Pink Floyd which begins at 4:45pm.
The Dreyfuss Planetarium at Newark Museum, Newark
Catch the 40 minute show "Eclipse: The Sun Revealed" Friday and Saturday at 3pm before the Planetarium closes for renovations on August 19th.  However, the Newark Museum will be hosting a special event on August 21 from 1-4 pm in the Horizon Plaza next to the museum. Visitors can make a pinhole viewer following NASA guidelines. This event is FREE. The cost of the Planetarium is $6 for adults and children under 12, while members are $4 for adults and children are $3.
Raritan Valley Community College Planetarium, Branchburg
The Planetarium at the Raritan Valley Community College has been hosting laser shows throughout August to prepare everyone for this once in a lifetime event. In fact, August 18 at 9 pm, they will have a special laser light show of Pink Floyd's Dark Side of the Moon. On August 21 from 1-4 pm, you can attend a Solar Eclipse Viewing celebration. Telescopes will be set up or you can go to the planetarium FREE of charge to watch from a safe location.
Morris Museum, Morristown
Morris Museum which hosts an Astronomy Day each year will also be a wonderful location to watch the live feed of the solar eclipse in the Bickford Theatre. There is no additional cost to watch this event and is included with admission.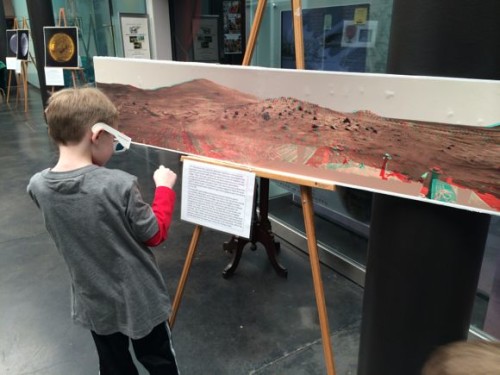 Edelman Planetarium, Rowan University
From 12:30pm-4:30pm, guests can visit the Edelman Planetarium for fun and exciting hands-on activities as well as a free planetarium show. Guests will get free eclipse glasses while supplies last, and there will be a live streaming of the eclipse around the world. The use of solar telescopes will also be available.
Amateur Astronomers Association of Princeton
From 1:20pm-4pm, guests can join AAAP at Washington Crossing State Park in Titusville, NJ to observe the eclipse. Telescopes and solar filters will be available.
Cloverleaf Tavern, Caldwell
If you want to combine lunch with the solar eclipse, then Cloverleaf should be your destination on August 21!  They not only boast delicious burgers and refreshments, but they also will be hosting a Solar Eclipse Party.  They will be providing FREE solar eclipse glasses while supplies last!
The NJ Astronomical Association
NJAA and Patriot's Path Council STEM Committee invite Scouts across NJ to witness this amazing event. Scouts must register in advance and arrive to the NJAA observatory before 1pm. Attendees will receive eclipse glasses, get a tour of the facilities, learn about moon phases and earn a patch. Register here: https://ppcbsa.org/wp-content/uploads/Eclipse-Flyer-Final.pdf. (The public can also attend this event which takes place 1pm-4:30pm)
Robert J. Novins Planetarium, Ocean County College
From 1pm-4pm, guests can visit the Robert J. Novins Planetarium to witness this amazing phenomenon. Members of A.S.T.R.A and Planetarium staff will set up telescopes with special solar filters so guests can observe the eclipse safely. Admission to this event is FREE!
Palmer Square, Princeton
Pack up your lawn chairs and blankets and head to Palmer Square in Princeton for a unique viewing party. Astronomers from Princeton University will provide information about the eclipse and 400 eclipse glasses will be distributed (one pair per family). This event takes place 1pm-4pm and glasses will be handed out at 1pm.
Gateway National Recreation Area, Sandy Hook
From 1pm-5pm, guests can enjoy a solar eclipse party at History House No. 1 at Gateway National Recreation Area. Astronomers and rangers will be on-site to help guests view the event safely. This event is FREE!
Your Local Library
Yes, your local library is an invaluable resource offering low cost access to this wonderful event. Some libraries have been offering or selling the glasses needed to watch this event while others have been organizing Solar Eclipse Parties. Here are a few we have come across:
Bonus:
Franklin Institute, Philadelphia
Take a trip into Philadelphia to the Franklin Institute to learn all about the solar eclipse. From 12pm-4pm, guests will be able to experience eclipse related activities including making their own safe solar viewers. This event is FREE with general admission.

American Museum of Natural History, New York City
The iconic Hayden Planetarium in NYC will be hosting a special event to celebrate the solar eclipse. From 12pm-4pm, there will be special programming taking place to mark this occasion. This event is included with admission.
If the weather is cloudy, you can still watch event live on NASA TV.
Need solar eclipse glasses? Use our Amazon affiliate link to purchase a pair now!
If you like this post, you might like: