My kids absolutely LOVE Diggerland USA. Well what little boy wouldn't love riding in and driving real construction vehicles? I have to admit, I really enjoy driving the trucks too! We have been visiting Diggerland USA for the past few summers, and it never disappoints. We have so much fun riding the classics, but really enjoy the new additions as well.
Diggerland USA offers endless opportunities for learning through play. Kids (and adults) can spend all day digging, playing and learning all while having fun together as a family. There are so many amazing experiences at Diggerland USA this season, but in this article I wanted to highlight what I believe are the MUST DO experiences for 2017!
5 Must Do Experiences at Diggerland USA
Race in a Digger Derby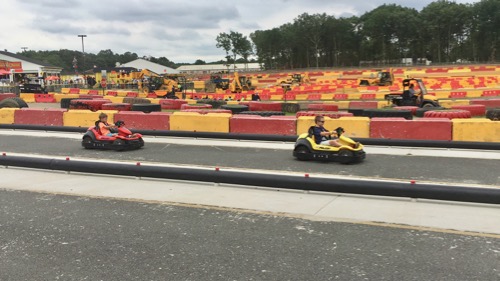 New this season at Diggerland USA is the Digger Derby! Kids can hop into a mini derby car and race family and friends around the track. My boys LOVED this new addition to the park. They felt like real race car drivers as they zipped around the track. Kids must be at least 36″ to enjoy this attraction and cannot weigh more than 90 pounds.
Get Treated Like Dirt on the Greased Beast
Ever wonder what dirt goes through when being dumped out of a truck? Well probably not, but it is really cool to find out when experiencing the Greased Beast. Passengers (42″ and up) are strapped into large seats inside the rear hopper of a steel demolition trailer and await their doom. The trailer then raises 34 feet into the air simulating the cargo being dumped. When at the top, the truck grumbles and vibrates adding to the multi-sensory experience.
Dig, Dig, Dig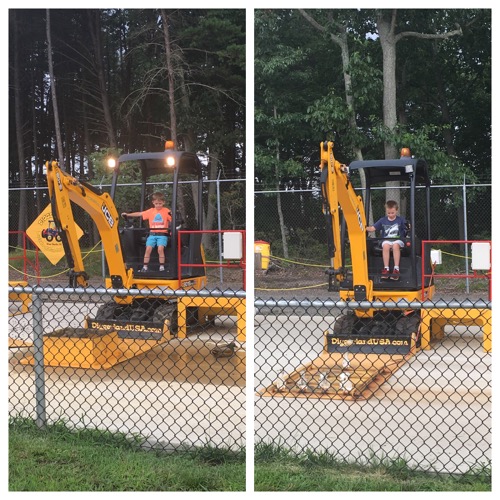 You can't go to Diggerland USA without digging in dirt right? Diggerland offers several options for operating real diggers. For the little ones, there are the Mini Diggers that allow kids to either dig for treasure, go bowling or pick up ducks. Each activity involves hard work, coordination and problem solving skills. Older kids (and kids at heart) may enjoy the Big Diggers where they can dig and maneuver dirt. All diggers have a height requirement of 42 inches; however, riders 36″-48″ can sit on a parent's lap.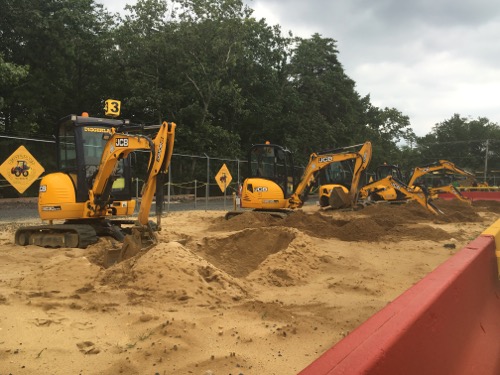 Check Out a Special Event
Any day is a fun day at Diggerland USA, but their special events offer a little extra digging fun for families. From sleeping over to launching pumpkins to special needs nights, Diggerland has events that offer another layer of learning through play. This August, families can enjoy an overnight adventure during the Camp Out and Dig In event, while Boy Scouts can spend the night at Diggerland on October 7, 2017. On September 8th, families with children of special needs can enjoy SAND (Special Abilities Night at Diggerland) which provides a sensory friendly experience for all ages. Then on September 9th, families can help raise money for SAMBULANCE Safety Squad at the Touch-a-Truck event.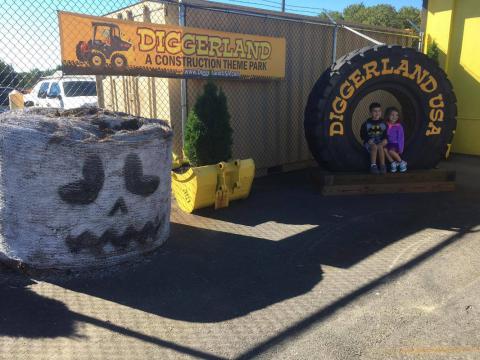 One of our favorite Diggerland experiences takes place in the fall. For Diggerfest, the park is decked out in fall and Halloween decorations, and families can enjoy spooktacular extras. This includes a corn maze, pumpkin picking and pumpkin launching. Last year, we even won 2 tickets to Sahara Sam's by launching a pumpkin through a tire! You can also head over to Diggerland on Halloween for a fun costume contest.
Spend Time with Family
I love that Diggerland USA offers ample opportunities for kids and parents to spend time together. Although many rides are for single riders or kids can sit on a parent's lap, several rides allow the entire family to ride together. We loved riding together and taking in all the sights and sounds Diggerland USA has to offer. Here are some of the family rides you can experience during your next visit:
Ground Shuttle
Operation Battle Truck
Excavator Express
Turnpike Tractors
Sky Shuttle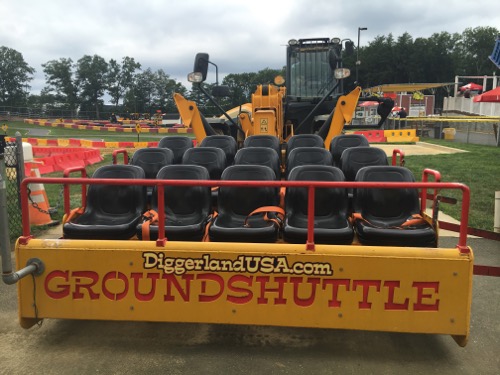 Take a closer look at what Diggerland USA has to offer by watching my YouTube video:
Diggerland is located in West Berlin, NJ. Hours vary so check their website before heading to the park. Happy digging!
You may also enjoy: