Here's the buzz on Bixbee Backpacks
Approaching the beginning of the school year, my kids are always excited to return. They can't wait to see their friends, their teachers and learn new things.  This year, my son is starting Kindergarten in a new school which will be a huge change for him as he has been going to the same school for three years. While he is excited, he has admitted several times that he is nervous. Familiarity allows children to feel comfortable and more confident. Last year, we equipped him with the super cool Bixbee Space Racer that made him feel like he was flying into the new school year.
While we still have the Space Racer which is in fabulous shape after going to school and summer programs, it is a smaller size better suited for Pre-K. We wanted to provide him with a backpack he can easily be comfortable with and would increase his excitement for this school year, thus enter the Shark Camo Backpack! For my daughter the Sparkalicious Ruby Raspberry Backpack became her new Back to School item. There are many reasons we love Bixbee and why I am so excited my children are growing up with Bixbee.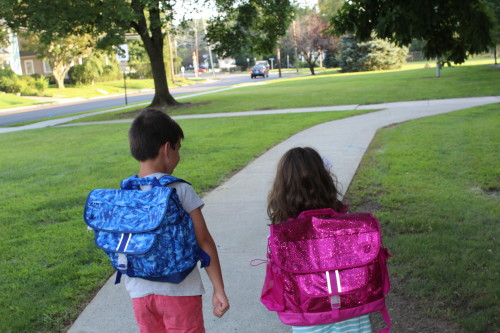 Growing Up with Bixbee
Express Yourself
We are big fans of sharks, but my son is the biggest fan. The Shark Camo is a blue camouflage print that contains five different sharks layered to create the pattern. Of course, the Hammerhead is hidden throughout the fabric. The fabric is an I-Spy as children can locate Bull Sharks, Great Whites and Mako Sharks. By contrast my daughter sees the world in flowers, hearts and glitter thus the Sparkalicious pattern is perfect for her sparkling personality. Bixbee has not only innovative designs for preschoolers, but they also have designs that are perfect for that child in elementary school who is still young and silly, but maturing.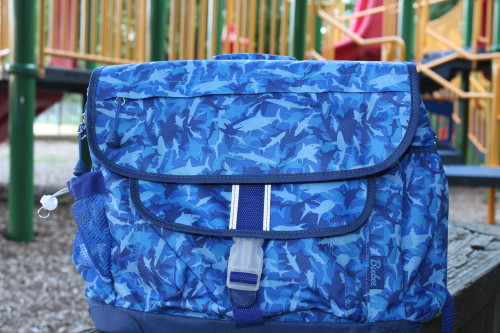 It's All in the Details
The backpacks are sturdy yet lightweight and water resistant which means that kids have a high quality product. Immediately, you will notice that Bixbee backpacks have a horizontal design which makes them unique. The straps are wide which makes them more comfortable; however, I like the adjustable chest strap which helps ease pressure on the child's back. The handle is padded and the straps are contoured which makes it easy for small hands to carry.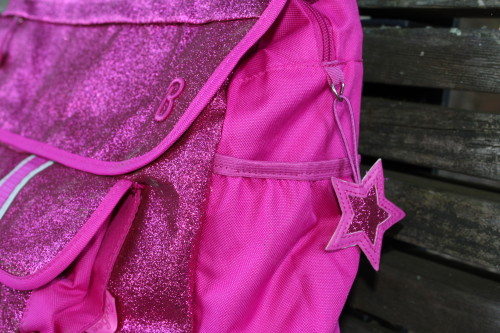 There is an ID badge under the main flap as well as a mesh pocket on the side. In fact, there are pockets everywhere! There is a pocket on the strap, on the flap and inside there are lots of pockets for a chromebook or tablet, pens and pencils. Lastly, the Lifetime Warranty also reinforces that this company is confident in what they make. As I mentioned, the Pre-K backpack is in wonderful shape and will continue to be used for other activities. It does ease my mind that this backpack will last making it a sound investment.
One Here. One There.
For each backpack purchase, Bixbee donates a schoolbag with supplies to a child in need. Bixbee has a phenomenal philosophy of One Here and One There which sparks a wonderful conversation we should be having with our children about helping those in need.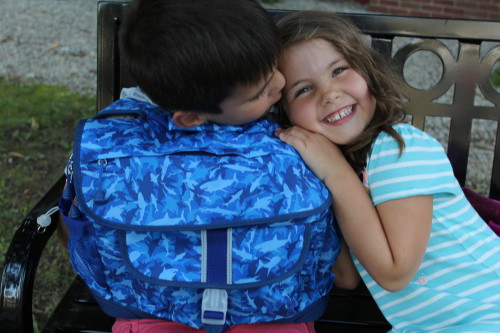 Back to School is quickly approaching and Bixbee has not only backpacks, but they also have lunchboxes and duffel bags for sports. They have creative designs in each item's structure but also in their colorful fabrics. We look forward to watching our children enjoy their school year and feel more confident that they are better equipped with Bixbee behind them! *Bixbee Backpacks can also be found on Amazon using our affiliate link and prices range based on product. Want to win your own Bixbee Backpack? Now you can! Mommy University is so excited to partner with Bixbee to give away a $25 gift card to be used to purchase a back pack (or lunchbox). Here are the rules and conditions for this amazing giveaway: Participants MUST live in the United States. The winner will be chosen by Rafflecopter. The contest will run from August 15, 2017 through 12am on August 28, 2017. The winner will be announced on August 28, 2017. The winner will receive the gift card directly from Bixbee. The winner must respond within 1 day or another winner will be chosen. To enter, participants can earn entries by: visiting the Mommy University Facebook page (likes are appreciated but not required), following Mommy University on Twitter, sharing the contest with friends, providing an email address,  subscribing to our YouTube channel and reading and sharing our Back to School Guide. No purchase is necessary to win. Your chances of winning are dependent on the number of entries received. Enter here: a Rafflecopter giveaway
Mommy University is excited to continue our partnership with Bixbee to provide this review of their backpacks. The opinions expressed are honest and belong to Mommy University.  
If you like this post, you might like: