This school year, we are very excited to partner with amazing companies such as Crayola, Bixbee, Nalgene, Creativity for Kids, Faber Castell and BUILT New York. to bring you amazing back to school products that will get your kids excited about going back to school!
I can't believe it but it is already that time of year again. It's time to get the backpacks, lunch boxes, pencils, crayons, notebooks…the list goes on. After an amazing summer of fun, excitement and some relaxation (I hope), it is time to get back to the school routine. To make the transition easier, we have put together a list of some awesome back to school items we know you and the kids will LOVE.
We all know it can be difficult to get the kids excited about school again, but with the school gear on this list, your kids will be begging to return. Well maybe not begging, but they will be pretty excited. In this guide, we have included items that will not only provide opportunities for academic success but will get kids excited to go back to school. We have included Amazon affiliate links to make your shopping experience easier and faster!
Back to School Guide for Kids
Backpacks
Bixbee Backpacks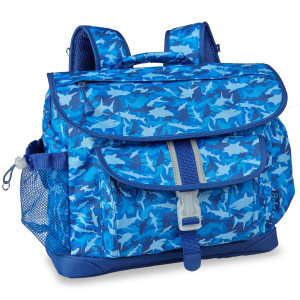 Not only does Bixbee have a phenomenal philosophy of One Here and One There, but they also make well designed and captivating backpacks. For each backpack purchase, Bixbee donates a schoolbag with supplies to a kid in need. If that doesn't grab you, then the design of a backpack resembling a fox or owl might. If your child dreams of flying, then the backpacks with butterfly will give them wings. If they dream of launching into outer space, then the Space Racer or Rocketflyer may be more your child's style. For older children, they have sparkly designs or camouflage in dinosaurs or sharks (see above). Backpacks can be found at affordable prices on Amazon and the Bixbee website.
BUILT NY Big Apple Buddies Backpack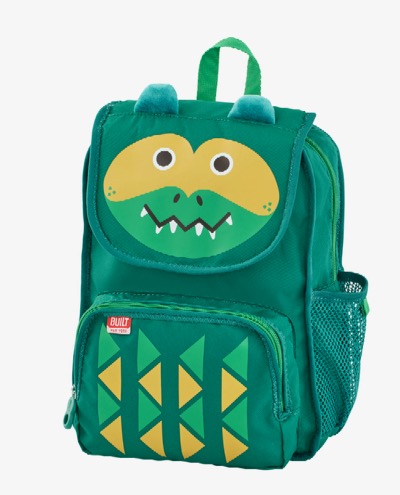 We were recently introduced to BUILT New York Back to School products and instantly fell in love. They offer a variety of products for all ages and style. The little ones will love their adorable Big Apple Buddies Backpacks that come in a variety of playful designs like this alligator. This backpack offers tons of storage space as it has a roomy main compartment, zippered front pocket and side mesh pocket perfect for water bottles. The fabric is water-resistant polyester and is PVC and BPA free! Plus, it is affordable selling for under $24 on Amazon! You can also find it on the BUILT NY website.
ZIPIT Drawing Artist Kids' Backpack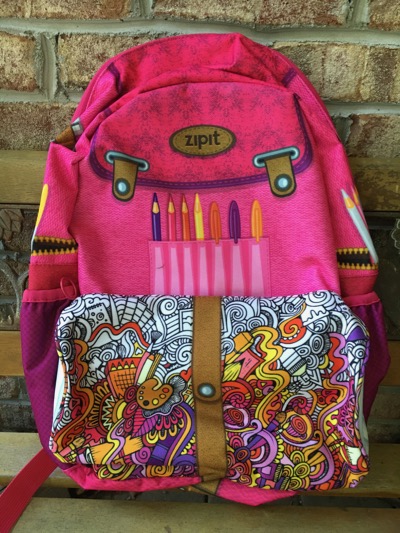 Your children will love this one-of-a-kind backpack making each day at school an adventure. This stylish backpack is made of polyester and PVC making it quite durable. It has one large interior compartment, a smaller exterior compartment and 2 elastic pockets on each side. It also has a padded back along with padded adjustable straps making it more comfortable to carry to, during and from school. You can purchase this adorable backpack at your local Target store.
BUILT NY Lunchpack Collection Union Square Backpack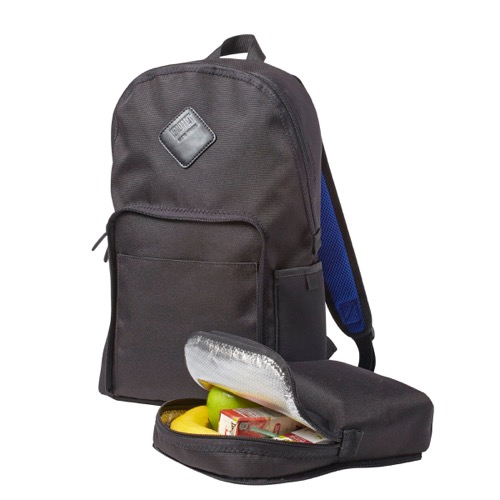 BUILT New York has a great backpack option for older kids too! The Union Square Backpack is available in stylish patterns/colors and comes with an detachable insulated lunchbox. The backpack also includes a padded pocket to keep electronic devices safe. The side pocket is perfect for a water bottle or even an umbrella. The adjustable air mesh straps makes this a comfortable way to carry books to and from school. It is priced at $49.99 on Amazon and the BUILT NY website which is great considering you are getting a backpack and lunchbox in one!
BUILT NY City Carryall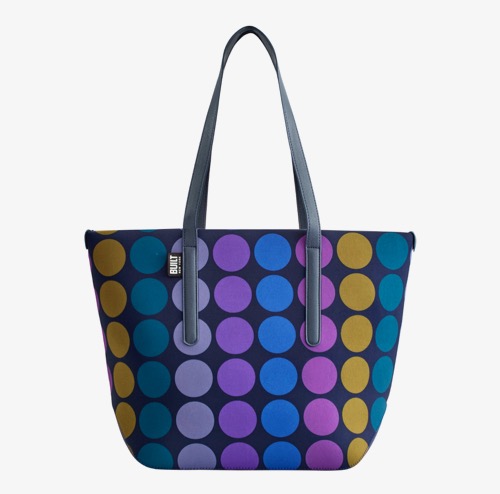 Looking for something a little different this school year? BUILT New York has stylish and durable bags perfect for moms, teachers and college students. They come in a variety of sizes and designs but I really like the City Carryall due to its larger size. It is perfect for carrying files, notebooks, books, electronic devices and more! There is also an inside pocket to store your keys, phone, wallet and more. The City Carryall is made from neoprene (wetsuit material) making it quite durable. It can purchased for $49.99 on the BUILT NY website.

Lunchboxes and Containers
Bixbee Lunchbox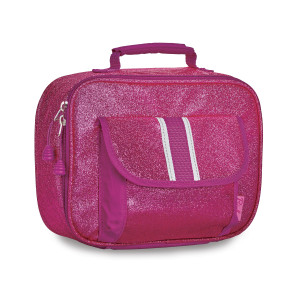 Besides making adorable, unique and stylish backpacks, Bixbee also makes lunchboxes that will make kids excited about going to school. From butterflies to zombies to camouflage to even monkeys in space suits, there is something for every style and interest.  As fans of their backpacks, we appreciate that the lunchboxes can be partnered with a coordinated backpack.  Conscious of the modern trends and what appeals to children, Bixbee knows how to make going back to school something to look forward to!
BUILT NY Big Apple Buddies Lunch Sack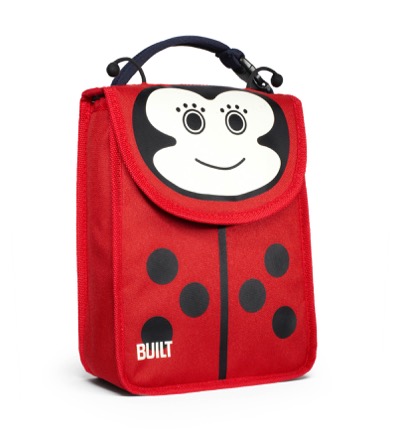 Looking for an adorable lunchbox to go with your new backpack? BUILT New York offers the perfect option for little ones as it comes in 3 designs: ladybug, dog and hippo. This bag is durable making it a great choice for your preschooler. The fabric is safe too as it is PVC, BPA, latex and vinyl free. It is affordably priced at under $20 on Amazon and the BUILT NY website.
Marcus & Marcus Insulated Lunchbox Backpack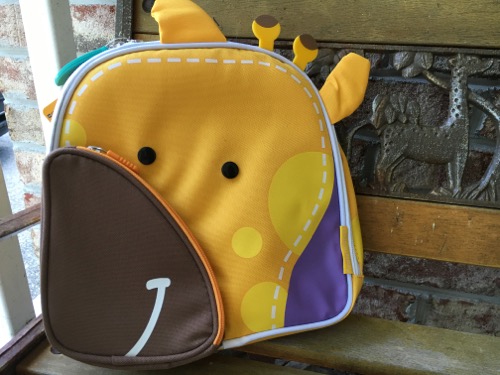 I absolutely LOVE this lunchbox backpack. It comes in adorable designs such as a giraffe, elephant and lion making kids excited about going to school. Being able to wear it as a backpack makes it even more appealing to young children (and parents). The lunchbox has an insulated interior pocket as well as a small front pocket for additional storage. The material is BPA and Phthalate free. This lunchbox can be purchased on Amazon for under $25!
BUILT Gourmet Getaway Lunch Tote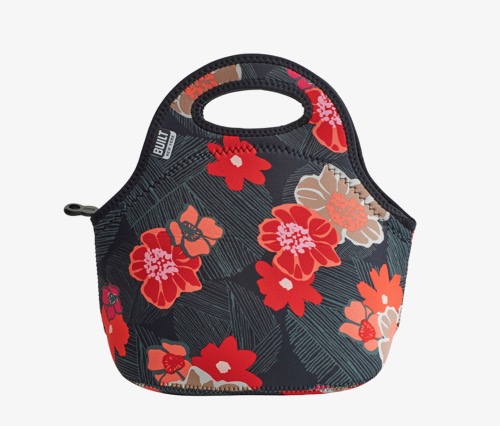 BUILT New York also offers stylish and durable lunch tote options for older kids, parents and teachers. The Gourmet Getaway Lunch Tote comes in a wide variety of designs to suit everyone's style. It is also insulated, made from neoprene (wetsuit material), has a zip closure, is machine washable and is PVC and vinyl free. Even better, it is stain resistant! This lunch tote is only $14.99 on Amazon and the BUILT NY website.
Precidio Design Snack in the Box and Drink in the Box
We were recently introduced to innovative and unique snack and drink containers that your kids will LOVE to bring to school each day. Whether it is for lunch or snack, Precidio Design has created two amazing products that make packing snacks and drinks for school easy. The Drink in the Box is a reusable, easy to clean container that comes in 8oz and 12oz sizes. The Snack in the Box offers dual chambers so kids can have 2 healthy snack options. It is easy to open making it perfect for kids as young as preschool. Each product is BPA, BPS and Phthalate free and made from the nearly indestructible Tritan. They fit perfectly in your child's lunchbox and backpack and come in a variety of colors. You can purchase these products on drinkinthebox.com as well as Amazon.
Nalgene Lunch Box Buddy

Often times when you have a lunchbox, there are hinges or crevices to hold crumbs, but the Lunch Box Buddy has a simple design that makes it easy to use and clean. The top part of the lunch box can be taken off and used as a tray. The ice pack included is adjustable which allows you several ways to pack a lunch. The velcro sleeve makes it easy to be carried. Cleaning up is easy and the box is dishwasher safe and the sleeve can be thrown in the washing machine. On Amazon the Lunch Box Buddy is less than $25.
BUILT NY Gourmet 3 Compartment Bento with Stainless Steal Utensils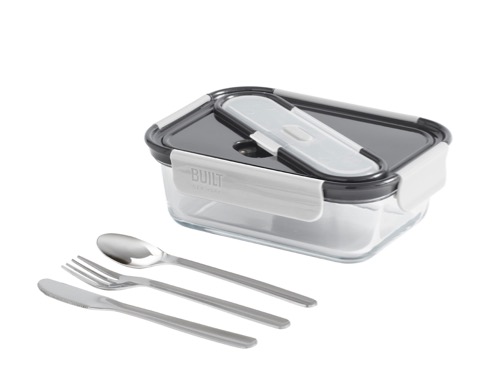 This 3 Compartment Bento is perfect for your older children as well as for teachers. Pack a more sophisticated lunch in this air-tight, leak-proof, break resistant bento container. The container and lid are microwave safe too! As an employee of the public schools, I cannot wait to use this Bento case to bring my lunch to school. This set is only $14.99 on the BUILT NY website.
BUILT NY Bento Sandwich Box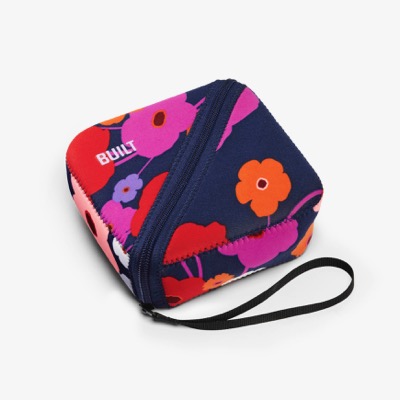 No need for tin foil or plastic bags for your sandwiches this school year! This stylish Bento Sandwich Box is perfect for your child to bring their favorite sandwich to school without it getting smashed in their backpack or locker. It is also perfect for teachers as it fits nicely in a desk drawer or large supply bag. You can also purchase the Bento Salad Bowl for a healthier lunch option. The Bento Sandwich Box is under $15 on Amazon and the BUILT NY website!
Nalgene 12 oz. Water Bottles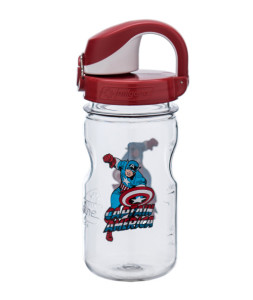 Every super hero needs to stay hydrated to tackle learning this school year which is why Nalgene has kids set up for success with these amazing 12 ounce water bottles. The lid has a latch that stops spills and is built for durability. The size of the water bottles is perfect for the lunch box or road trips! Your kids will love picking out their favorite Avenger and on Amazon the prices range but all stay under $11.
AquaBall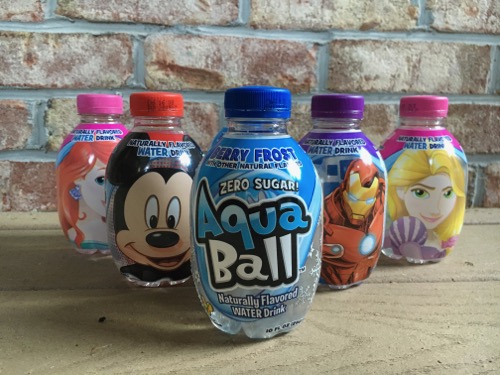 Looking for something healthy to put in your child's lunchbox? Instead of grabbing those sugary drinks, next time pick up AquaBall. Kids will love this naturally flavored water not only because it is delicious but because they come designed with their favorite Disney and Marvel characters. Parents will love it because it has no preservatives, calories or sugar. It is also enhanced with vitamins making it a healthier drink option this school year. Learn more on the AquaBall website. AquaBall can be purchased on Amazon or look for it at your local retailer.

School Supplies
Faber Castell Young Artist Coloring Set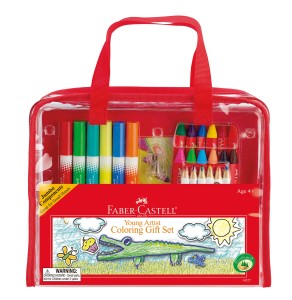 Inspire your child this upcoming school year with the Young Artist Coloring Set from Faber Castell which includes 12 premium Beeswax Crayons, 6 Duo-tip markers – 12 colors in all, 6 Short Jumbo Colored EcoPencils, sharpener, stickers and an 8″ x 10″ pad of art paper. All the items are included in a travel bag. On Amazon we have found this set for less than $22, but keep your eyes open as it is also available at Target!
Faber Castell Colored EcoPencils
Another school year, another school project that requires supplies or maybe you just have a budding artist? Faber Castell produces high quality art products including these pencils which have rich color and blend well together. Available on Amazon for less than $8, they can also be purchased at your local Target.
Faber Castell DuoTip Washable Markers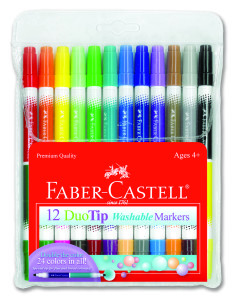 Working with DuoTip Markers, my daughter loves them! They have been included in some Faber Castell kits, we kept them afterwards because they are easy to use, bright and bold colors, and they are perfect for little hands. I personally am excited to see them with their own set. Now we can buy them separately for art drawings or school projects. They can be found at your local Target.
Crayola Art Supplies
Crayola has been a trusted company by teachers and parents for years to help get their kids ready for school and ready to learn. This year, get your kids excited about going back to school with some of their amazing art supplies. From scented markers to neon dry erase crayons to twistable colored pencils, there is plenty to get your kids on the road to success this school year.
NEW Silly Scents: Crayola has come up with a line packed with sensory fun! Silly Scents is available in markers, colored pencils and crayons. They come in a variety of colors and scents that kids will LOVE!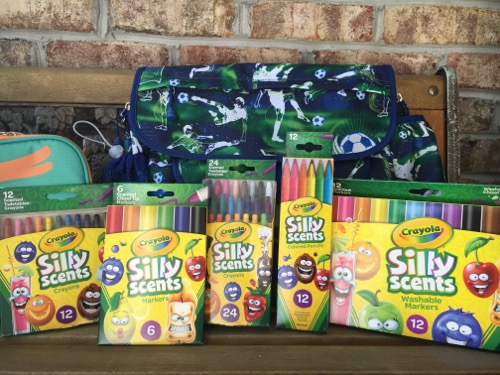 Markers: These adorable scented markers come in a variety of unique smells such as pepperoni pizza, spice cake, brick oven and barn yard. Kids will love these markers so much they will be begging to draw, color and complete school projects. They come in a variety of styles such as wedge tips, washable and fine line.
Twistables Colored Pencils: Available in packs of 12, these easy to use twistables colored pencils come in fun scents adding another level of sensory learning when drawing, creating and learning.
Twistables Crayons: Silly Scents now comes in the form of twistables crayons too! This is perfect for your little one who is not quite ready for markers but wants to enjoy the fun sensory experience too. They come in packs of 24.
Everyday Art Supplies: Crayola continues to lead the pack in art and school supplies. My house is full of Crayola products just like classrooms across the country. Here are some everyday school supplies your kids can use in class and at home this year:
NEW Ultra Clean Washable Markers Color Max: Let your kid's creativity shine without worrying about the mess with these new Ultra Clean Washable Markers. They come in classic, tropical, bold, multicultural and bright.
Colored Pencils: Available in a variety of pack sizes, these bright and bold pencils are perfect for your budding artist. With the Twistables Colored Pencils, no sharpening is needed as you just need to twist for more coloring fun. These pencils are perfect for adding to your child's pencil case this school year.
Twistables Crayons: Crayola is known for their amazing crayons. In fact, they are preferred by teachers! Crayola offers a wide variety of crayon options including ultra-clean washable crayons for your little messy artist. We especially love the new Twistable Crayons. No more broken crayon pieces all over your house this school year!
Super Tips Washable Markers: With these bold and vibrant markers, kids can draw thick and thin lines which inspires more creativity and imagination. They fit perfectly in pencil cases making them easy to transport to school. Plus, they are washable so don't worry about the new shirt or tablecloth!
Washable Dry Erase Crayon and Markers: Available in bright and bold colors, dry erase markers and crayons makes learning fun and easy. Kids can learn to write, draw pictures and solve math problems over and over again at school and at home. These are perfect for homeschool students as parents can use the Crayola Easel for lessons.
Creativity for Kids Sequin Drawing Board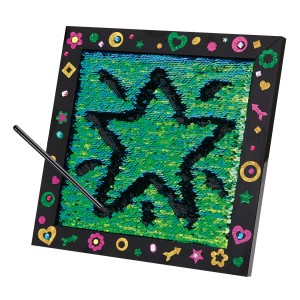 If you are looking for a tactile experience that helps promote fine motor skills, then the Sequin Board from Creativity for Kids fits the bill. Children decorate the frame to the sequin fabric and after that they can draw, write, practice letters. Don't be surprised for some children they will find running their fingers on the fabric to be relaxing after a tough day at school. On Amazon, the Sequin Drawing Board is less than $20.

Accessories
Creativity for Kids Pin & Patch Studio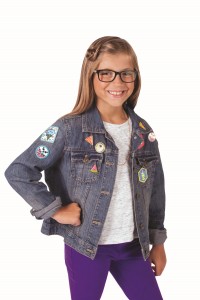 Small accessories are very popular with young children including pins, buttons, and patches. Now with the Pin & Patch Studio Studio, your children can make their own to decorate their clothes. This is a great set to pick up before Back to School to help celebrate the return to school as they decorate their jacket or backpack. For less than $15 on Amazon this will be a fun Back to School project!
Creativity for Kids Creature Corner Bookmarks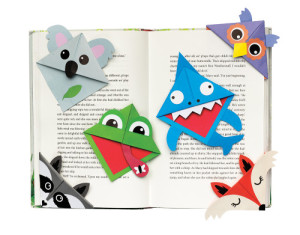 No matter the age, Back to School includes returning to reading school material! The Creativity for Kids Creature Corner Bookmarks is a paper project where they can make their own bookmarks. I think this is a fun project to help them get ready for school. It helps celebrate reading and what an easy conversation starter when other kids see this cool accessory. For less than $12 on Amazon this is a fun activity they can do by themselves or with friends.
Creativity for Kids Emoji Bracelets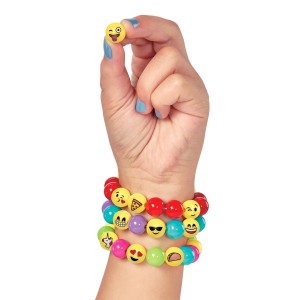 Emojis are definitely trending so why not have the kids make Emoji bracelets to help celebrate the beginning of the school year? This project is perfect for fine motor skills and expressing themselves with modern designs. Children can make bracelets for themselves, their friends or to share as well they can make different bracelets to coordinate with their outfits. At less than $13 on Amazon, these are fine way to help celebrate the new school year.

Technology
Connect + Pro Headphones, Lil Gadgets
Most kids use technology to help them with school so why not equip them with tools that are high quality and enable learning? Lil Gadgets produces over the ear headphones for children ages six and older. They are super soft material and durable; however, the Connect+ Pro set has some unique features that we think makes them wonderful. For example, they fold up which makes storage easy. The wire can be placed in either the right or left section which enables children to share listening to the same audio. It also has volume control so children will not exceed 93 decibels. This beautifully designed headphone is available on Amazon for less than $30.
Beddi Style Alarm Clock, WITTI Design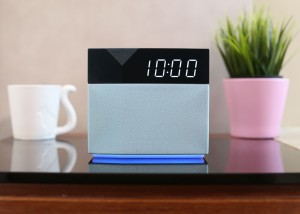 Not only are you waking up in style, more importantly you are waking up wired to your technology. The Beddi Style clock has a USB port for charging, a blue tooth speaker, as well as multi-colored mood light.  What impressed us most, however, was that you can set the clock for white noise which can be helpful for those who need some quiet to help them relax. As well, you can wake up to your playlists which makes this alarm clock personalized to your taste especially since you can also change the faceplate. On Amazon, the alarm clock is just under $50.
Quirky Pivot Power
®
 Desktop, ViaTek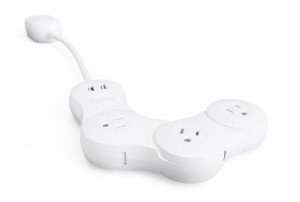 With our expanding technology every year, it is difficult to find a location to charge your electronic devices. With Quirky Pivot Power, however, everyone in the family can now be accommodated. The power strip can bend to fit every size plug or adapter. With two USB ports, smartphones and tablets can be charged alongside laptops. The Quirky design? Well, the four foot extension cord has a flat forty five degree plug which can get to hard to reach places. This accessory will help families become more productive this school year. If you are looking on Amazon we found it for less than $40.

Sports and Extracurricular Activities
Nalgene 32 oz. Water Bottles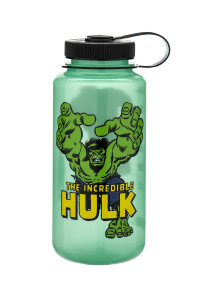 While the 12 ounce bottle from Nalgene is a good fit for the lunch box, when kids hit the playing field of their favorite sports they are burning energy and need to stay hydrated. They usually consume significantly more water and thus need a water bottle that can handle their  thirst needs which is why the 32 ounce bottle is more appropriate for extracurricular athletic activities. On Amazon, these bottles all fall under $12 and children can pick their favorite super hero from Avengers!
Bixbee Soccer Star Duffle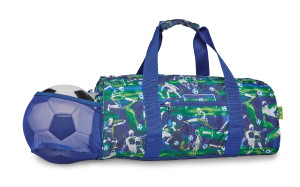 Along with the beginning of the school year are Fall sports! There is a reason this season is chaotic. If you have a rising soccer star in your family, then check out the Soccer Star Duffle which not only has room for cleats and supplies but also has this expandable pocket on the outside to store the soccer ball. For this highly functional soccer duffle, you will have to pick up at Bixbee's website!

What is in your Back to School shopping cart?
If you like this post, you might like: