Jump on Board with Fun & Function!

Fun and Function is a fabulous company that is full of so many different types of sensory toys to help develop each sense and calm each system! The company has a strong belief that being different is okay especially when they are empowered with toys that meet their needs. They have everything from weighted vests to swings, chewies, lap pads and much more.
For many kids, being able to self-regulate their body can be very difficult. Jumping is one way children can regulate their senses so they can better navigate their surroundings and feel comfortable. It can be highly organizing to the muscles and the brain. Just a few minutes daily or several times a day can be very beneficial to your sensory seekers and kids with lots energy. Add in some clapping, singing, counting or perhaps an obstacle course and you may have a new kid when the jumping is over.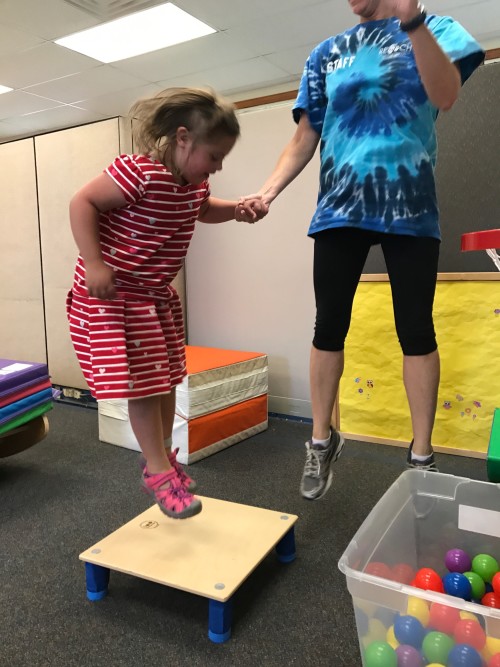 Mommy University Presents
Benefits of Fun & Function's Jumping Board
Offers an Energy Outlet
If you have a child that is constantly touching things with their hands, arms, or legs, you may have a sensory seeker. There are other signs that indicate a sensory seeker but a lot of children that crave that input have energy to burn. Daily use of the Jumping Board can be very beneficial to kids with lots of energy or sensory seekers as they are able to receive physical input. When jumping, they are physically moving which helps calm them and allows them to better focus.
Enhances Balance
While it may appear easy, jumping on the board requires balance. The Jumping Board has coated vertical springs which translates to a sturdier product than a trampoline especially if you have a child that thrives on intense jumps. The more they use the Jumping Board, the more they can improve their balance especially when you also introduce clapping or singing into the fun!
Improves Health
The jumping board has lots of cardiovascular benefits as your large muscles get a great workout. When jumping, children are improving their muscle strength, balance and coordination. Jumping is also a fun activity that increases their heart rate which makes it a great form of exercise. Next time your child is struggling to complete a strenuous task such as homework or just needs a sensory break, invite them to use the Jumping Board for a few minutes. You might be surprised how this activity helps them and improves their mood.
Transports Easily
The Jumping Board is small enough to take anywhere! At five pounds and smaller than 18″ x 18″, this means that the Jumping Board can fit in the trunk of the car. Since we already suggested to use the Jumping Board during breaks, have you thought about putting it in the car when traveling on road trips? For some families that have children with special needs, there is a strong need for routine which is why bringing the Jumping Board on an extended road trip can help reduce stress and offer the child an opportunity for familiarity.
The Jumping Board made by Fun and Function is made for active kids who love to jump long and hard. Since it can hold up to 150lbs it can be used for a long period of time as they can be introduced to your child at age 4 and help to transition them as they mature. Priced at $140, the Jumping Board makes a solid addition to your family especially if you are looking to help the high energy child or the sensory seeker.
If you like this post, you might like :