Let's Go Fishing!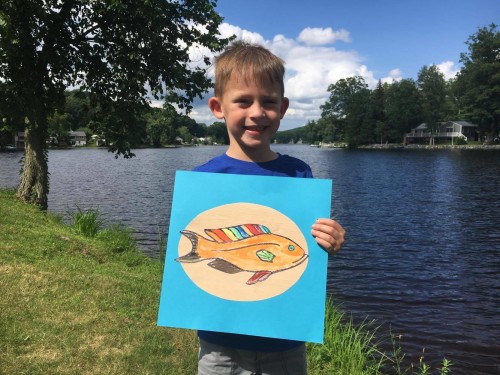 Recently, we held our first casual and outdoor birthday party. Unlike previous celebrations, I wanted the focus to remain on friends playing and hanging out together. With a fishing theme, the kids were pretty much focused on swimming in the lake; however, I still wanted one craft. In my mind, I designed this idea as an activity the kids could do before they ate lunch and needed time to dry off from the lake. While it didn't work in that fashion, it became an activity for the children who didn't want to swim anymore and for some parents who needed art therapy.
My goal was for each child to bring home their own "Catch of the Day" or as I was going to write on the paper "Look what I caught at the lake." Most children, however, enjoyed taking home their fish without the writing.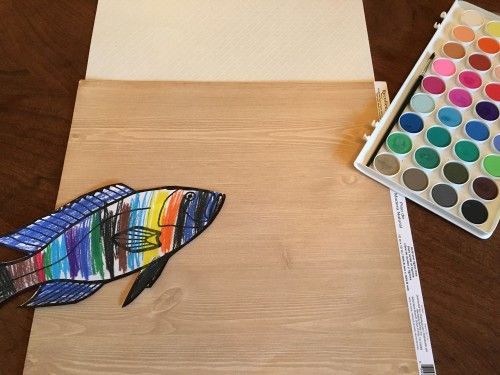 What You Will Need
Print Paper: the print should look like wood
White Cardstock Paper: this will be used for the fish
Large Cardstock Paper: this will be the background to the "wood mount"
Watercolor Paints
Paintbrushes
Glue Stick
How to Make this Project:
After collecting all the supplies, the first step is to make the fish. I was lucky to find a fish my son had colored in from school as my model. I freehand drew the fish using a sharpie on white cardstock paper that had a textured design that reminded me of fish scales. I cut the fish out after drawing them. Another option is to download a simple drawing of a fish that can be printed on cardstock paper and then cut them out.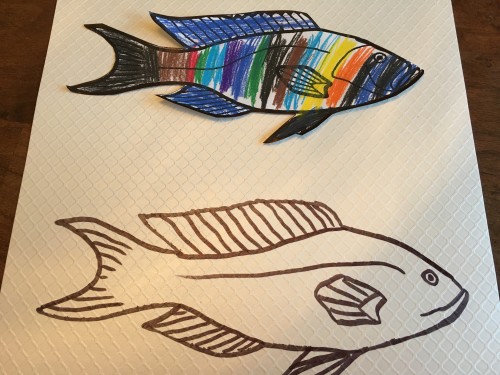 The next step is to cut the wood print paper into oval shapes. If you don't have a paper cutting system, then print an oval from your computer at the largest size that will accommodate the fish. After you cut the oval shape then trace it on the wood paper print then cut that one out.
The last step is to collect enough paint brushes and watercolor paints. The project is fairly simple as children can paint using watercolor or if you don't want the extra supplies (and clean up) you could replace with crayons or markers.
I had all the supplies ready for the party. At this point, there should be cardstock fish, oval shaped wood print paper, and large cardstock paper for the background. The kids would paint the fish however they would like. After the fish dried we applied glue on the back of the fish and placed on the wood paper and then glued to the large paper.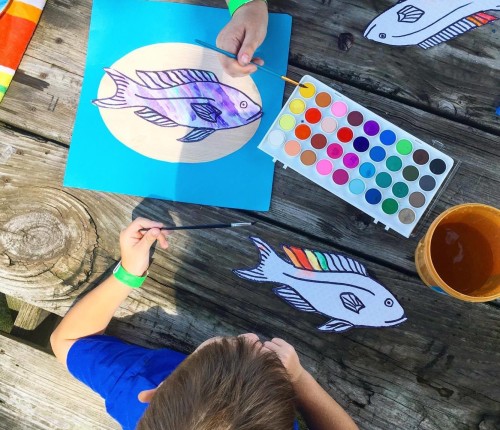 If you want to increase the challenge you could have kids paint a specific fish found in the lake or have them color their own rainbow fish.  Have fun fishing!
You may also enjoy: