Photo Credit: Melinda Johnson of Melinda Jae Photography
My family is planning a big trip to Universal Orlando Resort this summer. We visited once before but since it was 4 years ago the boys remember very little about the trip. To get ready for our vacation, we have been searching the Universal website and watching fun YouTube videos about different rides and experiences. As we learn more about the park, we have come up with more and more ways to celebrate our upcoming trip.
At Mommy University, we love to travel and believe it offers amazing developmental benefits for kids. We also love to prepare for trips, big and small, by engaging in fun brain boosting activities. From reading about animals before visiting a zoo to going on nature walks before a camping trip to even building our own amusement park rides out of K'Nex, we love engaging in hands-on learning fun so our kids are more prepared for the adventure ahead. After reviewing the Universal website thoroughly, my boys and I have come up with some fun activities that we want to enjoy before going on our big family vacation. This will not only enhance the excitement and anticipation, but will also help us learn more about the parks and be more prepared for what awaits us!
Activities to Celebrate a Universal Orland Resort Vacation
Read, Read, Read
For those who don't know, Universal has so many experiences that are based around adventures that began in a book! I am sure you have heard about The Wizarding World of Harry Potter, but did you know Universal has Seuss Landing too that highlights classic Dr. Seuss books? Plus, Jurassic Park, another awesome Universal experience, was a book before it was a movie. This is why reading can be your #1 activity to get ready for your upcoming trip to Universal Orlando Resort!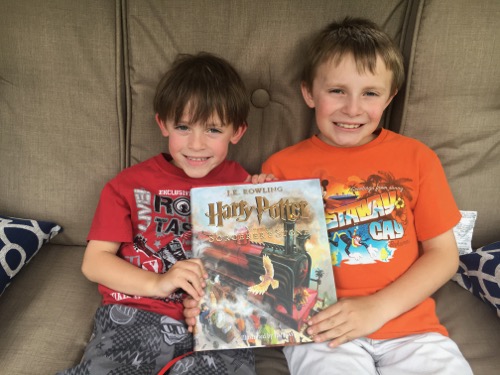 My boys are only 5 and 8 so we have not read the Harry Potter series yet, but to get ready for this trip we decided it was important to get to know this magical world a little better. As a result, I picked up the illustrated version of Harry Potter and the Sorcerer Stone and we are now reading it together as a family. I told them we could not watch the movie until we read the book (no, I am not a mean mom). We will also be pulling out our favorite Dr. Seuss books to reacquainted ourselves with his classic stories. Universal's Islands of Adventure has a land full of Dr. Seuss themed experiences including If I Ran a Zoo play area, The Cat in the Hat ride, Caro-Suess-el and more!
Make a Volcano
We are so excited for the newest park at Universal Orlando, Volcano Bay! It is a waterpark unlike any other, and we cannot wait to visit during our trip. To get excited, we are going to be making our own volcanoes at home. This is a fairly simple craft and can be done with items you already have in your house. As long as you have baking soda and vinegar, you are set to go (or should I say explode).
Movie Marathon
Harry Potter, Despicable Me, King Kong, Jurassic Park, Spiderman…the list is endless for rides and experiences inspired by movies. That is why a movie marathon is a great way to get ready for a trip to Universal Orlando Resorts. To add to the fun, have the kids make a craft that goes along with each movie or create a scavenger hunt of things they need to find within the movies.
Dino Day
One of the areas at Universal Islands of Adventure that we are REALLY looking forward to exploring is Jurassic Park. My kids could watch Jurassic Park and Jurassic World every day if I let them. To get ready for this amazing experience, we are going to have a Dino Day. This is something we have done before and it has been a huge success. Check out our Dino Day post to get some brain boosting activity ideas like digging for dinosaur bones, reading dino books and going on a dino hunt!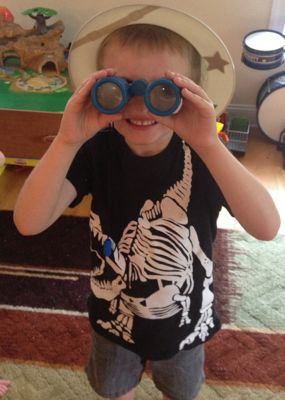 Super Hero Day
Universal Orlando is swarming with super heroes especially our favorites like the Avengers. They even have rides based off our favorite characters like Spiderman and the Hulk. We are a big super hero family so we cannot wait to see who we will meet. Until then, we are going to enjoy a Super Hero Day at home. From dressing up to playing games to making crafts, my kids will be busy for hours creating their own super hero world. For some fun ideas and activities check out our Super Hero Day post.
Minion Crafts
My boys are so excited for the Minions ride at Universal! To get ready, they asked to make some fun Minions crafts. When exploring Pinterest I found hundreds of ideas and decided to go with something we had the materials for already. We made Minions out of paper plates and Minion snack cups. These crafts were not only fun to make but also enhanced their fine motor and visual skills while sparking creativity!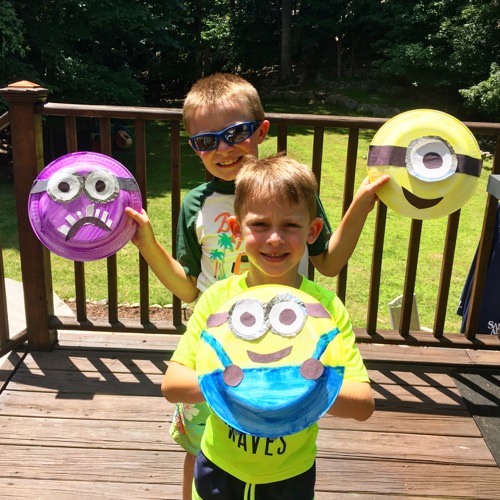 Harry Potter Magic
What would a Universal Countdown be without Harry Potter? For our Harry Potter themed day, we decided to have our own potion class. First, we made our own spell books then created our own wands. Last, we set up ingredients to make our potions. This is a fun and easy activity for kids as it only requires a few household ingredients like vinegar, baking soda and food coloring. We also used soda, Pop Rocks and Mentos to make it even more explosive!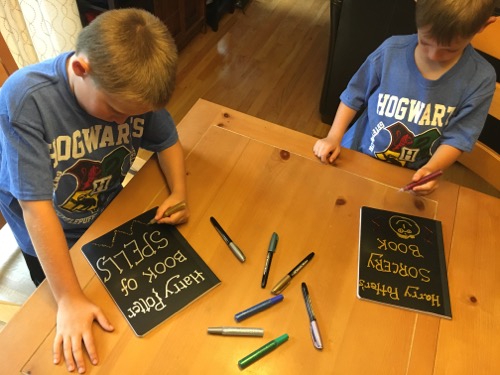 We are having so much fun getting ready for our trip to Universal! What activities do you do to get ready for a Universal Vacation?

You may also enjoy: