My boys absolutely LOVE learning about dinosaurs. From dinosaur books to toys to movies, they love everything that has to do with these magnificent prehistoric creatures. That is why I was so excited to be invited by Jersey Moms Blog to spend the day exploring Liberty Science Center to help kick off their Dino Days of Summer. This incredible event takes place every day at LSC this summer. Families of all ages can enjoy a wide range of activities to keep kids bodies and minds active!
"Liberty Science Center is all about bringing science to life in fun, interactive and compelling ways." This quote from LSC President and CEO Paul Hoffman perfectly sums up the purpose of Dino Days of Summer. Families will participate in hands-on learning adventures that will leave them captivated and full of knowledge. In addition to the already amazing exhibits and experiences, this summer, LSC is also offering fun ways to learn all about dinosaurs!
Dino Days of Summer at Liberty Science Center
Jack Horner's Dino Dig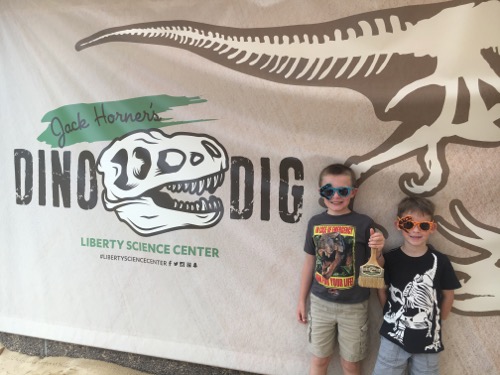 Ever want to visit a real dig site? Guests of all ages are invited to be real paleontologists for the day at Jack Horner's Dino Dig. With over 35 tons of sand covering full-sized Cretaceous-era replicas, kids (and adults) will have a blast digging for dinosaurs. Each guest is provided a large brush to use in the dig site to uncover these massive creatures. On the wall you will find a Dig Site Map listing what you are looking for and where to find it. There are over 50 bones to uncover including a 72-inch Triceratops skull.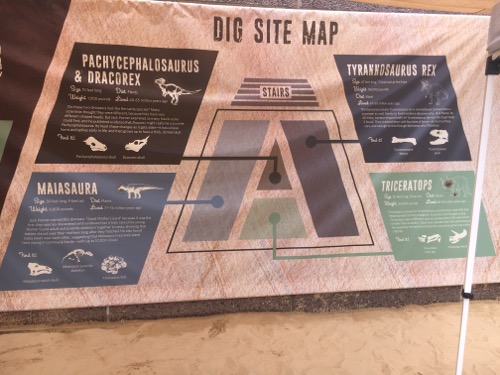 For those who don't know, Jack Horner is a world-renowned and influential paleontologist. He has decades of experience digging in Montana where he has made numerous discoveries including unearthing the first dinosaur embryo. Jack has written over 8 books about dinosaurs and even served as a consultant for all Jurassic Park movies. His Dino Dig at Liberty Science Center allows dino fans of all ages to get an idea of what a real dig site in the American West would look like. The only difference, it has the amazing backdrop of the NYC skyline!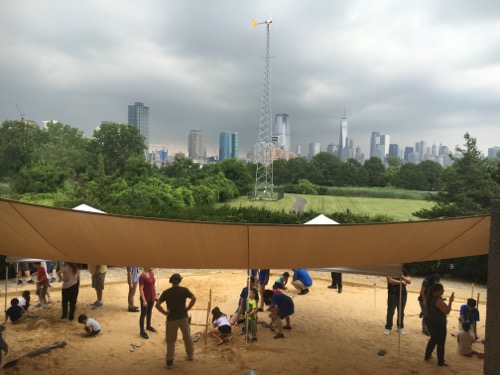 My boys had so much fun exploring, digging and learning at Jack Horner's Dino Dig. They found dino eggs, a large T-Rex bone the size of my 5-year old, a Triceratops skull and so much more. They also learned about a dinosaur we never heard of before, Pachycephalosaurus. As the kids uncovered various fossils, volunteers were available to help and answer any questions the kids had. They also provided new facts and information about dinosaurs and dig sites.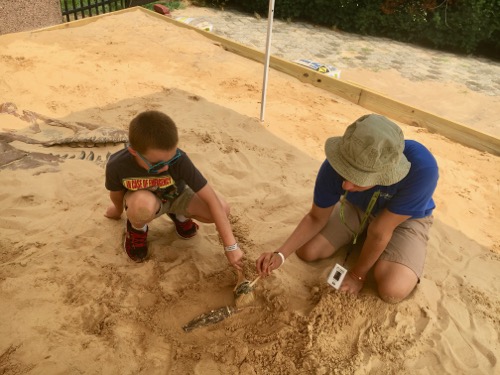 Jack Horner's Dino Dig is an amazing hands-on learning experience that can engage guests for hours. The site is mostly covered so you are protected from the sun which is a plus. The Dino Dig is open 9am-5:30pm and admission is included with your LSC admission.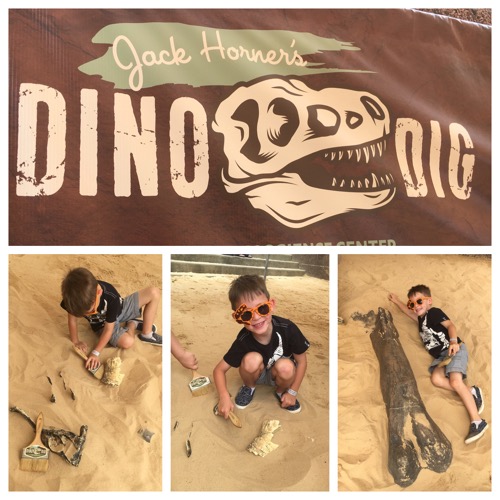 Dino Story Time
Dino Days of Summer offers some fun indoor experiences too. Dino Tales Story Time, which takes place in Governors Hall, is geared towards the youngest paleontologists, ages 2-5. Kids (and parents) can enjoy fun stories about dinosaurs and learn interesting facts.
Fossil Lab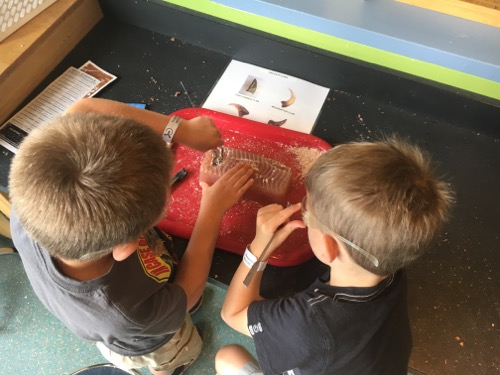 Located within the Our Hudson Home exhibit on the 4th floor is a lab where kids can continue their digging adventure. There are 2 activities families can experience that allow guests to dig for fossils. My boys worked on the one where they had to dig dinosaur claws and teeth out of a block that had a wax-like consistency. The lab staff member showed my boys a picture of various claws and teeth so they could compare what they found to the sheet. Although they were not allowed to keep the fossils they found, they still really enjoyed this experience.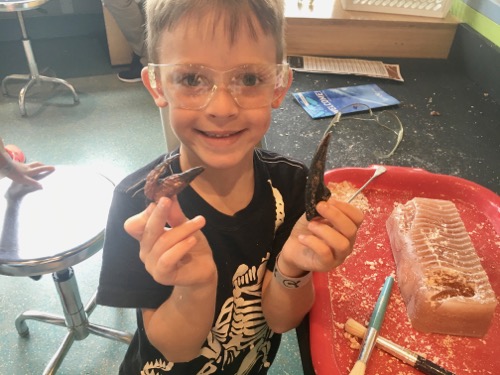 Prehistoric Touch Tank
Also located in Our Hudson Home is a touch tank. During Dino Days of Summer, guests can touch a horseshoe crab which has been around longer than dinosaurs. Families come up to the tank one at a time and receive individualized attention from the staff member. She provided us with interesting facts about the crab and answered any questions my son had. It was an amazing hands-on learning experience!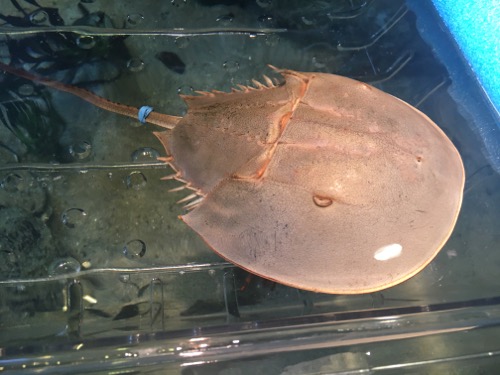 We had an amazing time digging into fun and learning at Liberty Science Center and we CANNOT wait come back! Tickets to LSC are $21.75/adults and $17.75/children (ages 2-12). Combo passes are also available that include special exhibits and/or shows. To learn more, visit the Liberty Science Center website!

You may also enjoy: