Brain Boosting with Family Games that Expand Your Mind!

While we maintain a family game night on Wednesdays in the winter months to break up the school week, check in with each other, and have fun, the summer months are a little more relaxed. In the extended break of July and August, our schedule is running around and trying to get outdoors as much as possible; however, we still play games.
Games bring friends and family together but they also help teach. They promote communication skills, visual dexterity, memory and even organizational skills. As a family, we look for games that challenge us to think outside the box while strengthening family bonds. All of these are skills needed to be successful in school and in life so although we are having fun, my children are engaging in brain gain instead of the summer slide. After playing with Qwirkle, we knew that we had to explore more of the games that MindWare Toys has in its collection.
Mommy University Presents
MindWare Games for Summer Brain Gain
 Gravity's Edge

Suspense is the perfect word to describe this game that requires different players to compete to stack the most weighted tipping points on the tower. The tipping points do not weigh the same and there is always the possibility that you will knock down the tower. This game can be played differently whether it is competing or cooperatively. We preferred working together as this game required a lot of eye-hand coordination and critical thinking skills. Gravity's Edge requires a little bit of patience as the set up can take a few minutes only because the tower is delicately balanced, otherwise this is a well liked game in our family. Available on Amazon for less than $25 this game is designed for children ages six and older.
Twangled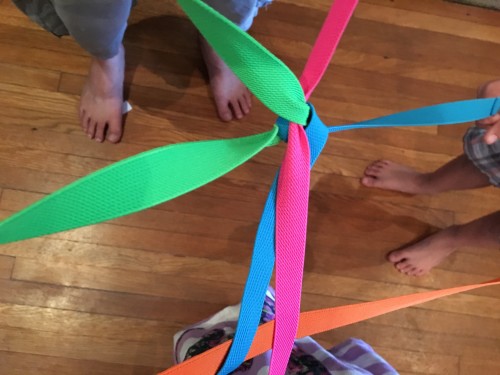 Twangled has been one of the easiest games to understand, however, also one of the most difficult games to solve but we had a lot of fun trying each time. This game requires all players to work together. After each player picks a different color band the group forms a circle holding the end of the band of the person next to them. Each player kicks the spinner which directs them to go Over or Under and the specific color band. After each individual has two turns, the group is now Twangled!
Now the group works together through problem solving and effective communication skills to become untangled. We laughed the entire time we played this game. Since there is a lot of movement we believe this is also a wonderful game on a rainy day or snow day. Priced on Amazon for less than $25, it can have up to eight players and is recommended for kids six and older.
Q-bitz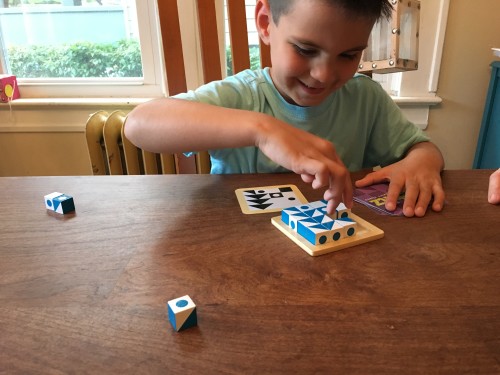 I love games that challenge your memory as well as visual dexterity which is why Q-bitz has become popular in our household. Players are given an image that they are challenged to recreate using 16 different cubes. On each side of the cube is a different pattern. What I appreciate about this game is the various methods to play the game and that it can be played individually or within a group. Included in the game are 4 trays with 4 different colored cubes that accommodates up to four players as well as up to 16 challenges. Q-bitz encourages children to learn while playing as they improve their spatial recognition and organizational skills.  Priced on Amazon for less than $20, it works well with children ages 8 and older.
Qwirkle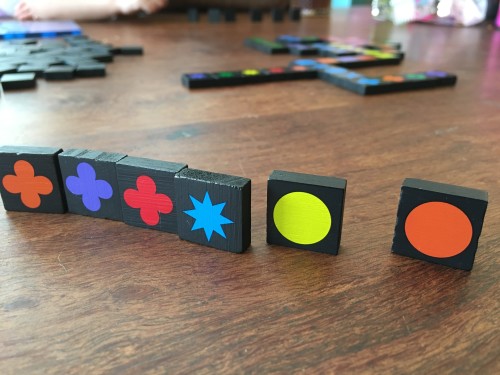 Qwirkle has existed for a long time and there is a good reason this game is perfect for young children. It encourages us to think about problem solving skills and strategy. Within minutes my family was playing the game as the instructions are easy to understand. Although it is recommended for children ages six and older, my five-year old was competitively playing this game.
Players are given chips in various colors and shapes. The goal is to match as many of the chips either by color or shape. Qwirkle received the Parents' Choice Gold Award for its simple and straight forward design that yields wonderful learning opportunities. We currently have the travel size so it has been going with us to many locations. Priced on Amazon for less than $25, this game is designed for children ages six and older.
MindWare Toys produces high quality games that meet the different needs of children. Whether it is a game to encourage children to get up and move while problem solving (perfect for a day indoors) or developing their forward thinking ability and become strategic, MindWare games definitely offer learning through play. These games will be added to our organized Family Game Night when the school year begins and since they can be played in so many different ways they have a long shelf life as they will still challenge my children as they get older.
You may also enjoy: