My family recently took a road trip to Louisiana to visit family. We decided to stop for the night in Tennessee since it is about halfway between NJ and Baton Rouge. We were unsure exactly where to stop but when I was contacted by MagiQuest, I knew Pigeon Forge would be our destination of choice! I have heard amazing things about Pigeon Forge (I am sure you have heard of Dollywood) so I knew we would love it, but I had no idea how much my family would fall in love with MagiQuest!
From the moment we arrived at MagiQuest, we were in awe. It is not your typical building as it is shaped like a magical castle. It is as if you step back in time to a medieval era full of excitement and adventure (or should I say QUESTS). Despite driving over 10 hours to get to Tennessee, my kids were full of energy and anticipation as we entered the building. They were so excited that we didn't even know where to start as there were 4 unique adventures to choose from.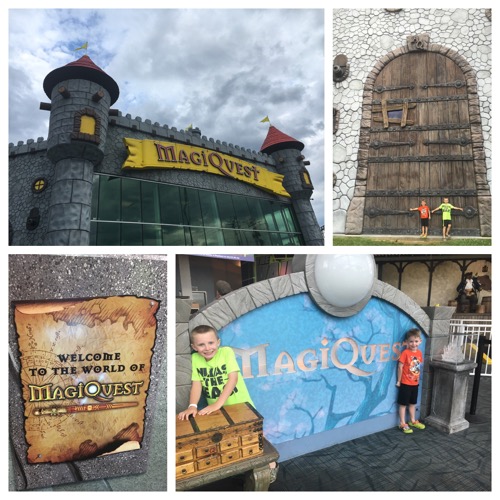 MagiQuest offers a 4 in 1 family experience. You can choose to do just one or purchase a combo ticket to experience all 4. We were provided the combo pass that included all 4 adventures: MagiQuest, The Vault, Pirate Golf and Odyssey. Each experience offers a unique hands-on learning adventure that all ages can enjoy. In fact, our family that day ranged in ages from 5 to 70 and everyone had a blast!
4 Amazing Adventures at MagiQuest Pigeon Forge
MagiQuest
MagiQuest is the ultimate role-playing experience as players get to be magical wizards as they travel through different realms to complete various quests. To start, each wizard (player) receives a wand and the Ancient Book of Wisdom to help make it through the adventure. For those that are new to the MagiQuest experience (like my family), you can get a tutorial to learn all about the magic of the wand and how to play before embarking on your adventure.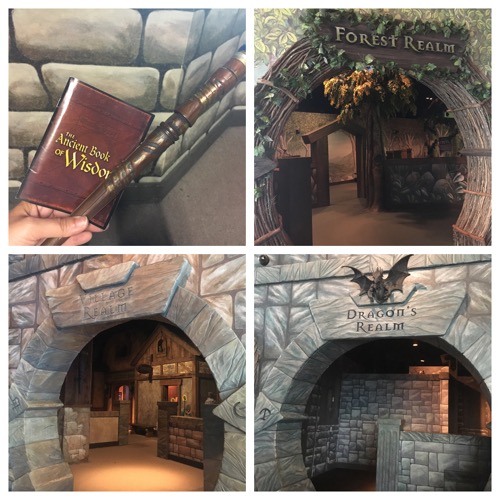 The quests vary in difficulty, and it is recommended to start at the beginning if you are a new player. For each quest, players have to find specific objects throughout the 3 fantasy realms: Forest, Dragon and Village. To activate or find the objects, players must wave their magic wands. My boys loved having the power to open treasure chests, turn on lanterns and make crystals and jewels sparkle and shine. As a parent, I loved that they were learning all about cause and effect as well as enhancing their problem solving and reasoning skills while playing.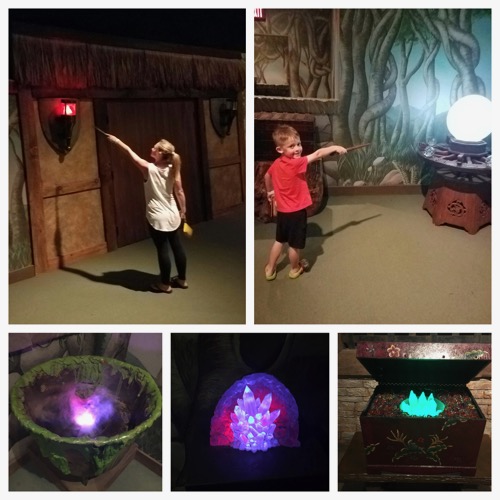 The length of your MagiQuest experience depends on the ticket you purchase. When choosing MagiQuest ONLY or the Ultimate Adventure Package, your adventure is 90 minutes long while for the Returning Magi and MagiQuest Combo it is 60 minutes long. We had the Combo tickets so our magical journey was 60 minutes long which allowed us to complete 4 quests. It is important to note that if your time is up but you are in the middle of a quest, you can continue to play until it is completed.
Pirate Golf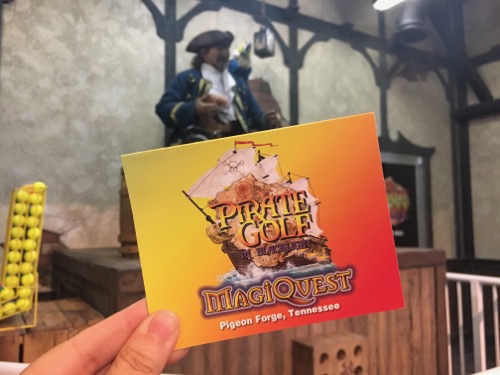 My kids LOVE playing mini-golf especially courses that glow-in-the-dark. We have visited several indoor golf courses, and I have to say that Pirate Golf was definitely the coolest and most unique one we have ever experienced! This 18-hole course offers a swashbuckling good time as it is set in a Caribbean pirate village. The artistry was absolutely phenomenal throughout the entire course. The details were amazing, and the colors were so bright and vibrant making the experience even more thrilling and engaging. My family loved playing on a pirate ship, under a killer shark and around pirate skulls.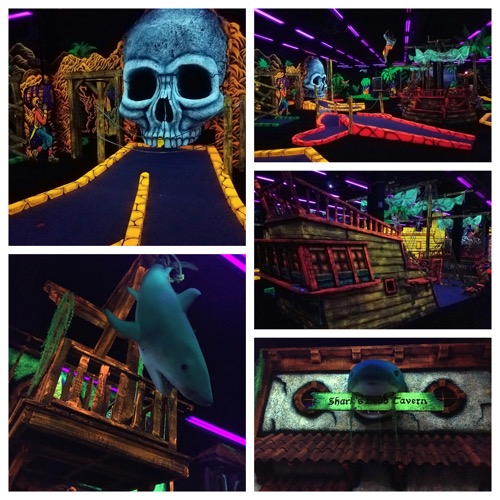 Odyssey
Although we loved the other 3 experiences at MagiQuest, I think we laughed the most as a family during our Odyssey adventure. This 5,000 square foot mirror maze offers a unique experience you will never forgot and will definitely want to do again. We found the maze not only fun but also challenging as we had to use all our senses to make our way out of the maze together as a family.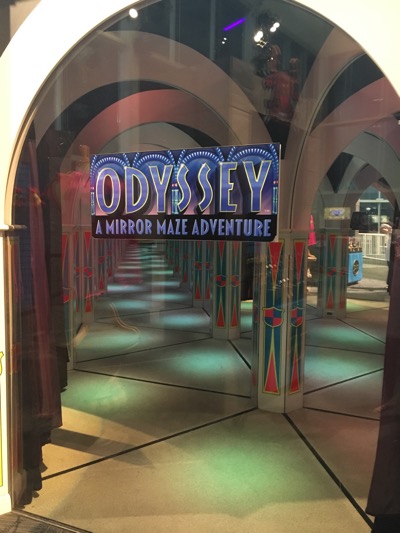 The maze consists of several rooms that you have to make your way through in order to get to the end. The infinity room gives the illusion of seeing an infinite amount of reflections in all directions while the holograph hallway creates one giant holograph. My favorite was the dance room where the walls react to each move you make. I have to admit, we all bumped into each other as well as a few a mirrors throughout our adventure. We even got lost at one point, but it was all part of the fun which created amazing memories for our family.
The Vault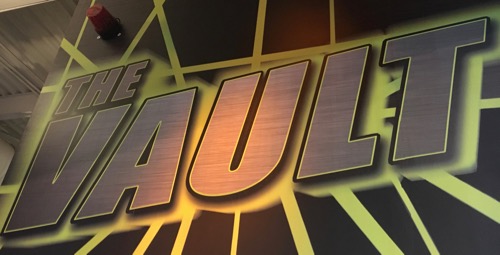 We ended our MagiQuest adventure at The Vault – Laser Challenge. Players are challenged to make it through a room full of lasers in the shortest amount of time. This game really tests your problem solving skills as you crawl, twist, turn and climb through lasers at various levels. My boys loved competing against each other to see who could make it across the fastest. My husband and I even joined the fun as it is an amazing experience for all ages. What I loved is that you can try over and over again improving with each run through.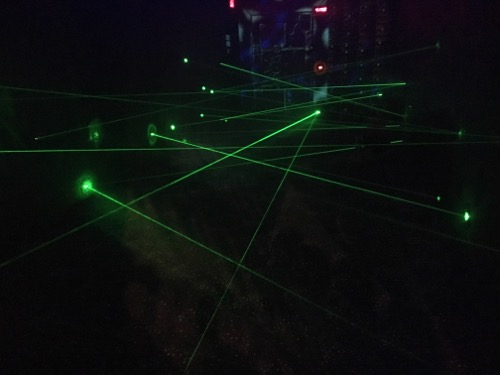 All 4 attractions at MagiQuest offered unique and memorable experiences for my entire family. Not only did we have fun but we also enhanced skills such as balance, coordination, problem solving, reasoning and spatial awareness. We also learned a great deal about teamwork and helping each other out when stuck in tricky situations. This experience has opened my eyes to a new world of fantasy, magic and imagination and I cannot wait to try our next adventure!
If you are planning a trip to Pigeon Forge, make sure to put MagiQuest on our list of things to do! To learn more about MagiQuest including pricing please visit their website.
You may also enjoy: