Each time I watch a television show or a movie involving the significance of math in our lives, I am lost. I am not mathematically challenged, I just do not have a passion for math, until now that is. While we co-exist in this world, I never stepped past the moment of truly appreciating math until Mirror Maze.
Mirror Maze: Numbers in Nature opened at Franklin Institute on May 27 which reveals the math in our everyday lives. It links three concepts to one overall theme of patterns. There are patterns in nature, the human body and architecture. The centerpiece of the exhibit is the 1,700 square foot maze that questions what stands before you as you confront floor to ceiling mirrors that reflect infinite patterns. The maze places you within a pattern or rather as you walk through the maze, you can observe how the pattern changes before your eyes. Integral to the exhibit are hands on activities that help families understand the thread that ties this program together.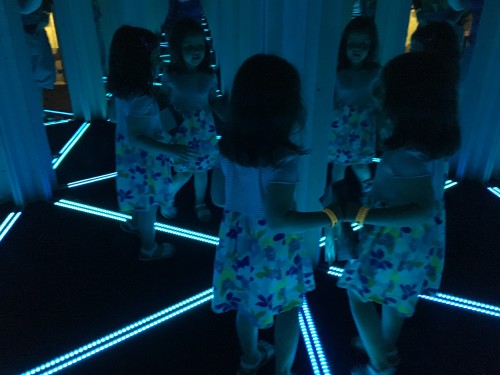 Mommy University Presents
Amazing Patterns Seen in Mirror Maze: Numbers in Nature
Patterns in Nature
When you enter the Mirror Maze exhibit, you will be presented with large images that contain the hidden patterns within them. We enjoyed looking at artifacts from nature such as a metal mold of an ant hill to demonstrate branching as well as the Bighorn Sheep antlers to highlight spirals. Our favorite spot within this space, however, was using clear frames to locate the spiral pattern in images of nature (as well as the manmade world).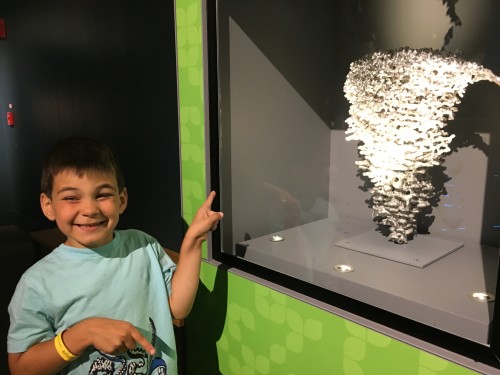 Patterns in the Human Body
Did you know that the human face is not symmetrical? There is one space within this exhibit where you can place your face in the mirror to see how different your appearance would be if it was symmetrical. As well, there is an eyepiece to see how the blood vessels branch in your eye. Symmetry and branching are mathematical concepts reflected within your body and Mirror Maze helps explore this concept.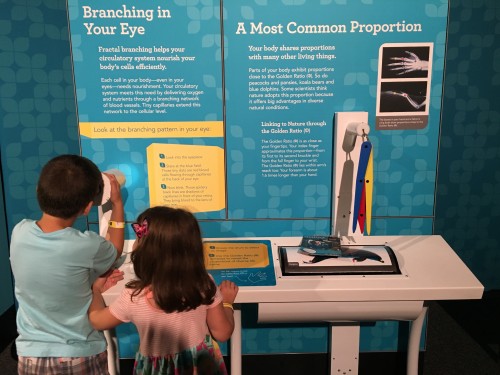 Patterns in Architecture
Symmetry, spirals, branching, all these concepts also appear in architectural designs. I enjoyed the station where you can superimpose patterns over existing architectural accomplishments to see which match.
Whether it is over a dozen hands-on activities or the thirty amazing artifacts or the incredible mirror maze, this new exhibit at The Franklin Institute transforms your understanding of math. What I appreciate the most about this exhibit is that no matter your level of math understanding, Mirror Maze offers interactive activities for the novice to the mathematician. Now when I take my kids to look at sunflowers or to look at giraffes at the zoo, we will also apply mathematical concepts. It was truly an eye-opening experience!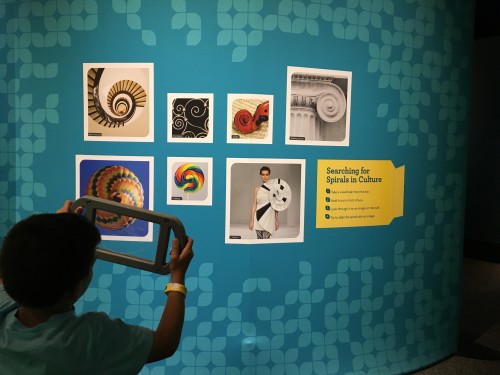 The Franklin Institute is open daily from 9:30 am – 5 pm. General admission is $20/adult and $16/child (ages 3-11). There is an additional fee for special exhibitions such as Mirror Maze which is open until September 4, 2017. To learn more, please visit their website!
Franklin Institute is located at 222 North 20th Street, Philadelphia, PA 19103
You may also enjoy: