Schleich puts the equestrian world in your hands!

There is a long held fascination with horses that a lot of children encounter. My daughter's only exposure to real horses involves a pony ride at the local farm, however, they have captivated her imagination. Whether it is from books or movies they bring a smile to her face. Recently, she discovered the figurines from Schleich which represent with fine detail the various horses that exist from Hanoverian mares to Shetland ponies to Andalusian foals, there are so many different stunning creatures. While Schleich figures are collected by fans, they offer significant opportunities of learning through play. At Mommy University we like to explore the educational benefits of toys and highlight activities that can be used with them. Here are five ideas we developed with the input and creativity of our children.
5 Educational & Engaging Activities
With Horse Schleich Club
Pretend Play
Immediately opening the box from Schleich my daughter was playing with the horses and creating her own story. She loved feeding, flying them through the air, naming them and even giving them a background. Pretend Play like this is critical for children to help them understand the world that surrounds them. She is processing what the horses are doing, what they eat, what little things arrived in the package by labeling them and asking what is their purpose.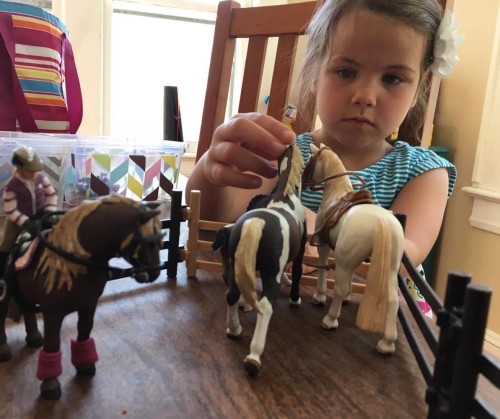 Exploring Art
The Schleich horses are wonderful subjects for budding artists. Unlike a real horse, which can be difficult to obtain or to stay still, children can maneuver the Schleich figures as needed to replicate them through art. Whether it is drawing, painting or sculpting, kids can use the horses to create their own art masterpiece.
Read Books About Horses
Visiting the library is always a fun expedition, but adding a new goal to find books that have a focus on horses adds a fun element. We found four books to read which became an exploration in imagination and American history as well as increased our knowledge on horses. Of course, the Horse Club joined us as my daughter looked for characters that matched her figures. Here are the books we located (Amazon affiliate links are provided):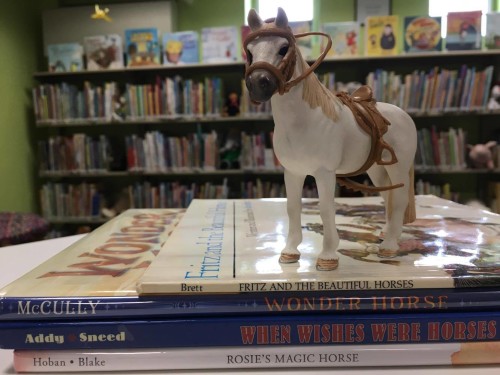 Learn About Horses
As fans of Schleich, this was our first Horse Club set that contained riders. Arriving at our home was the 2017 release of the Rider with Icelandic Ponies and the Recreational Rider with Horse (Tennessee Walker Gelding). Since my daughter already had a Frisian and a Trahkener, this would be a great time to expand her observation skills while learning about horses. As a suburban child more familiar with malls, the only horse I knew growing up was Arabians; however, there are so many varieties and each of them has their own strength.
We first lined up all the horses where she could describe each horse and what she could deduce from those observations. Then we identified the four breeds and looked up what were the strengths and weaknesses of each breed. This was a good exercise to see if she was correct in any of her observations. We then watched the horses on YouTube to see if we could identify them in the videos.
Build a Stable
I am always looking for opportunities to encourage my children to build whether it is with wood blocks, magnetic toys or other stackable toys. Since horses stay in a stable, my daughter used her wood blocks to create a space for them to be housed. This activity combines engineering with pretend play. Schleich does have an impressive riding center; however until the time we acquire this set, building with blocks we already have helps promote problem solving and engineering skills.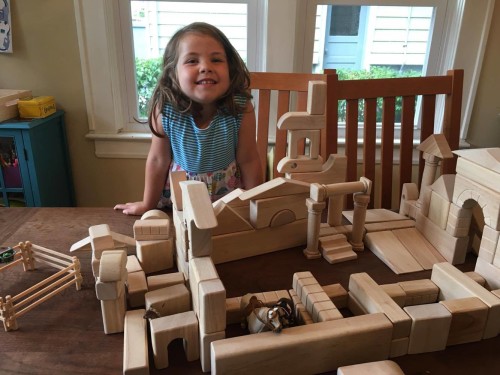 Schleich, one of Germany's largest toy manufacturers, is considered a leader in imaginative toys. Their toys invite children to play which is why Schleich understands that through pretend play children have the ability to comprehend and transform the world around them. Last year, I enjoyed watching my daughter play with several pieces from the Schleich Horse Club which is why I was excited to see how she engaged with this year's releases. The collection is designed for children ages 5-12 years old, and the prices range from $3.29-99.99 based on the item.  New figures are added to the expanding collection which keeps equestrian fans engaged and curious.
For more information or to see photos of Schleich products you can go to:
Mommy University is a Schleich Blogger Ambassador receiving the Recreational Rider with Horse and the Rider with Icelandic Ponies from Schleich.  This post is part of a sponsored campaign. Mommy University received compensation for our participation, but the review and opinions belong to Mommy University.
If you like this post, you might like: