Spring into the Alphabet with Fun
!
It is never too early to start exposing your kids to letters and words. Although letter recognition is not a focus until preschool and kindergarten, it is important to introduce letters to your kids as early as possible. This starts by reading to your kids every night beginning from birth!
Aside from reading each night, there are several fun and interactive ways to increase letter recognition. Even though kids are in school or day care during the day, that does not mean that the learning has to stop when they come home! The spring offers a wide variety of opportunities to teach our children new skills and expose them to new ideas.
10 Fun Ways to Learn the Alphabet:
Spring Edition
Letters on Pipe Cleaners
With pipe cleaner, letter beads, model magic and felt letters this project is easy for the child to play.  I have a selection of letter beads in a bowl, next to the pipe cleaner being held up by the model magic.  My child picks out a felt letter out of a bag and that has to find the matching bead and then place on the pipe cleaner.  This is great for fine motor skills and visual spatial awareness.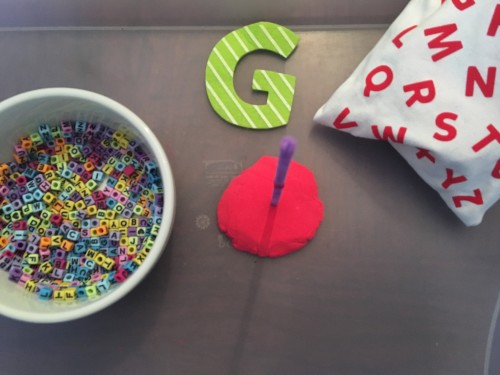 Get Stuck in a Scavenger Hunt
Have kids collect leaves, sticks and flowers on a nature walk.  Now that spring is here, kids will want to venture outdoors.  Bring home all these found treasures which can be glued to the outline of a letter.  Children can use glue or you can put a sticky paper on the wall which they can apply to the wall.
Slime Time!
If you have a child that loves touching things then playing with Alphabet Slime can get them to have fun while learning.  Slimie Time has slime filled with letters which is great for sensory play as well as encouraging letter identification.  Ask your children to find letters in their name or find letters to make a word!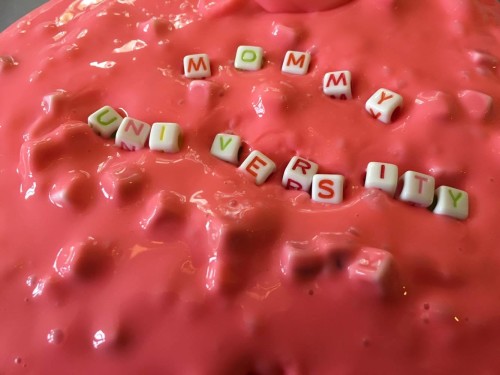 Salt Tray
This is such a cost effective and low pressure method for kids to learn the letters.  On a tray place a thin layer of salt.  If you have letter cards they can trace the letters into the tray.  It helps for you to be next to them to review the letters.  This is an easy way for them to make mistakes and quickly shake out to rewrite.  While I had my daughter writing the letters, my son was practicing his sight words on a salt tray.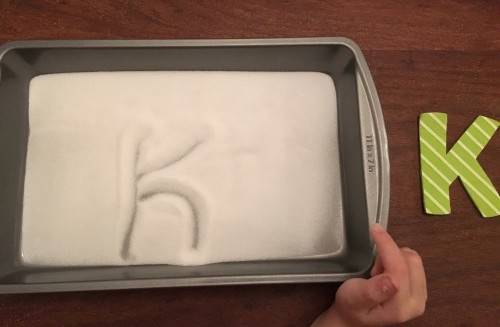 Garden Alphabet
Hersey Park has an ABC garden but you can take their idea as inspiration to get kids outdoors and learning.  When visiting a garden, bring a print out of the alphabet and see how many flora and fauna they can find that start with a different letter of the alphabet.
Egg Hunt
Take those leftover eggs from the Easter season and host an alphabet egg hunt in the backyard.  You can pick up magnetic letters which should fit perfectly in the eggs.  You can have the alphabet printed and have them check off each letter they find.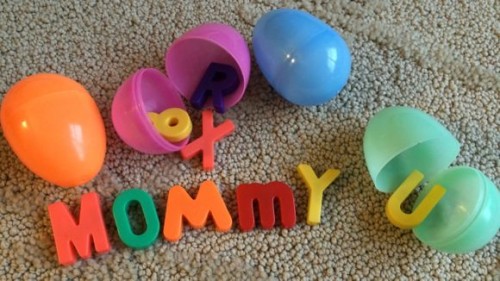 Plant Flowers
Have your children pick some dandelions or use other flowers which they can use to build letters.  This concept works on fine motor skills and is great for sensory seeking kids.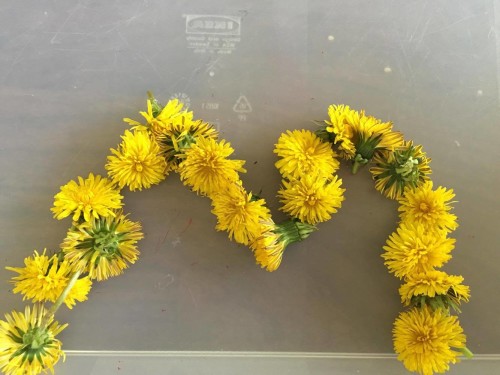 Look for Letters
It is easy to find actual letters everywhere, but encourage your children to identify shapes of letters in what they see.  Whether it is a cloud or lining up Hot Wheels cars or noticing the Oreo looks like an O!  As you begin to identify different letters they will find their own or identify other shapes and images.
Paint Letters
Arrmed with a paint brush and a bowl of water, have the kids paint letters outside on the sidewalk, driveway or slate.  This is a simple activity that promotes fine motor skills, creativity and is super affordable.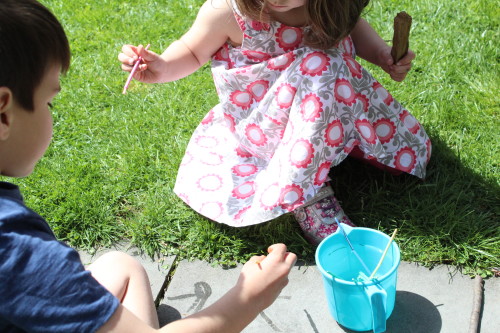 Letter Hunt
If you have the magnetic letters put them in a bowl filled with rice.  The kids can seek out the letters using a magnet or a net.  They can then match the letters to an alphabet sheet.
If you like this post, you might like: