Exploring the United States of America from your home!

As my children are entering elementary school, it is my goal for them to develop an appreciation of being American. Part of this identity includes an understanding of history and geography. While we are beginning to explore the roots of our nation by visiting museums, historical locations and of course with books, geography can be a challenge. The United States of America is massive. I did drive across it once in college from New Jersey to San Francisco, and it takes a few days. The diversity within my own state surprises me, but when you actually can see how different the East Coast is from the West from the Plains to the South East to the South West, it is truly impressive.
Within our fifty states there are stunning iconic examples that are unique and rare to our nation that are perfect to launch a conversation about geography, history and other interesting topics. Collaborating with Safari Ltd. we investigated how the USA Super Toob and the New York City Toob are wonderful prompts to foster an understanding of the geography of the United States.
The USA Super Toob contains 12 pieces of American architecture and symbols. The buildings span across the United States which helps to jumpstart conversations about other states and history. The New York City Toob contains 8 pieces that refer to significantly important references to the Big Apple including a Big Apple. From the yellow taxi cab to the subway, from the Chrysler Building to the Guggenheim Museum, these are the mandatory stops for tourists. We compiled some easy activities utilizing the Toobs so that my children are engaged without leaving our home.
Mommy University Presents
Activities to Learn about USA Geography
Invitation to Play
Picking up a puzzle that was a map of the United States allowed my children to play around with the map of the United States. Next to the map, we put the figurines from the USA Super Toob so they could independently explore both options. As they played with the map, we would talk about the different states, and as they played with the figurines, we would talk about the buildings and their location.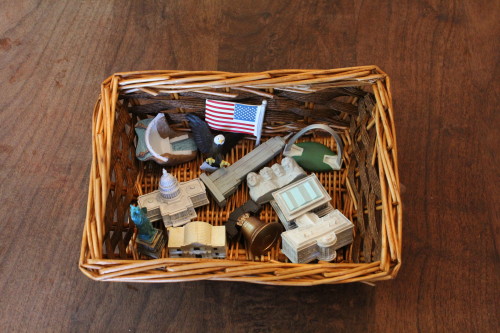 Location, Location, Location
The kids played a fun game where they matched the buildings to the states in which they are located. Since my children cannot read, I pulled out the specific states as opposed to having all fifty states puzzle pieces on the table. We identified the states by their names which is a lesson in geography, letter identification and reading skills.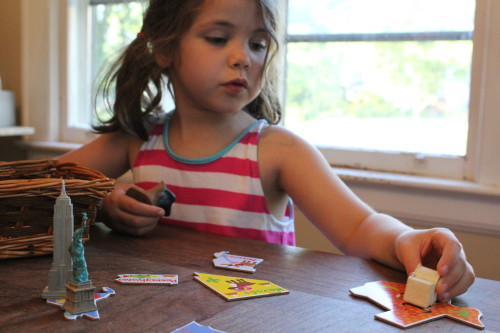 Promote Travel
What unfolded before us were opportunities to discuss the locations. Living in New Jersey, my children have easily traveled to see the Statue of Liberty as well as the Liberty Bell. We discussed what it was like to see these important pieces and what they remember about them. No one in my family had seen Gateway Arch but it inspired us to investigate this memorial to Jefferson.
Explore History
The Hoover Dam is a remarkable example of Civil Engineering. As much as I could identify the Hoover Dam in movies, I never understand the cultural and engineering significance of this location. However, we have since found out there was a documentary made about it, that it's design includes Navajo and Pueblo Native American motifs and that it generates power through hydroelectricity. There are so many different prompts this one figure initiated: engineering, alternative energy, culture, and history.
Scavenger Hunt
Since we do have access to Manhattan, the New York City Toob is being used by us to help my kids identify key icons we might see. My kids will now be seeking out a taxi cab, subway and the Chrysler Building during our next adventure. The Toobs are great for helping them to become familiar with what they might see! A scavenger hunt can also be done on a cross country adventure. Just bring the USA Super Toob in the car and pull out each location as you find it!
Art Prompt
Kids can draw the different figures in the Toobs which is great for the budding artist. Ultimately, it is our family's dream to see Mount Rushmore and stare at the wonders of this sculpture that used dynamite to be created, yet time, finances and distance make this a difficult trip. While travel can be expensive this allows them to use their imagination to see the different locations.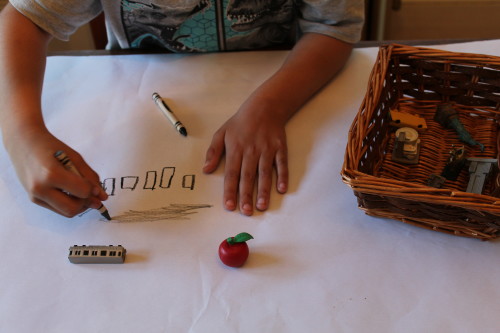 The possibilities are endless with the Safari Ltd. Toobs. Over time, I am certain the my children will encounter new ways to play with these toys that teach. Since they are affordable it is a great accessory if your children are investigating or demonstrate curiosity in a new subject. The New York City Toob is less than $12 on Amazon and the USA Super Toob is less than $19.
If you like this post, you might like: