Updated for 2018!
Start Your Adventure at Bass Pro Shops 
At Mommy University we are always looking for new opportunities to encourage our children to enjoy and appreciate nature. We take our kids on hikes, fishing and camping which stimulates their interest in the great outdoors. Bringing children to spaces like nature centers and science centers also promote this interest. A hidden location, however, to spark this interest is the Bass Pro Shops.
Bass Pro Shops are the destination to pick up camping and fishing supplies; however, they have been offering family activities that also foster an appreciation in young children. This summer, Bass has released the 2018 Family Summer Camp schedule which runs from June 23 until July 22! The Camp includes free workshops every Thursdays, Saturdays and Sundays. Children will receive a pin for each workshop they attend that they can attach to the free lanyard they will receive. For successfully completing all six workshops, attendees will receive a special pin.
Wait, there's more! As well, on Thursdays, Saturdays and Sundays, there will be special crafts that children can complete. There are also free games for children to try out from 12-4pm on these days in the Game Area. Bass Pro Shops offers families one stop FREE Summer Camp!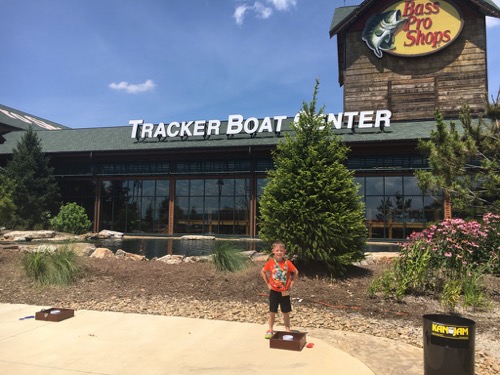 2018 Family Summer Camp Workshop Schedule
Thursdays
12 pm: Fishing
1 pm: Conservation
2 pm: Water Sports
3 pm: Emergency Preparedness
Saturdays
12 pm: Fishing
1 pm: Shooting Sports
2 pm: Conservation
3 pm: Camping
Sundays
12 pm: Emergency Preparedness
1 pm: Water Sports
2 pm: Shooting Sports
3 pm: Camping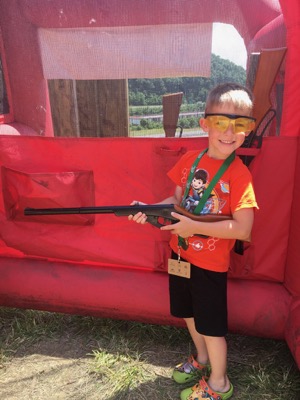 Breakdown of Workshops
Water Sports: Learn about how to be safe around water as well as basic canoe strokes.
Emergency Preparedness: Learn how to be prepared for an emergency with basic first aid skills and weather awareness.
Camping: Learn the basics of camping including fire safety.
Fishing: Learn about local fishing spots, what equipment you need and what fish you can catch.
Shooting Sports: Learn about basics of shooting and archery with a focus on safety.
Conservation: Learn how to enjoy the outdoors while also being a Young Conservationist.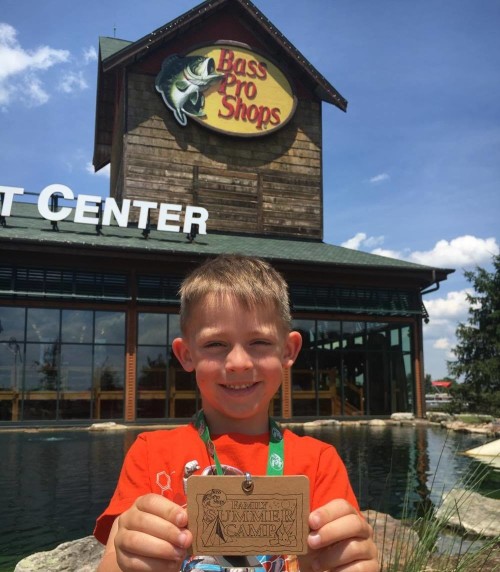 2018 Family Summer Camp Crafts Schedule
June 23 & 24 : Owl Windsock
June 28, 30  & July 1: Color an Apron
July 5, 7, 8: Deer Track
July 12, 14, 15: Canoe Frame
July 19, 21, 22: Raccoon Magnet
Workshops and activities are subject to change and may vary by location. For example, BB Range is not available in Atlantic City or Bridgeport. See store for details. All giveaways and crafts available while supplies last and styles may vary. To learn more, please visit your local Bass Pro Shops or check out the website.
Bass Pro Shops East Coast Locations
30 N Christopher Columbus Blvd, Atlantic City, NJ 08401
3501 Paxton Street, Harrisburg, PA 17111
7000 Arundel Mills Circle, Hanover, MD 21076
1 Bass Pro Drive, Bridgeport, CT 06608
1 Bass Pro Drive, Foxborough, MA 02035
710 Horatio Street, Utica, NY 13502
1579 Clark Street Road, Auburn, NY 13021
1972 Power Plant Parkway, Hampton, VA 23666
11550 Lakeridge Parkway, Ashland, VA 23005
10177 North Kings Hwy., Myrtle Beach, SC 29572
14045 Abercorn St., Savannah, GA 31419
5000 Bass Pro Blvd, Macon, GA 31210
5900 Sugarloaf Parkway, Lawrenceville, GA 30043
323 Opry Mills Dr., Nashville, TN 37214
1 Bass Pro Drive, Memphis Pyramid, TN 38105
6140 Macon Rd, Memphis, TN 38134
3629 Outdoor Sportsmans Place, Kodak, TN 37764
1000 Bass Pro Drive, Chattanooga, TN 37412
1 Bass Pro Drive, Bristol, TN 37621
And more locations here!
What encourages you to explore the outdoors?
You may also enjoy: