I am so unbelievably excited to partner with Crayola, Zuru, Purple Cow, Educational Insights and the Bridge Direct to put together this list of brain boosting road trip must haves for kids!
My family LOVES to travel! We love visiting Walt Disney World, camping near Hersheypark and exploring new parts of the United States. We especially LOVE Family Road Trips. My kids have yet to ride an airplane as every trip has been taken by car. That's right! We are the brave parents that take their two young boys in the car for over 20 hours.
Now for some this does not sound like fun or much of a vacation, but for us, it is not just a vacation or a trip, it is an experience. Each road trip has been different and unique which adds to the anticipation and excitement. After driving to Disney 8 times and Louisiana twice, we have learned a thing or two about keeping kids entertained in the car. Although, we stop at fun destinations and listen to great music, let's face it, the kids still get bored. That's why I always leave the house fully prepared with backpacks full of fun learning activities to keep them occupied for HOURS!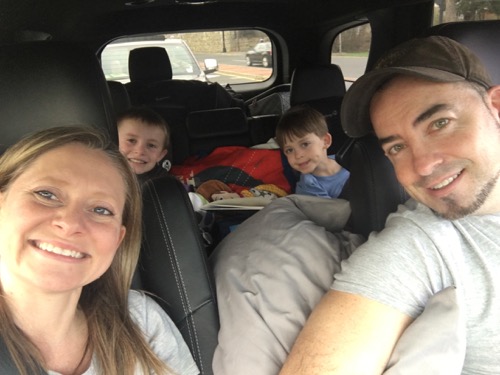 I wanted to share with you some of the amazing activities and toys we have found that not only keep the kids entertained but also keep them learning. For each trip, I have changed, added and eliminated activities based on our many experiences, and I make sure I am keeping them entertained based on their age and current interests. To get ready for our summer road trips, I enlisted the help of some of my favorite companies to suggest some new activities to go along with the classics I know always work!
Road Trip Must Haves for Kids
Sensory/Fidget Toys
Spinners (ZURU)
Spinners are the latest craze! My kids and all their friends have them, and you can't walk past a playground or bus stop without seeing at least 5 kids spinning them on their fingers. Spinners are perfect for long car rides as they offer hours of spinning, twirling and flipping fun. It also keeps kids hands busy and helps prevent boredom while stuck in the car for hours at a time.
Fidget Cube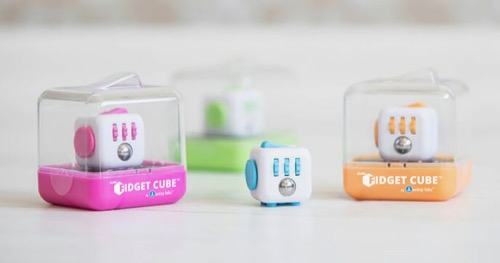 The Fidget Cube offers hours of sensory and fine motor play during a road trip. With 6 sides offering multiple buttons, dials and switches, kids can keep themselves busy rolling, spinning, clicking and gliding their energy away. The Original Fidget Cube by Antsy Labs are a great way to keep kids' hands moving to decrease boredom and whole body fidgeting. This sensory toy can be purchased on Amazon.
Koosh Ball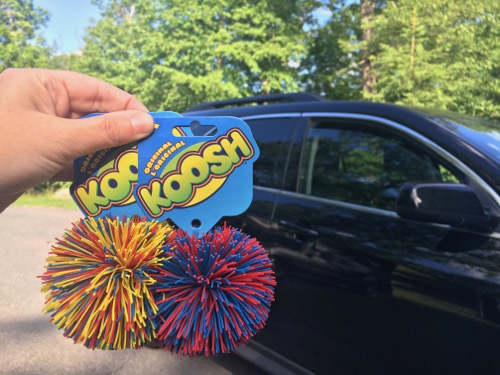 As a kid, I remember playing with the colorful Koosh ball so I am so excited it is back for my kids' enjoyment. The Koosh ball offers a tactile sensory experience for fidgety hands during a long road trip. It is also a fun way to enhance color recognition as they come in a variety of bright colors. The Koosh ball is also perfect for a fun game of catch when taking a break from the road. Individual and bundles can be found on Amazon.
I Spy Bean Bag or Bottle
I Spy bean bags like the one pictured above offer not only a learning experience but a sensory one as well. Kids will get tactile feedback as they search for small items amongst the beads. While playing kids are enhancing fine motor and visual skills as well as increasing object recognition and vocabulary. I Spy bottles are also fun and can be easily made at home. Not crafty? You can also purchase Find It Games for under $20 on Amazon. They come in a wide variety of themes offering hours of learning through play!
Playfoam Go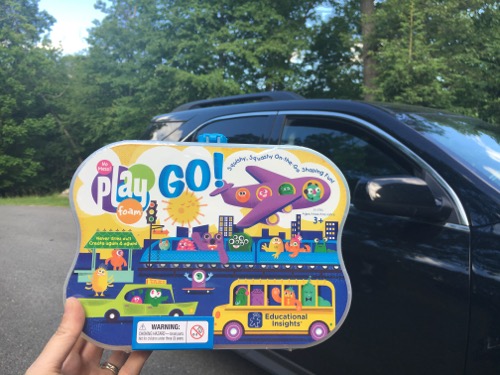 My little one loves to play with play doh and playfoam, but it is not the easiest sensory toy to bring on a road trip, until now that is! Educational Insights recently released Playfoam Go that allows for hours of sensory play while in the car. Inside the carrying case is 8 playfoam colors each with their own compartment. There is also a 9th compartment so kids can have fun making their own color! Playfoam offers tactile stimulation which decreases restless and boredom during your road trip. It also won't stick to the carseats or clothes!

Puzzles and Games
LeapFrog LeapPad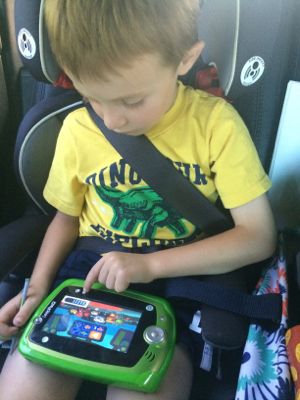 My boys love using their LeapPads during our many road trips. With such a wide variety of games to choose from, kids can have fun learning for hours. Since all games offered by LeapFrog are educationally based, I never have to be worried about what they are playing, and I can be assured that each game offers a brain boosting adventure. LeapPads and games can be purchased on Amazon.
Tiggly
My family LOVES Tiggly. Their games help kids expand their vocabulary, enhance problem solving skills, increase math ability and improve decoding skills. What's great is that the apps do not require WiFi (or use data) so they can be played for hours during your trip! Check out our reviews of Tiggly Shapes, Tiggly Counts and Tiggly Words! Tiggly sets can be found on Amazon at an affordable price.
Scavenger Hunts
Since starting road trips, we have enjoyed fun scavenger hunts. It started with simple ones such as finding cars of various colors to searching for specific road signs and buildings. There are some wonderful FREE printable scavenger hunts on Pinterest. Now that my son is older, I am going introduce him to my favorite game, finding license plates from all over the country. Melissa & Doug makes a great wooden License Plate Game that is perfect to take in the car for road trips!
Travel Size Games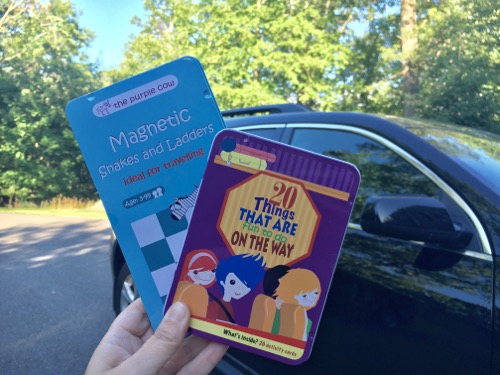 My kids love playing games in the car but that's not always possible with all the small pieces that fly all over the car. That's why I love travel games that come in small containers or offer magnetic versions. We were recently introduced to two fun games from The Purple Cow. Snakes and Ladders is a mini magnetic travel game that comes in a small tin case but offers big fun while 20 Things That Are Fun to Do on the Way comes with 20 activity cards encouraging thinking, reasoning and, most of all, fun! What I love is that these games, along with other Purple Cow magnetic travel games, allow kids to learn and grow while on vacation. Kids can build problem solving, fine motor and language skills while playing!
SmartGames also offers a wide variety of travel games that are sure to challenge and engage your child (and parents) throughout the trip. There are games for all ages and they fit perfectly in a backpack or the storage net behind the front seat. Each game helps boost fine motor skills, spatial awareness and problem solving skills. They also help spark creativity and foster language development. Check out our reviews of IQ Twist, IQ Candy, Butterflies and Brain Cheeser.
Mini Arcade Games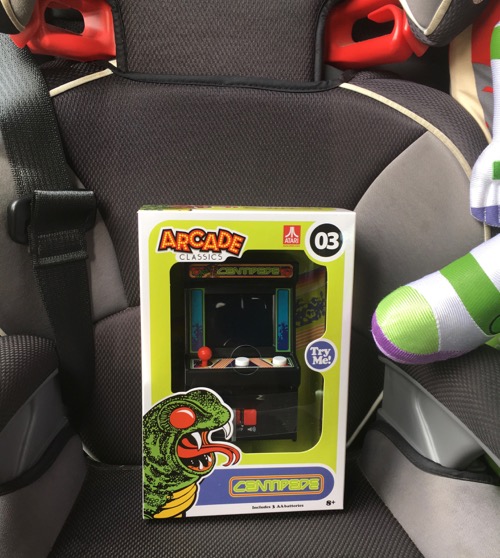 In the form of mini arcade games, the classics Q-Bert, Pac-Man, Space Invaders and Centipede are making a comeback thanks to The Bridge Direct! These iconic games bring big fun in a small package and are the perfect size for family road trips. While playing, kids will enhance visual-motor, problem solving and spatial awareness skills. Some friendly competition is also encouraged as family and friends can see who can get the top score!


Coloring/Writing
Crayola Color Wonder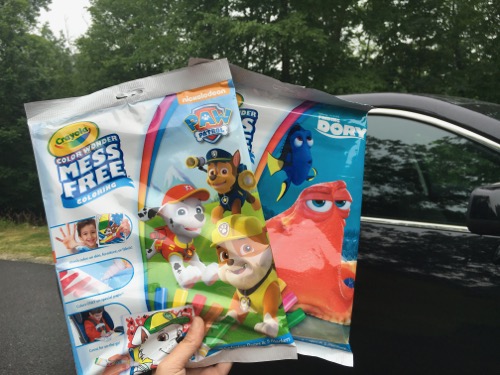 My kids love Color Wonder from Crayola. These magical markers only show up on special Color Wonder paper making them completely mess-free which is ideal for a road trip. Color Wonder coloring pads come in a variety of characters such as PAW Patrol, Finding Dory, Sophia the First, Avengers and Hello Kitty (to name a few). You can buy them in sets with 5 markers or purchase the pads and markers separately.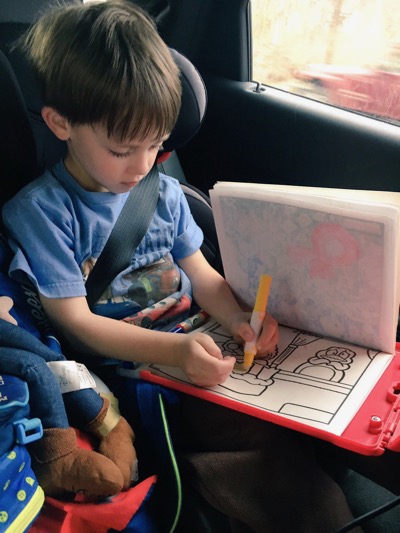 We also love bringing our Color Wonder Stow and Go in the car for short and long road trips. The set comes with 4 Color Wonder Mini Markers, a 12-page coloring pad and lap desk with storage. It's perfect for keeping kids entertained in the car, at restaurants or the hotel lobby while checking in.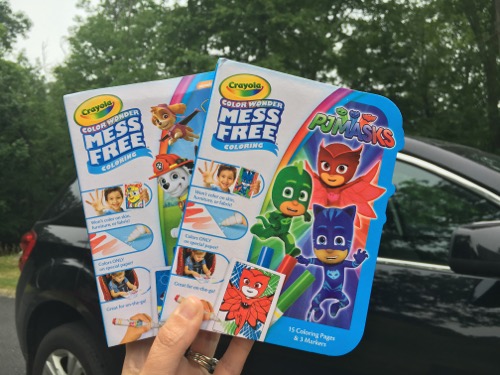 We were recently provided another fun Color Wonder travel set, Color Wonder On the Go! This set comes with 15 mini pages and 3 markers. It is the perfect size for road trips and kids can color right inside the case. My son is going to be so excited with the PAW Patrol and PJ Masks we received from Crayola. They also have a Disney Princess set!
All Color Wonder products can also be purchased on the Crayola website! You can also learn more about Color Wonder by reading our review here.
Travel Journal
A great way to encourage ongoing learning while on a road trip is by having your kids write in a journal. You can either purchase one or have them decorate their own. For our last trip, I had my son write about what he packed for our road trip then about the activities he did in the car. The journal can also keep track of all the fun places you stopped. I recommend leaving space for pictures to further document the trip!
Usborne Wipe Clean Books
I love Usborne Wipe Clean books because they can be used over and over again. We have a variety of wipe clean books that my kids love. What I love as a parent is that they keep my kids learning while on our road trip. From learning letters to telling time to drawing pictures, these books are perfect for keeping young minds and hands busy in the car!

What's a road trip without snacks too right? We always pack some simple snacks and drinks so the kids stay full and hydrated because otherwise there will be a lot of whining! Here are couple snacks we were recently introduced to that we added to our lunch boxes this summer.
The Little Kernel Popcorn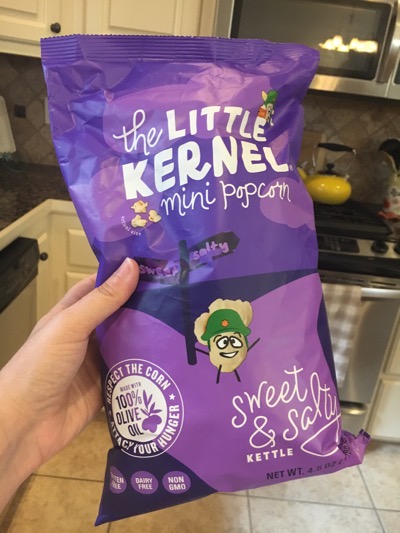 The Little Kernel offers a healthy alternative for snacking on a road trip, at home or at school. This unique snack is popped in 100% olive oil and does not have any artificial ingredients. They also come in a variety of delicious flavors like truffle sea salt, naked, pink Himalayan salt, white cheddar, sweet & salty and butter. Find The Little Kernel at your local food store. Which flavor would you try first?
AquaBall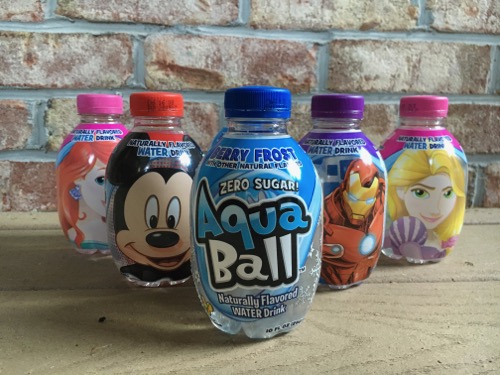 Instead of grabbing those sugary drinks for your next road trip, pick up AquaBall. Kids will love this naturally flavored water not only because it is delicious but because they come designed with their favorite Disney and Marvel characters. Parents will love it because it has no preservatives, calories or sugar. It is also enhanced with vitamins making it a healthier drink option. Learn more on the AquaBall website.
What's your favorite road trip must have?
You may also enjoy: