Since Field Station Dinosaurs has taken roots in New Jersey, it has become a favorite for young children as well as dinosaur fans. It provides animatonic dinosaurs perfect for photo opportunities but also physical representations of creatures for those thirsting to see what they might look like. In addition to these thirty creatures, there are educational spaces spread throughout the park. Brief shows rotate throughout the park which accommodates families whether they arrive early in the morning or later in the afternoon. Based on current information, the shows can be game style in nature or rely on music, but no matter the style they are always engaging and interactive.
Field Station existed in Secaucus for several years before relocating to Leonia in Bergen County last year. Unlike before, the new space is on flat terrain and exposed to the sun. However, that was then and this is now. Each year, Field Station makes changes to their programs, experiences, and yes to the layout. As guests, we were able to see the changes for the 2017 Season and share with Mommy University readers.
What's New at
Field Station Dinosaurs in 2017
New Layout!
After their first year in Leonia, Field Station has made some awesome changes to the layout of the space. This year there are several small trails which lead to hidden dinosaurs in shaded areas. This change is perfect for the hot summer days when you might need to cool off but still want to absorb the Jurassic fun. This new element leads to some dinosaurs being organized differently which means new photo shots as well as new prompts for our imagination.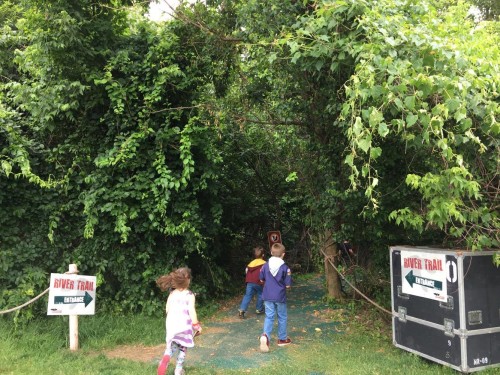 There is now an air-conditioned birthday tent that oversees the dinosaurs. This awesome space allows events to reach a new level of cool as they watch battling Pachycephalosaurus. The old birthday tent has been converted to the Dark Tent.  While the amphitheater has a new location, the Fossil Dig and Canteen remain the same.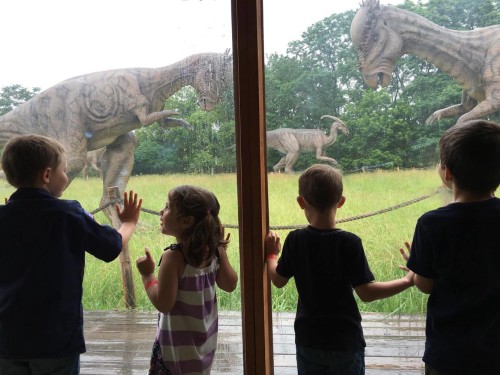 Raptor Trap
We loved this mini maze where children have to find three velociraptors. It is possible that they are supposed to be running away from the raptors? In either option, my kids loved the problem solving required while staying active. Thus our multiple trips.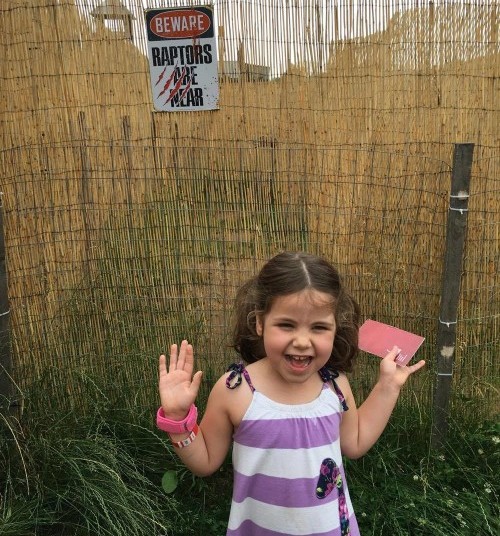 Sea Rex: Journey to a Prehistoric World
One of the experiences that can be added on is the 3D movie. This year, Field Station is showing Sea Rex which teaches us about the different eras as well as highlighting some of the creatures. If you love dinosaurs or sharks, then you will love this movie. At the end of the movie, we were all smiling and clapping.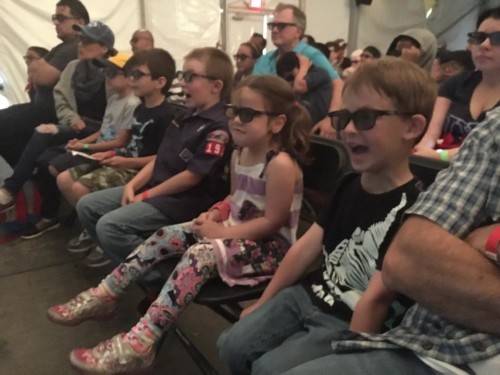 Dark Tent
The Dark Tent offers two new short movies: Dragons to Dinosaurs and Gertie the Dinosaur. While we did not see Gertie, Dragons is a film that explores how cultural myths were inspired by dinosaur fossils using shadow puppets and the music of Guy Gsell. From unicorns to dragons, this movie opened our minds to a new understanding of how dinosaurs influenced cultural phenomena.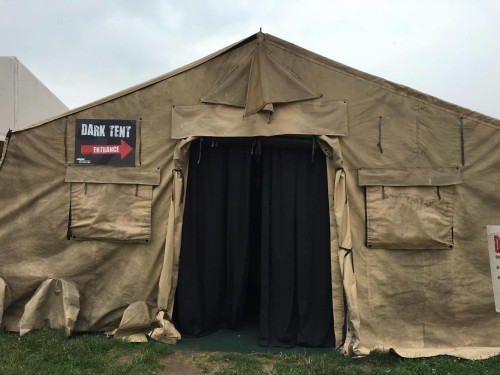 New Shows!
The extensive shows at Field Station has the purpose to educate while having fun. They usually don't last more than 15 minutes which fits perfectly with the attention span of most children and is designed to incorporate different elements. When you enter the park, you will be provided with a schedule for that day so you can plan out where to go. My children always leave engaged, smiling and walking away with an increase in knowledge about science and dinosaurs. For example, we visited Flight of the Dinosaur this year which links the relationship of birds and their ancestor dinosaurs.
Each year we visit Field Station it is impressive to see the new developments in design, programming and activities. It is a hands-on learning experience for young children and those who are young at heart!
Coming Soon : Spinosaurus!
The park is open rain or shine in the 2017 Season:
May 27-June 25
Saturday & Sunday, 10am-6pm
June 27- Sept. 4
Tuesday-Sunday, 10am-6pm
Open July 4
Open Labor Day
September 23-November 12
Saturday & Sunday, 10am-5pm
Open November 9 & 10
Admission
$15 (online) for guests 2 and older or pay $16.50 at the box office for all day admission to the park.  Children under the age of 2 are free.  You can upgrade and purchase additional experiences such as the 3D movie Sea Rex for  $5 or the Paleontologists Lab for $10.
Field Station: Dinosaurs is located at 40 Fort Lee Rd, Leonia, NJ 07605
*In full disclosure, Mommy University received tickets to Field Station: Dinosaurs in exchange for our review. The opinions expressed are honest and belong to Mommy University.
You may also enjoy: