Celebrating 35 Years of Family Fun in New Jersey
We are incredibly excited to partner with Laurie Berkner and The New Jersey Festival of Ballooning to share information about this exciting New Jersey experience.
The depth and diversity of New Jersey history always surprises those of us that have lived here our entire lives. In the heart of the Garden State, at the site of Solberg Airport, hot air balloons have launched into the turquoise sky for 35 years. In fact, hot air balloons have been tied to this area since millionaire Malcom Forbes brought 10 balloons to this area in 1983. What began as ten has multiplied into over 100 balloons in a three day festival that has landed on everyone's summer bucket list.
The New Jersey Festival of Ballooning takes place in 2017 from July 28-30 drawing thousands of people to witness the balloon ascensions. On Friday (7/28), there is one launch at 6:30pm, while on Saturday (7/29) and Sunday (7/30) there is also an additional one that takes place at 6:30am. The balloons range from the traditional bright stripes to more modern ones shaped like Darth Vader.  However this year marks it's 35th anniversary which will include the largest lineup of balloons including special shaped ones.
Children will be amazed by the massive cake weighing over 800 pounds reaching 80 feet tall as it lifts into the air.  The special shaped balloons will inspire them as they watch an 85 foot tall lion, the Unique Photo Panda balloon, or even an Angry Bird.  There is a lot of buzz about the balloon festival including the "Little Bees" which are a pair of bumblebees who kiss in mid-flight.  Yet the QuickChek Farmhouse is a symbol of this festival with the farmhouse, farmer and animals that are perfect against the backdrop of the Hunterdon County.
The QuickChek Festival also hosts plenty of entertainment throughout the day. It has been well-known the vast quantity of musical artists that headline the shows. For example, Pat Benatar will be on the Progressive Main Stage.  However, this year, we are ecstatic as our family favorite Laurie Berkner will be dominating the stage for young children! This NJ native, raised in Princeton and a graduate of my alma mater Rutgers, will perform on the Festival's Opening Day, Friday, July 28 at 1:30 pm.
"We are thrilled to begin celebrating our 35th anniversary with our first ever concert geared for our youngest balloonatics," said Festival Executive Producer Howard Freeman. "While we have added the top rising Disney teen sensations into our concert series over the past few years for teens and tweens, Laurie Berkner will be our first Kids' Concert for children ages 2-8."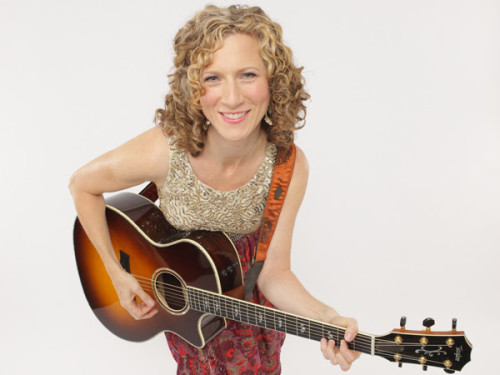 Ever since we heard "We Are the Dinosaurs," Laurie's music has become a staple on road trips and family celebrations. She might be recognizable to some due to her appearances on Nick Jr. or on the Sprout channel, however, the music engages children immediately. Her music maintains the perfect balance of upbeat sounds and captivating lyrics with a dash of whimsy that easily transforms any space into a child dance floor which could be why People Magazine bequeathed her with the title "The Queen of Children's Music." Over 20 years, she has released 11 albums including the latest Superhero that consists of new original songs.
Her shows are interactive as children will be hopping up and down to "Rocketship Run" or put a toy pig on their head as they dance to "Pig on Her Head." It is hard to sit and just watch the show because the urge to get up and move is strong. Some of her slower songs still have this catchy sweet sound such as a family favorite "Moon Moon Moon," but no matter what Laurie plays we know it is going to grab your young child's attention at this wonderful venue.

Starting and ending the day with balloon ascensions, the QuickChek Balloon Festival includes live concerts (such as George Thorogood and Pat Benatar), fireworks, amusement rides and now with Laurie onstage this event encompasses entertainment for every family member.
The 35th annual QuickChek New Jersey Festival of Ballooning in Association with PNC Bank runs from July 28-30. Concert tickets include admission to the festival with prices ranging from $25 to the VIP ticket at $75. The VIP ticket includes seats in the center of the stage as well as a meet and greet. Check out more from Laurie Berkner at laurieberkner.com or purchase your tickets here. For more information about the QuickChek Festival you can also visit www.balloonfestival.com.
In full disclosure, Mommy University has been provided with passes to the Laurie Berkner concert in exchange for sharing information on this brain boosting experience.
You may also enjoy: