A big thank you to Just Play toys for providing the Cars 3 toys highlighted in this post!
Cars 3 races into theaters on June 16 and we couldn't be more excited! My kids have always loved the Cars franchise. In fact, my son's favorite song since he was little was Life is a Highway from the first Cars movie. Lightening McQueen is a character kids can relate to. He is a witty, funny and adventurous race car that doesn't let anyone stop him from reaching his dreams.
In Cars 3, Lightening McQueen has to prove to a new generation of racers that he is still the best and fastest. He enlists the help some old and new friends so he can be the champion once again. It is sure to be another Disney Pixar classic that individuals of all ages will LOVE! To get excited for the new Cars 3 movie, we have come up with some fun brain boosting activities kids will love! I included Amazon affiliate links to make your celebration planning even easier!
Cars 3 Activities
Make Your Own Race Track
If you are a Pinterest lover like myself then you know there are probably close to 1000 different ways to make your own race track. Making your own track at home can range from very simple to overly elaborate and it will depend on your skill level, budget and space as to which one you will make. Race tracks can be made from supplies you already have at home making it an affordable play option and DIY experience for the entire family. You can also purchase supplies such as race track tape or sidewalk chalk for an easy afternoon activity!
Design Your Own Race Car
For the past 2 years as a Cub Scout, my son has participated in the Pinewood Derby. For these events, he has worked with his dad to make his own race car. This is a fun activity that doesn't have to be just for scouts. You can pick up derby kits at Michaels or Amazon then let your kids get creative. Making a race car can start with just using fun colors and designs then eventually lead to making the car faster using scientific principles of design. This activity not only sparks creativity but also enhances fine motor skills and spatial awareness.
 
Sorting Toy Cars
This activity is for the little ones in your house. There are so many ways to sort the toy cars you have all over your house. Sorting is a task that involves visual scanning, conceptual thinking and reasoning. It helps kids build basic academic skills like color and size identification as well as basic math concepts like counting and 1:1 correspondence. Kids can also create graphs/charts of their results which enhances math skills even more. Here are some sorting idea:
Size
Color
Type of Car
Speed
Be a Mechanic for a Day
In Cars 3, Lightening McQueen receives some inspiration from a young racing technician. When celebrating this new movie, teach kids not just how to race cars, but also how to make, fix and detail them. No race car is successful without the team of technicians and mechanics behind it. You can introduce your kids to mechanics by giving them toys that encourage taking apart and fixing cars. As they get older, let them help wash your car and take them to the mechanic with you. When old enough, let them help fix the car or take them to a auto shop that lets the kids be apart of the action!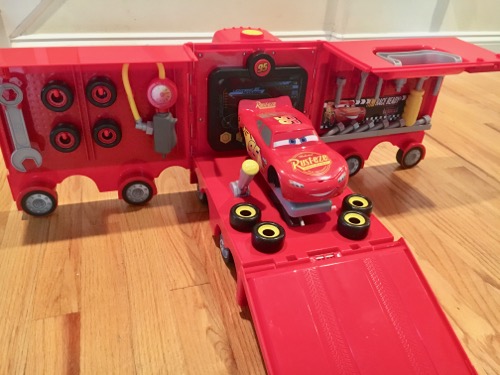 A great toy to introduce basic mechanic concepts is Mack's Mobile Tool Center from Just Play Toys. Mack opens up transforming into a full service pit stop for Lightening McQueen. It comes with 24 play tools and pieces along with a Lightening McQueen vehicle with removable tires. The truck turns into a lift for the race car allowing kids to provide basic mechanic jobs like tire rotation and tune-ups. Kids will learn to be part of pit crew in no time with this fun toy!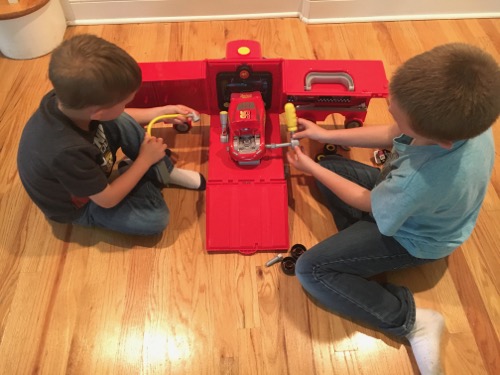 Pretend Play
Dust off all those Cars toys you bought a few years ago, gather up the Matchbox cars and make some new Cars 3 toy purchases for hours of learning through play! Pretend play helps kids enhance language, social and comprehension skills so when celebrating Cars 3, I say just LET THEM PLAY!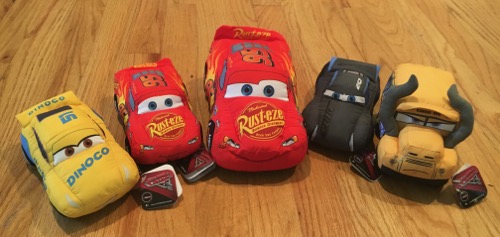 We were recently provided exciting new Cars 3 toys from our friends at Just Play toys. Mack's Mobile Tool Center mentioned above introduces kids to basic mechanics through play while talking Lightening McQueen Plush provides a sensory play experience. Just by pressing on McQueen's back, kids get to hear fun phrases and racing sounds from the movie. What a fun way to teach little ones about cause and effect as well as enhance listening skills. This adorable toy is under $20 on Amazon!
Paint with Cars
Pull out those old toy cars and have a fun time painting unique works of art with your kids. All you need is some paper, paint and a touch of imagination. I recommend placing a large piece of paper on the floor with newspaper underneath. Put paint on paper plates then let the fun begin. Kids can roll the cars through the paint then on the paper. They can mix colors, make patterns, create fun designs and more. The possibilities are endless!
Looking for more activities? Check out the Cars 3 website for fun brain boosting printables!
How will you celebrate the release of Cars 3?
You may also enjoy: