We are incredibly excited to partner with American Girl and Mattel to review the Logan Everett and Tenney Grant. 
We recently explored how American Girl has a belief that everyone has a story to tell. We are now learning with the release of two new dolls from this popular company that everyone also has a song to sing. From Tenney Grant, an aspiring singer and songwriter from the Nashville music scene, to the very first ever boy doll from American Girl, Logan Everett, we are witnessing contemporary characters that are easy for young children to relate to. American Girl, established in 1986, rose to prominence with their historical dolls across different eras and various backgrounds. The introduction of contemporary dolls includes an increase in diversity of characters as well as storylines.
With American Girl, children are inspired to engage in pretend play. Each doll has a unique look and background. Our first doll, Gabriella, was a dancer and poet. Our new doll, Tenney, performs her own music encouraging young girls to find their own voice. American Girl also produces high quality clothes and accessories that accompany each doll. Whether it is stage clothes for Tenney or musical instruments, there is a lot of options for each character.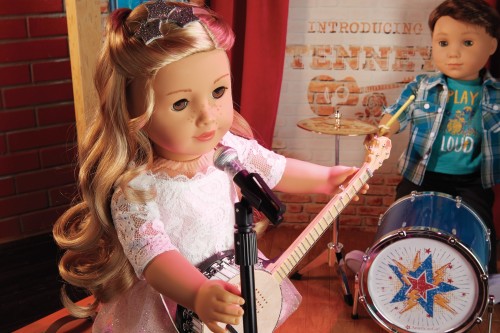 Immediately upon opening the American Girl box, my daughter fell in love with Tenney. On this 18 inch doll are long blonde locks and warm brown eyes with a dash of freckles. She begins performing music in her backyard, but with a little courage her performances lead her to the stages in Nashville. American Girl compiled a Songwriter Showcase of artists performing music that helps provide a soundtrack for young children to hear music to Tenney's storyline. My daughter loves pop music but I feel like the music on the website really helps her to understand the style of music that Tenney performs and exposes her to the possibility of learning an instrument. Also included with Tenney is her story published by Scholastic.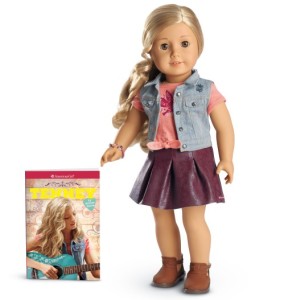 Logan Everett is the long-awaited first boy character from American Girl. Topped with brown hair and grey eyes, this 18 inch doll has many fans excited! Some girls may want to have Logan to accompany their female collection; however, it might be a doll that boys request as well. American Girl is showing the world that dolls are not just for girls but are also for boys. Boys can gain skills such as care taking, empathy and social awareness when playing with dolls. Most importantly, through pretend play they practice being fathers. Adding Logan expands the type of pretend play that is taking place as well as opening the doors for more boys to engage in pretend play.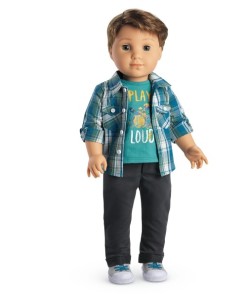 While my daughter loved Tenney, Logan currently resides in my son's room. My children are close in age so they enjoy playing with toys at the same time. When my kids are playing with dolls, I know that they are practicing empathy, kindness and understanding. These characters also promote how important music is in our lives.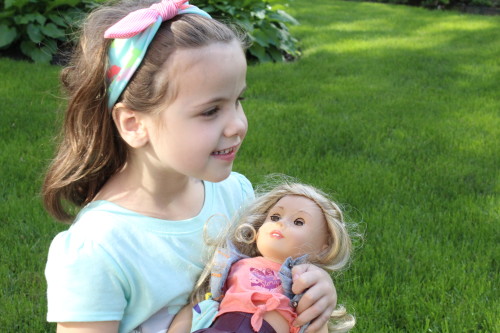 If you have a child who loves music, then Tenney or Logan would be a great match for your child! The extensive collection is available at americangirl.com and at all American Girl retail locations. You can watch our unboxing video below:
If you like this post, you might like: